Gloucester County Visitor Center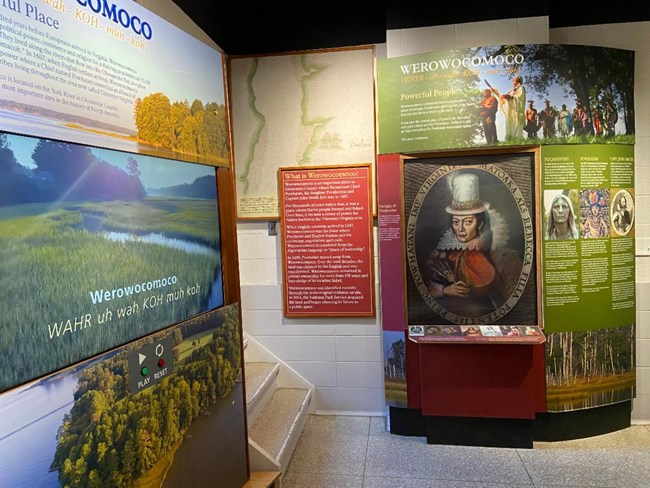 Our staff leads the management of an archeological site known as
Werowocomoco
. Residence of Powhatan and the site of the first meetings between Native leaders and English colonists, Werowocomoco was acquired and protected by the National Park Service as part of the Chesapeake Trail in 2016, and is located just a few miles down the road from the visitor center.
A new, permanent exhibit at the Gloucester County Visitor Center in Gloucester, VA - just a twenty-minute drive from Werowocomoco - offers a sneak-peek at the meaningful opportunities for learning and reflection the site has to offer. Gloucester is located about an hour's drive north from the trail's headquarters in Jamestown.
Visitors will be treated to a state-of-the-art experience. An image of Werowocomoco etched in three panels of glass greets visitors, and special features include a
video on Werowocomoco
, an interactive timeline of the development of the Virginia Indian tribes, the site itself, and Gloucester County, and a stunning lenticular print image of Pocahontas. "The lenticular image is printed on a special medium that is multi-faceted so that when the viewer moves, the image changes, giving it the feel of a hologram," said Katey Legg, director of Gloucester Parks, Recreation & Tourism. "It's a fantastic piece."
Archeological artifacts from Werowocomoco, on loan from the Virginia Department of Historic Resources, can be found along a wall alongside touchscreens that display the artifacts in 3-D imagery. The touchscreens allow the visitor to "spin" the artifacts around to see all angles. An iconic conjectural image of Werowocomoco can be seen behind the artifacts. It shows an artist's bird's-eye view of Werowocomoco around the late 1500s, prior to the arrival of Europeans in present-day Virginia in 1607.
Address: 6504 Main Street Gloucester, VA 23061
Hours: 10 a.m. to 4 p.m. Tuesday - Saturday
For more information on the exhibit or directions to the Gloucester County Visitor Center, please go to
gloucesterva.info
or call 1-866-VISITUS (1-866-847-4887).
Last updated: October 14, 2021