Lighthouse Climbs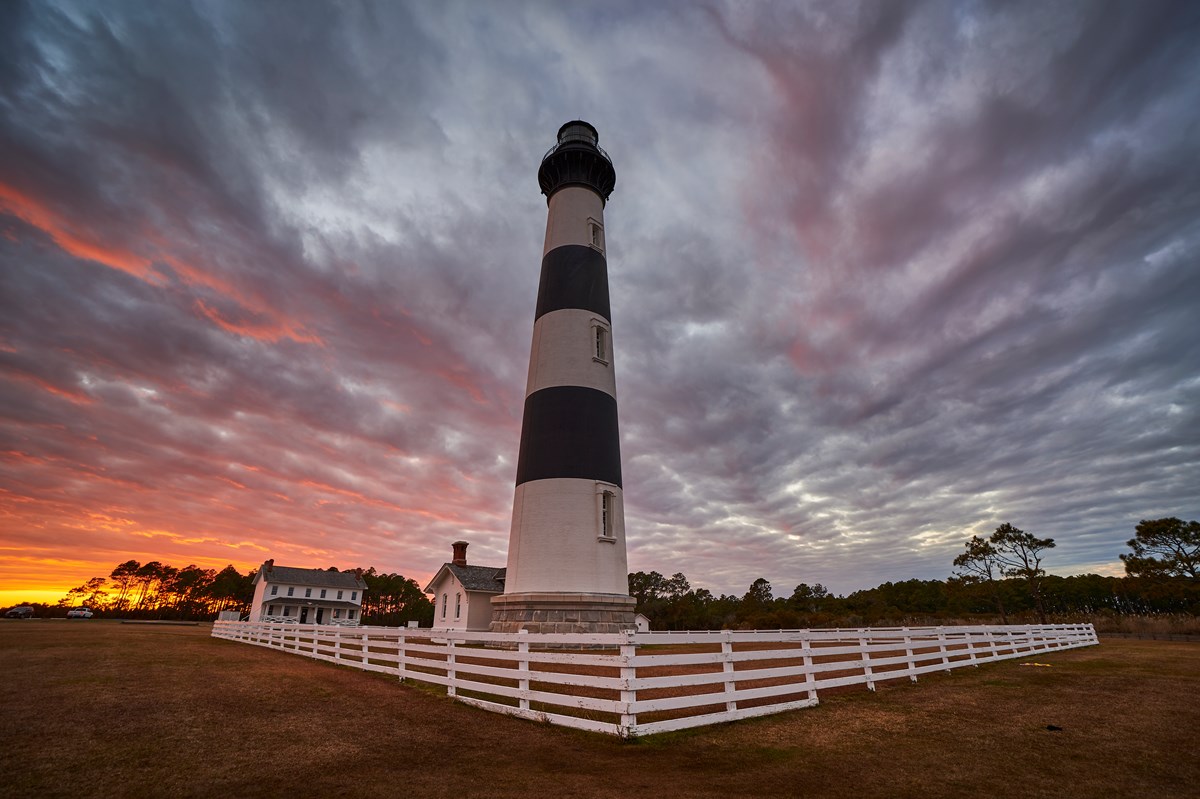 There are three historic lighthouses located in the park. The Bodie Island Lighthouse is open seasonally for self-guided climbs. The Cape Hatteras Lighthouse may not be open for climbing in 2022 due to ongoing restoration efforts. The Ocracoke Island Lighthouse is not open for climbing but the base is open periodically for viewing.
Safety and Rules
Please do your part to have a safe, enjoyable experience and follow these safety rules while visiting the lighthouses. Any visit to Cape Hatteras comes with potential hazards.
Learn the simple steps you can take to improve your safety.
For lighthouse climbs:
You MUST be at the lighthouse at least 5 minutes prior to your tour time. Refunds are not given if you are late, and your spot may be given to someone else.
Each climber must be at least 42" (107cm) tall and capable of climbing all steps on his or her own.
Children 11 years of age or younger must be accompanied by an adult who is 16 years of age or older.
No person may be lifted or carried.
Running, jumping, or stomping on stairs and landings is prohibited.
Do not eat, drink (except water), smoke or chew tobacco.
No pets allowed.
Shoes required; No bare feet or heels over 1-½" (3.8 cm) high.
Leave umbrellas, backpacks, tripods, coolers, beach bags, surfboards, fishing poles, and the like in your car.
Throwing of any object off the lighthouses is unsafe and may get you in big trouble! The lighthouses may close at any time if weather conditions are unsafe.
What to Expect
Lighthouse climbs are strenuous!
The Bodie Island Lighthouse has just over 200 steps from the ground to the top, equal to climbing a 10-story building. The narrow stairs have a handrail only on one side and 9 landings.
There is no air conditioning and no elevator in the lighthouse. It may be noisy, humid, hot and dim inside the lighthouse. Visitors with heart, respiratory or other medical conditions, or who have trouble climbing stairs, should use their own discretion as to whether to climb the lighthouse.
Climbers can bring water in a non-glass, sealable container.

Climbing the Bodie Island Lighthouse
At Bodie Island, you have the chance to climb the lighthouse at your own pace and take in the gorgeous natural surroundings of Bodie Island, the Atlantic Ocean, and Pamlico Sound.
The Bodie Island Lighthouse is open to climbing Wednesday- Saturday From April 27th though early Fall. First climb begins at 9am, and final climb is 5:40pm.
Tickets
Climbing tickets are $10 for adults and $5 for senior citizens (62 or older), children 11 years of age and under, and the disabled. Climb tickets are available on a first come, first served basis and can only be purchased from
www.recreation.gov
. Tickets go on sale at 7am for that day's climbs only. Tickets may only be purchased on the same day of your intended climb.
You MUST be at the lighthouse at least 5 minutes prior to your tour time. Refunds are not given if you are late, and your spot may be given to someone else.
Due to climb limitations, educational fee waivers for school groups are not offered for Bodie Island Lighthouse climbs.
Full Moon Climbs
When available, Bodie Island Lighthouse Full Moon Climbs can be reserved via
www.recreation.gov
starting at 7:00 am the day of the climb. You must have a Recreation.gov account established before you can purchase tickets. Full moon climbs are not available in 2022.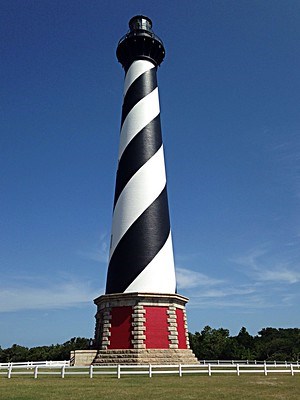 Climbing the Cape Hatteras Lighthouse
Due to ongoing
restoration efforts
, the Cape Hatteras Lighthouse may not be available for climbing in 2022.
New
virtual experiences
are available for visitors to virtually experience climbing the lighthouse and enjoy the breathtaking view from the top.
Lighthouse Ticket Policies

All tickets must be purchased in advance from www.recreation.gov. You must be at the base of the lighthouse at least 5 minutes prior to tour start. If you are late, you may be denied entry and no refunds will be given. Refunds are only given during weather closures, outlined below.
The Outer Banks experiences various inclement weather conditions that may affect your lighthouse climb. In the event of a lighthouse closure, ticket holders will automatically receive a refund within 48 hours of the canceled climb.
In the event of a thunderstorm:
Rangers will monitor the weather. If there is lightning within 10 miles of the lighthouse OR you can hear thunder, climbs are canceled. Climbs will resume 30 minutes after the last lightning strike or thunder heard in the area.
In the event of high heat:
If the heat index inside the lighthouse reaches 103°F or higher, climbs are canceled. The heat index is the combined values of temperature and relative humidity that result in a perceived feel of air temperature. Climbs will resume after the heat index falls to 101°F.
In the event of high wind:
Rangers monitor the wind conditions on the balcony throughout the day. If the wind speeds are constant at 35 mph or higher OR there are gusts of wind above 40 mph, the balcony will be closed. Ticketholders will still be allowed to climb the lighthouse to the top level and look out the gallery door.
In the event of tornados or waterspouts:
During a tornado watch the lighthouse will remain open for climbing if the wind speeds at the balcony allow (see high wind).
If there is a tornado warning or waterspout sighting climbs are canceled. Rangers will monitor the weather and provide updates. Climbs will resume once the area is clear of the severe weather.
Last updated: June 1, 2022