Cape Hatteras Lighthouse Restoration Project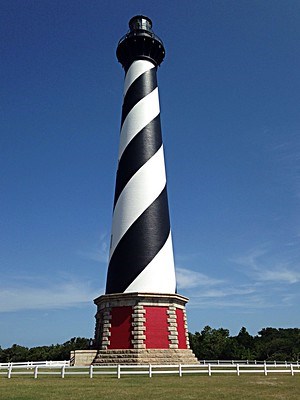 The Cape Hatteras Lighthouse, designed and constructed in 1868-70, is the tallest brick light tower in the United States, and it is an iconic symbol of North Carolina's Outer Banks. The 198-foot-tall lighthouse was listed on the National Register of Historic Places in 1978 and was designated a National Historic Landmark in 1998. Threatened by coastal erosion, the lighthouse and associated buildings were moved inland 2,900 feet to a new site in 1999.

Approximately 500,000 people visit the Cape Hatteras Light Station annually and approximately 1,500 people climb the lighthouse daily between April and October.

The lighthouse is located on a barrier island along the Atlantic coast and is exposed to salt air, high winds, and intense sunlight. Consequently, repairs are needed to maintain the integrity of this national treasure. The National Park Service has received funding for a major repair project that will address the findings from a 2014 Comprehensive Condition Assessment Report and a 2016 Historic Structure Report. The project will include repairs to deteriorated masonry, metal components, windows, marble flooring, and the lantern. Important architectural components, including missing pediments over the lighthouse windows and missing interior doors will also be restored. Additionally, the project will include new paint coatings on the interior and exterior of the lighthouse.

Cape Hatteras National Seashore (Seashore) is proud to be entrusted with the stewardship of the Cape Hatteras Lighthouse. It is the mission of the National Park Service to preserve cultural resources such as this lighthouse for the benefit of current and future generations.
---
Cape Hatteras Lighthouse
Restoration Project Status
Updated: June 24, 2021

Detailed design work is underway. In consultation with the State Historic Preservation Office, Seashore staff, historical architects, and engineers, are continuing to review condition assessments, historical drawings, and restoration techniques to formulate a scope of work for the full restoration project.

In preparation for contracting the full project, the Seashore is performing work that will assist with finalizing restoration plans. That work includes:
testing exterior paint removal methods, e.g. the dry ice paint removal testing that occurred late last year (completed),
monitoring interior humidity to enhance understanding of historic water intrusion and condensation (underway), and
removing all the interior paint to help the park and potential contractors fully assess the condition of the interior masonry and metalwork prior to restoration. Interior paint removal is anticipated to begin in mid-March and continue through at least August (underway).
After paint removal, there is a possibility of implementing a short lighthouse climbing season later this summer. Progress with paint removal and COVID-19 safety requirements will be considered and the Seashore will provide updated communications on the potential for climbing in August.

The full repair and restoration project is scheduled to start later this year after a competitive contracting process and contract award. Once started, the work is expected to take approximately one year to complete.
Last updated: June 24, 2021