News Release
Public invited to help National Park Service staff clean up beach debris in Rodanthe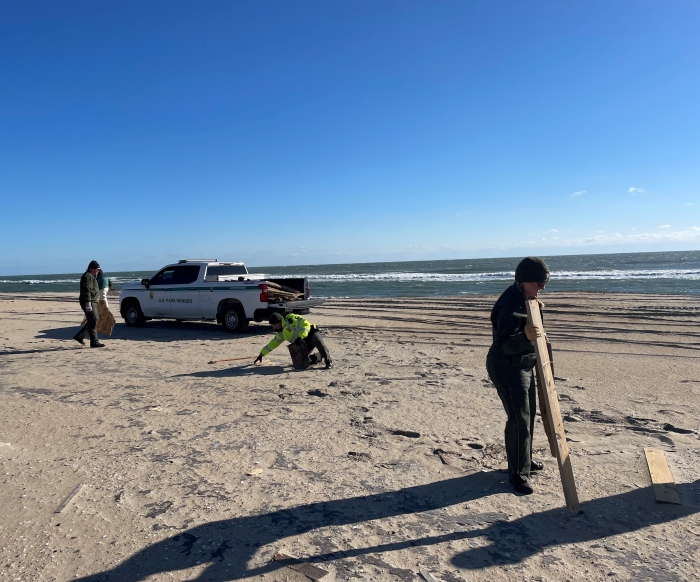 News Release Date:
March 15, 2023
Contact: Mike Barber, 252-270-5389
MANTEO, N.C. — On Thursday, March 16, the public is invited to help National Park Service staff at Cape Hatteras National Seashore (Seashore) clean up some of the debris associated with a March 13 house collapse.

March 16 Volunteer Beach Cleanup Details
Date: Thursday, March 16
Time: 10 a.m. to 2 p.m.
Location: Dare County's Rodanthe Public Beach Access, 23732 N.C. Highway 12, Rodanthe

Supplies will be provided for this organized effort to help National Park Service staff clean up small debris. Much of the wood pieces that have washed up on the beach have exposed nails, so all volunteers are encouraged to wear thick-soled footwear. Children under the age of 18 must be accompanied by a parent or legal guardian.

Individuals who plan to clean the beach either before or after these events should place garbage bags and debris well above the high tide line to ensure the items don't get washed back into the ocean.

Beach Cleanup Updates – March 15, 2023
On Wednesday, March 15, over 40 National Park Service employees participated in a large-scale cleanup effort using pickup trucks, front-end loaders, dump trucks and dumpsters, resulting in 42 truckloads of debris being removed from the beach.

National Park Service employees will return to the beach tomorrow for continued cleanup efforts and to coordinate volunteer support.

Beach debris cleanup photos are available on the Seashore's Flickr page.
Last updated: March 15, 2023