News Release
Cape Hatteras National Seashore celebrates 150th anniversaries of Cape Hatteras Lighthouse and Dare County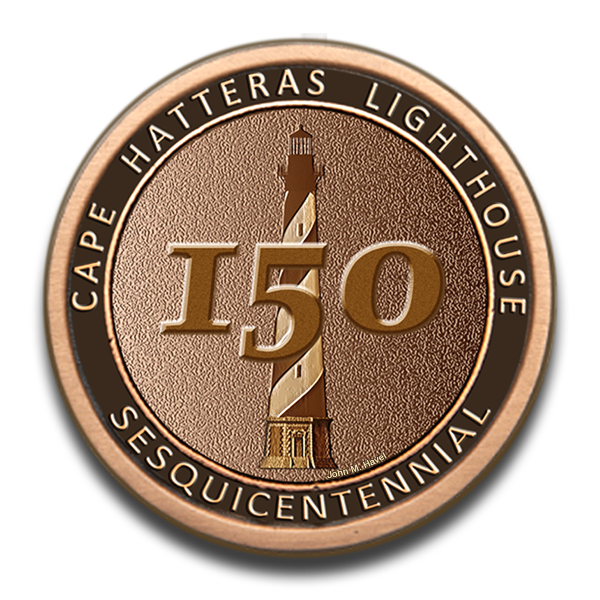 News Release Date:
December 3, 2020
Contact: Michael Barber, 252-475-9032
On December 16, 2020 at 4:45 p.m., Cape Hatteras National Seashore (Seashore), in partnership with the Outer Banks Lighthouse Society and Outer Banks Forever, will celebrate the 150th anniversaries of the Cape Hatteras Lighthouse and Dare County via special online video on the Seashore's Facebook page and Dare County's CURRENTtv.

The special 25-minute online video, shown on the 150th anniversary of the first lighting of the Cape Hatteras Lighthouse, will feature National Parks of Eastern North Carolina Superintendent David Hallac; Dare County Chairman Bob Woodard; Captain Matt Baer, Sector North Carolina Commander, U.S. Coast Guard; historian Kevin Duffus; Bett Padgett from the Outer Banks Lighthouse Society; a living history presentation of Augustin Fresnel, inventor of the lighthouse lantern; park rangers and community members; and a tribute from lighthouses across the country.

In addition to the December 16th video, there will be other lighthouse-related events and activities for the public to enjoy throughout the month.

A temporary exhibit, 150 Years of Light, a Photographic Tribute, will be available within the Eastern National Bookstore on Hatteras Island beginning the week of December 14. The exhibit, available through spring 2021, highlights special and unique photographs of the iconic lighthouse over the years.

To highlight the role the Cape Hatteras Lighthouse plays in inspiring artists, the Dare County Arts Council has curated the Cape Hatteras Lighthouse Virtual Art Show, showcasing a variety of artwork featuring the lighthouse. The art exhibit is accessible at www.darearts.org/hatteras150.

In the days leading up to December 16, the Seashore will share interesting and lesser-known facts about the Cape Hatteras Lighthouse on its Facebook page.
Last updated: December 2, 2020