Date:
July 26, 2018
Contact:
Mike Barber
, 252-475-9032
On July 21, Cape Hatteras National Seashore received the Employer Support of the Guard and Reserve (ESGR) Above and Beyond Award at a ceremony in Chapel Hill, North Carolina.  

The Above and Beyond Award is presented by ESGR state committees to recognize employers who have gone above and beyond the legal requirements of the Uniformed Services Employment and Reemployment Rights Act (USERRA) by providing their Guard and Reserve employees additional, non-mandated benefits.

Cape Hatteras National Seashore, along with Fort Raleigh National Historic Site and Wright Brothers National Memorial (Outer Banks Group) were nominated for this award by Park Ranger Chris Cabral, a Senior Master Sergeant in the United States Air Force Reserve.

"My National Park Service supervisors have been nothing but supportive of my military career," stated Cabral. "They have happily supported my deployments, even during our busy season."

The award was accepted by Outer Banks Group Chief of Interpretation Mary Doll at the ceremony. The National Park Service was among 49 employers across the State of North Carolina to receive this honor in 2018.

"We fully support Chris' military service in readiness of the Air Force Reserve," stated Doll. "We appreciate the values, leadership, and unique skills that Chris, as a Reservist, brings to our workforce."

The ESGR is a Department of Defense office that develops and promotes supportive work environments for Service members in the Reserve Components through outreach, recognition, and educational opportunities that increase awareness of applicable laws, and resolves employment conflicts between the Service members and their employees.

"Every year, the Outer Banks Group employs many staff who are either currently serving, or have honorably served, our Nation's Armed Forces," stated Superintendent David Hallac. "I am thankful for their service to our country and for their service to the National Park Service."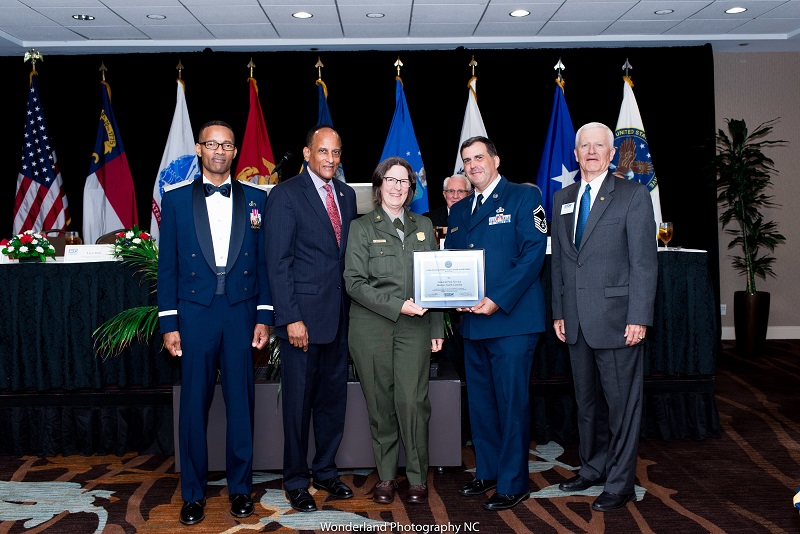 The National Park Service receives the Above and Beyond Award: (left to right)  Brigadier General Clarence Ervin, NC National Guard Joint Force Headquarters, Chief of Staff Air National Guard; Larry Hall, Secretary of the NC Department of Military and Veterans Affairs, Governor's Office; Mary Doll, Chief of Interpretation, National Park Service Outer Banks Group; Chris Cabral National Park Service Park Ranger and Senior Master Sergeant United States Air Force Reserve; and Ronald Bogle, NC Employer Support of the Guard and Reserve State Chairman.