Current Park Conditions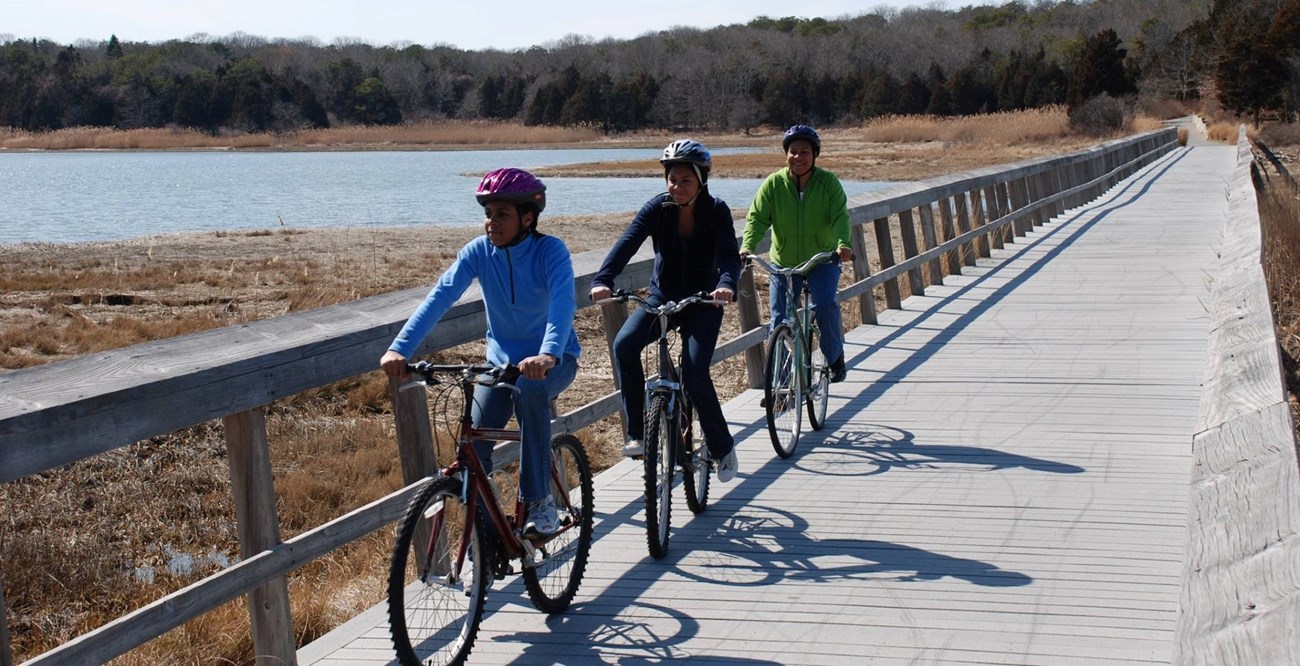 Visitor Centers
Salt Pond Visitor Center
Open: Staff and volunteers are on duty to answer questions, assist with orientation information, and provide maps and brochures. Films and exhibits are available. Open 9 am to 5 pm.

Open: America's National Parks store.

Open:

Restrooms located in the parking area
Province Lands Visitor Center
Open:

Staff and volunteers are on duty to answer questions, assist with orientation information, and provide maps and brochures. Films and exhibits are available. Open 9 am to 5 pm.

Open:

America's National Parks store.

Open:

Restrooms located in the parking area are open year-round.
Beaches
Coast Guard Beach
Coast Guard Tram from Little Creek
Open:

The Coast Guard Beach tram from Little Creek is open for transporting visitors on weekends only and then daily after June 15.
Nauset Light Beach
Marconi Beach
Head of the Meadow Beach
Race Point Beach
Herring Cove Beach
Open:

Herring Cove Beach

Open:

Vault toilets in the north and south parking lots are open year round.

Open:

Restrooms and showers

Open:

Beach entrance fee collection and annual pass sales are open on weekends. Daily fee collection will begin June 15.
There are no lifeguards on beaches. Use caution and heed advisories on beaches; be shark smart.
ORV Corridor
Open: The Oversands permit office is open Thursday-Monday, 8 am-4:30 pm, April 10 through November 15. The office is closed on Tuesdays and Wednesdays. Some sections of the Oversand corridor are now open. For more information, visit Oversand Permit Office or call the permits office: 508 487-2100, ext. 0927.
Walking Trails
Open:

All eleven walking trails in the park are open for use.
Pets are NOT permitted on most park trails. Leashed pets are allowed on the Pilgrim Springs Trail in Truro, the Doane Trail in Eastham, and a short section at the start of the Great Island Trail in Wellfleet. Always clean up after your pet.
Be alert for poison ivy and ticks.
Bikes are not allowed on walking trails.
Bike Trails
Open:

All three bike trails in the park are open for use.
Leashed pets are permitted on Head of the Meadow Bike Trail year-round, and on the Nauset and Province Lands bike trails from November 1 through April 30.
Historic Buildings
Variable:

Check the Trip Planner and ask at visitor centers about tours and other programs at historic buildings available seasonally.
Highland Light tours and bookstore will reopen on Friday, May 5.
Beach and Ocean Conditions
What to know before you go. Get your beach and ocean safety tips, including information about sharks.
Tides
Knowing the tides is extremely important at Cape Cod. Tides can limit your access to certain areas.
Visit the Massachusetts Marine Boat Association for detailed tide tables.
Weather
Weather is always unpredictable, so make sure to check the forecast before your head to the seashore. Always pack sunscreen, water, and layers of clothing if you plan on being outdoors.
Loading weather forecast...
Last updated: June 2, 2023