Pets at Cape Cod National Seashore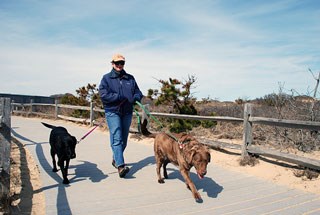 Pets are great companions for enjoying the out-of-doors. At numerous locations in Cape Cod National Seashore, people and their pets can experience the remote beauty and tranquility of this fragile place. Pets must be on a 6' leash at all times, and important restrictions apply.
Where leashed pets are permitted:
All fire roads within Cape Cod National Seashore (depicted on topographic maps available at park and local bookstores);
Head of the Meadow Bicycle Trail year round and Province Lands and Nauset bike trails, November 1-April 30;
Freshwater ponds within Cape Cod National Seashore (beaches and water), October 16-May 14;
Cape Cod National Seashore ocean beaches except as follows:

During the summer, pets are not permitted on lifeguard-protected beaches. Passing through lifeguard-protected areas of the beach is permitted.
During shorebird nesting, staging, and migrating periods, pets are not permitted in posted locations. Passing through these areas is prohibited.
Where pets are not permitted:
Designated nature trails at any time; check signs and at visitor centers for Great Island exceptions;
Nauset and Province Lands bike trails, May 1-October 31;
Fresh water ponds within Cape Cod National Seashore (beaches and water), May 15-October 15;
Areas where certain shorebirds nest, especially the piping plover, a threatened species under the Endangered Species Act. Birds may abandon nests when they perceive threats or are disturbed. These areas are posted seasonally when prohibition is in effect;
On lifeguard-protected beaches during the summer months. You may walk your leashed pet through these areas to enjoy walks on stretches of beach;
West and Sunset horse trails in the Province Lands;
Cape Cod National Seashore trams, except working service animals.
Remember:
Pets must be leash-controlled to prevent them from disturbing people and other pets, from harassing wildlife, and for their own safety.
Pick up your pet's fecal matter, remove it, and dispose of it properly.
Protection rangers enforce National Park Service pet regulations for the benefit of visitors and the seashore's unique environment. Failure to leash your pet or being in an area closed to pets may result in a fine.
Town pet regulations apply to town-managed beaches and town property within the national seashore boundary.


Last updated: November 8, 2018