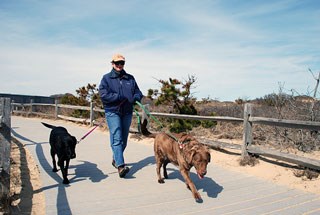 Pets are great companions for enjoying the out-of-doors. At numerous locations in Cape Cod National Seashore, people and their pets can experience the remote beauty and tranquility of this fragile place. Pets must be on a 6' leash at all times, and important restrictions apply.
Where leashed pets are permitted:
All fire roads within Cape Cod National Seashore (depicted on topographic maps available at park and local bookstores);
Head of the Meadow Bicycle Trail year round and Province Lands and Nauset bike trails, November 1-April 30;
Freshwater ponds within Cape Cod National Seashore (beaches and water), October 16-May 14;
Cape Cod National Seashore ocean beaches except as follows:

During the summer, pets are not permitted on lifeguard-protected beaches. Passing through lifeguard-protected areas of the beach is permitted.
During shorebird nesting, staging, and migrating periods, pets are not permitted in posted locations. Passing through these areas is prohibited.