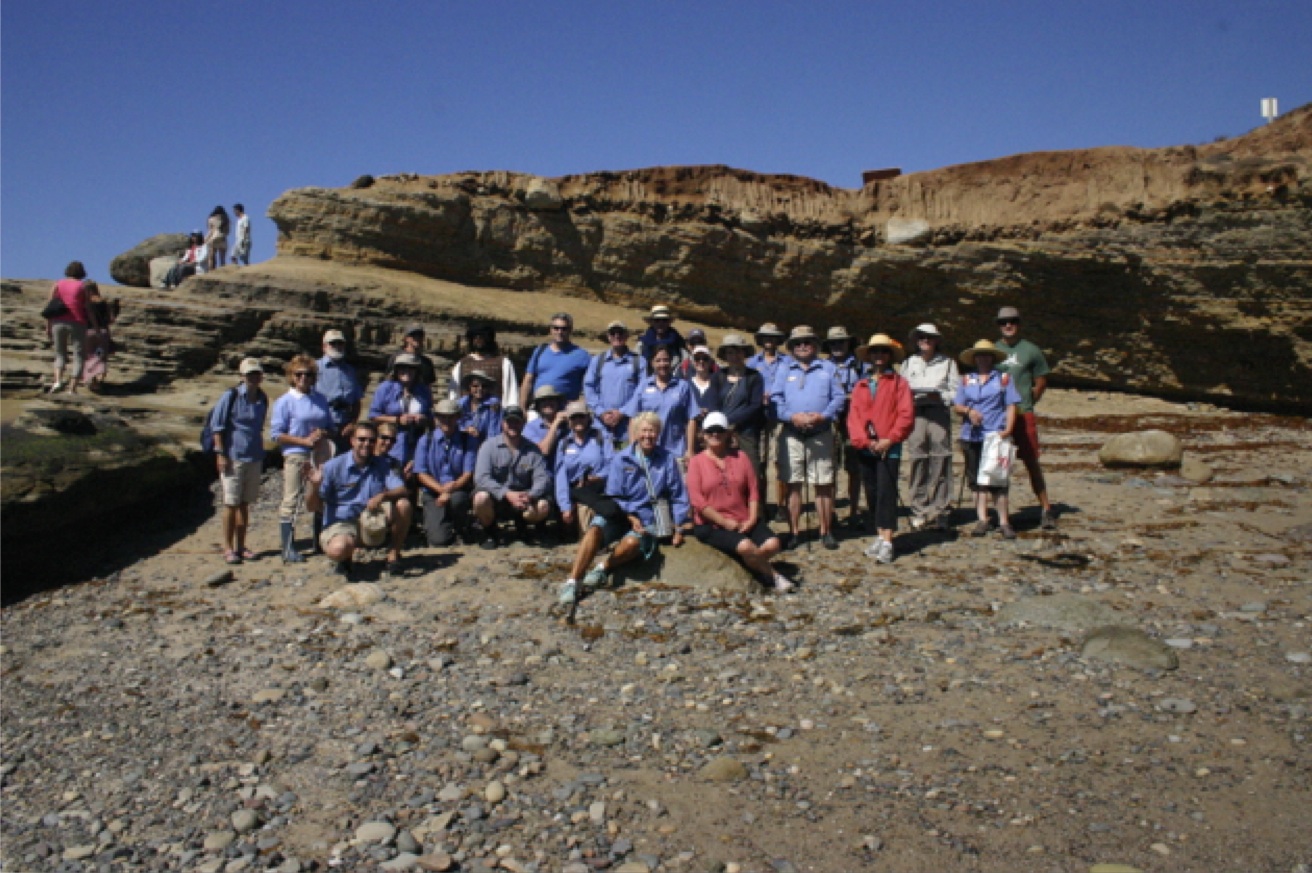 News Release Date:
June 27, 2014
Contact: Eileen Martinez, 619-523-4572
 Volunteers Honored with National Award
Cabrillo National Monument Receives the Hartzog Park Volunteer Program Award
San Diego, CA- In a special ceremony held in Washington DC on June 25, 2014, the volunteer program at Cabrillo National Monument (NM)  received the prestigious George and Helen Hartzog Award for Outstanding Volunteer Service of 2013. Each year the National Park Service recognizes exceptional efforts in volunteer management and service. Cabrillo was selected out of 401 national parks across the country for this high honor.
Under the leadership of Park Ranger Tavio del Rio, the park's volunteer program has more than doubled since 2010. Last year, nearly 400 VIPs (Volunteers-In-Parks) logged almost 12,000 hours of service. The influx of new volunteers has bolstered existing programs and allowed the park to provide new opportunities.
Dynamic volunteer-based accomplishments include the formation of the Cabrillo National Monument Conservancy, a nonprofit park friends group; the expansion of the Tidepool Protection Education & Restoration Program; the creation of  a two volume reference manual "the E-binder"; the establishment of the Dusty Socks Club to promote outdoor fitness; and the restoration of a derelict bunker into a fully operating command post staffed by living history volunteers as part of "Fort Rosecrans Goes to War."
"Every day, volunteers at Cabrillo join park staff to achieve our mission. Their contributions keep the park safe and provide enjoyment for our visitors. From citizen science, to maintenance, to interpretation, they answer the call. It is an honor to host this dedicated group of professionals. Their tireless efforts and generosity make the park a better place," comments Park Superintendent Thomas Workman.  
Please view a short YouTube video for highlights of the program: Cabrillo Volunteers. If you would like more information on volunteer opportunities at Cabrillo NM visit www.nps.gov/cabr
ABOUT THE NATIONAL PARK SERVICE
More than 20,000 National Park Service employees care for America's 401 national parks and work with communities across the nation to help preserve local history and create close-to-home recreational opportunities. Learn more at www.nps.gov.
The award is named for former National Park Service Director George B. Hartzog, Jr. who started the VIP Program in 1970 with 300 participants. Last year, more than 246,000 volunteers donated 6.7 million hours of time and talent to help preserve and protect national parks.
Photos and additional information about the Hartzog Awards are available at https://www.nps.gov/aboutus/hartzog-awards.htm