Alerts & Conditions
COVID-19 Update
The National Park Service (NPS) is working service-wide with federal, state, and local public health authorities to closely monitor the COVID-19 pandemic. Based on guidance from the Centers for Disease Control and Prevention (CDC), and state and local public health authorities, access to Cabrillo National Monument is as follows:
Open: Trails, Old Point Loma Lighthouse, Cabrillo Exhibit, Assistant Lighthouse Keeper's Quarters Exhibit, Military History Exhibit, and restrooms. Park Store open Friday-Sunday 10am-5pm; Monday-Thursday 10am-4pm.
Closed: Auditorium, parking lot #3 in the tidepool area (parking lots #1 and #2 in tidepool area open).

While the listed areas are accessible for visitors to enjoy, a return to full operations will continue to be phased, and services may be limited. When recreating, please follow local area health orders and recreate responsibly. Masks are required in federal buildings and on NPS-managed lands when physical distancing cannot be maintained, such as narrow or busy trails, overlooks, and parking lots.
The CDC has offered guidance to help people recreating in parks and open spaces prevent the spread of infectious diseases. We will continue to monitor all park functions to ensure that visitors adhere to CDC guidance for mitigating risks associated with the transmission of COVID-19 and take any additional steps necessary to protect public health.

Current Conditions
Park rangers are available during park hours at 619-523-4285 to answer questions about the park and provide Junior Ranger activities as requested.
Visitors should come prepared to pack out their own trash, and bring enough food and water for their group.
The road to the tidepools may be closed if the area hits capacity in order to maintain conditions appropriate for social distancing. The road to the tidepool area will be closed (usually around 30 minutes) until sufficient capacity in the parking areas becomes available. This temporary closure of the road allows for traffic to flow freely and allows a more pleasant experience for the visitor by reducing the number of people and reducing the damage to the fragile ecosystem. Please plan your trips to allow for this delay, and thank you for your patience.
Consistent with CDC guidance regarding areas of substantial or high transmission, visitors to Cabrillo National Monument, regardless of vaccination status, are required to wear a mask inside all park buildings.

United States Department of the Interior
NATIONAL PARK SERVICE
Cabrillo National Monument
1800 Cabrillo Memorial Drive
San Diego, California 92106-3601
http://www.nps.gov/cabr/

W22 CABR-VRP
Closure Order #20-003
December 31, 2020

Closures, restrictions, and public use limits:

Closure Order – Portion of a Park Area: Under the authority provided to the Superintendent in 36 CFR 1.5, the following park areas and facilities may be closed, effective immediately, until further notice:
North Gatchell Road will be closed to all visitor access (e.g., vehicles, pedestrians, bicyclists) at the signed barricaded closure beginning at the North end of parking lot 2 and extending to the boundary of the City of San Diego Point Loma Wastewater Treatment Plant. The closure includes parking lot 3.
Authority: 36 CFR 1.5(a)(1)
Notice: This administrative order applies to all individuals subject to the regulatory authority of the National Park Service (NPS) within the boundaries of Cabrillo National Monument, except as follows:
Authorized NPS employees.

Authorized contractor of the NPS.

Authorized partner employee of the NPS.

Authorized researchers as approved by the NPS.

Authorized employees or contractors of the U.S. Navy, the U.S. Coast Guard, and the City of San Diego solely for the purposes of travelling through the park on paved roads to affiliated adjacent properties. Traffic will be controlled by alternating red and green lights, and travel will be permitted on the East bound lane only.
Finding: The NPS issues this administrative order for the purposes of maintaining public health and safety during the closure to visitors of North Gatchell Road beyond parking lot 2.

This order is effective immediately and will remain in effect until further notice. The effectiveness of this order will be assessed on an ongoing basis and will be modified or removed when conditions warrant.
Cabrillo Sea Cave Closed
The Cabrillo Sea Cave is located within a closed area of the park. The Sea Cave and nearby area have been closed since the 1980s due to extremely dangerous conditions and to comply with the Marine Mammal Protection Act. Entry into this area is not permitted at any time. Violators are subject to federal fines and sentencing.
Marine mammals use this area and are protected by the Marine Mammal Protection Act. Approaching and/or disturbing marine mammals (i.e., seals and sea lions) and their young is not allowed. Doing so is a violation of the Act, and violators are subject to fines and sentencing.
The cave was created by sudden and catastrophic sandstone erosion and rock falls. Periodic bluff collapse is constant along the California coast. To avoid injury, stay back from cliff edges and do not walk under overhangs or along the base of escarpment faces.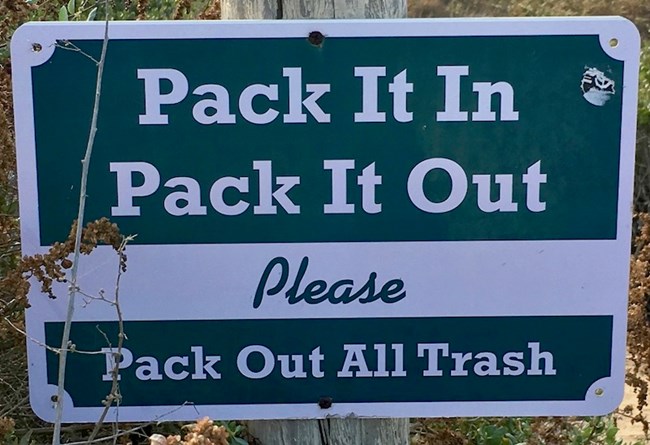 Cabrillo National Monument is a smoke-free and trash-free park.
Smoking is not permitted anywhere on the park grounds, including the tidepools, trails and parking lots. Smoking is also prohibited in all buildings.

In November 2010, the park became "trash-free" with the removal of 95% of the garbage cans and recycling bins from the grounds. Please help us maintain our "trash-free" park by packing out whatever you bring in.
Last updated: August 19, 2021