EcoLogik
Visit our keyboard shortcuts docs for details
Duration:

4 minutes, 43 seconds
EcoLogik STEM Summer Day Camp for girls creates champions for nature, innovators in STEM, warriors for environmental stewardship, and leaders for their communities. Hear their stories in this video introduction to an extraordinary program.
The EcoLogik Project is a unique fusion of ecology, nature, and technology; EcoLogik connects the next generation of science stewards to the natural resources and science at Cabrillo National Monument. In collaboration with the San Diego Downtown Library's Innovation Lab, this multidisciplinary approach fosters a learning platform making technology more accessible to students while inspiring them to choose careers in STEM fields. The goal of the EcoLogik Project is to provide education tools and context empowering the 21st century of park stewards in meaningful and relevant ways with science.
Virtual Workshops
Can't make it out to one of the in-person workshops? No problem! Free virtual STEAM (science, technology, engineering, art, math) workshops will be offered twice a month, beginning 9/27.
9/27 & 9/29: Noise Pollution - Pollution comes in many forms, including sound! And like all types of pollution, it can have a negative effect on humans and wildlife, such as whales and dolphins! Learn more about how it affects these ocean creatures, and how YOU can help prevent it.
10/18 & 10/20: Spooky Creatures - Take a look at the ocean's spookiest species for this special October edition of our marine organisms workshop! You get to meet the ocean's skeletons, zombies, witches, ghosts and devils!
11/17 & 11/18: Kelp Forests - Sometimes called "nature's nursery", kelp forests are a biodiverse region that's essential for many species' lifecycle. Learn why Cabrillo's kelp forest is a marine protected area and the organisms that inhabit it!
12/7 & 12/8: Food Webs - Every species has an essential part to play in nature. Explore some local food webs, and find out why biodiversity matters.
The 2 below will go in rotation (in Feb) instead of "Spooky Creatures".
Marine Organisms - The Oceans provide clean air and nutrients to people and other species around the globe. Discover some amazing local species and the significant roles that they play.
Deep Sea Organisms - The deep sea is filled with fantastic beasts, but did you know it's also home to coral reefs and organisms that use poisonous chemicals for energy instead of the sun? Join us to learn more about this fascinating ecosystem.
Registration is now LIVE. Click here to attend!
This page will be updated regularly - check back for upcoming dates!

In-person Workshops
Join STEM (Science, Technology, Engineering, Math) professionals for a 1.5 – 3-hour workshop exploring the real science conducted in America's National Parks. Participants will use technology to investigate real-world problems and learn ways to solve them, empowering them to preserve and protect nature and sparking an interest in STEM. These workshops are free to the public, and can be located at Cabrillo, libraries, and other community spaces around the county. They include topics such as:
Radio Telemetry – learn how scientists track animals in the wild through radio signals, and what that data can tell us about an ecosystem by mapping your findings.

3D Printing – ever wanted to learn how to 3D print? Discover how to create a model of some of the animals we find in the Cabrillo tidepools.

Biologgers – how can computer programming help with wildlife conservation? Conduct an experiment with technology that helps scientists understand how temperature changes can affect animal health

Biodiversity Snapshot – scientists can't be everywhere at once, so it's important to crowdsource science! Learn how you can contribute to scientific discoveries using tools many of us have in the palm of our hands

Camera Traps – how do scientists monitor the park when they aren't around? Explore technology that enables scientists to learn about the ecosystem and try your hand at using this tech yourself.
This page will be updated regularly - check back for upcoming dates and registration link!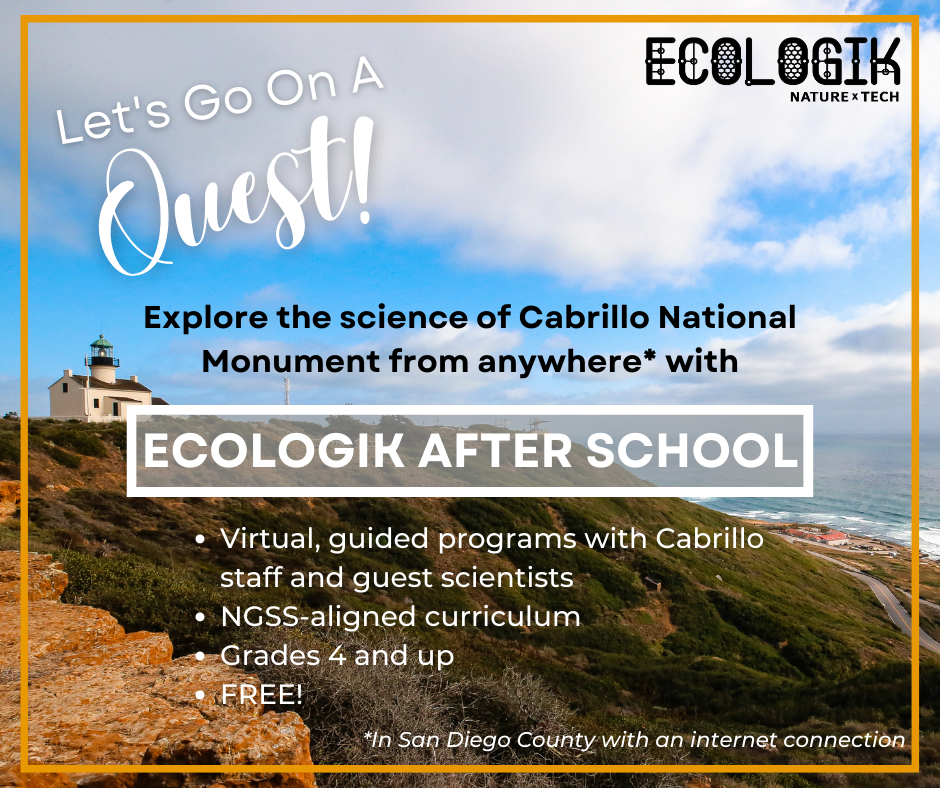 Are you a 4-12 educator looking for after school programming, or know someone who is? EcoLogik After School is a FREE, virtual, two-week after school program designed for students to learn more about science through hands-on learning and art. We are currently recruiting teachers and groups to participate. For more information, read the program description or reach out to EcoLogik Director Sam Wynns at Samantha_Wynns@partner.nps.gov.
Ready to sign up? Register for your after-school programming.
Ecologik Summer Day Camp
The Cabrillo National Monument Foundation is a proud sponsor of the EcoLogik STEM Summer Day Camp.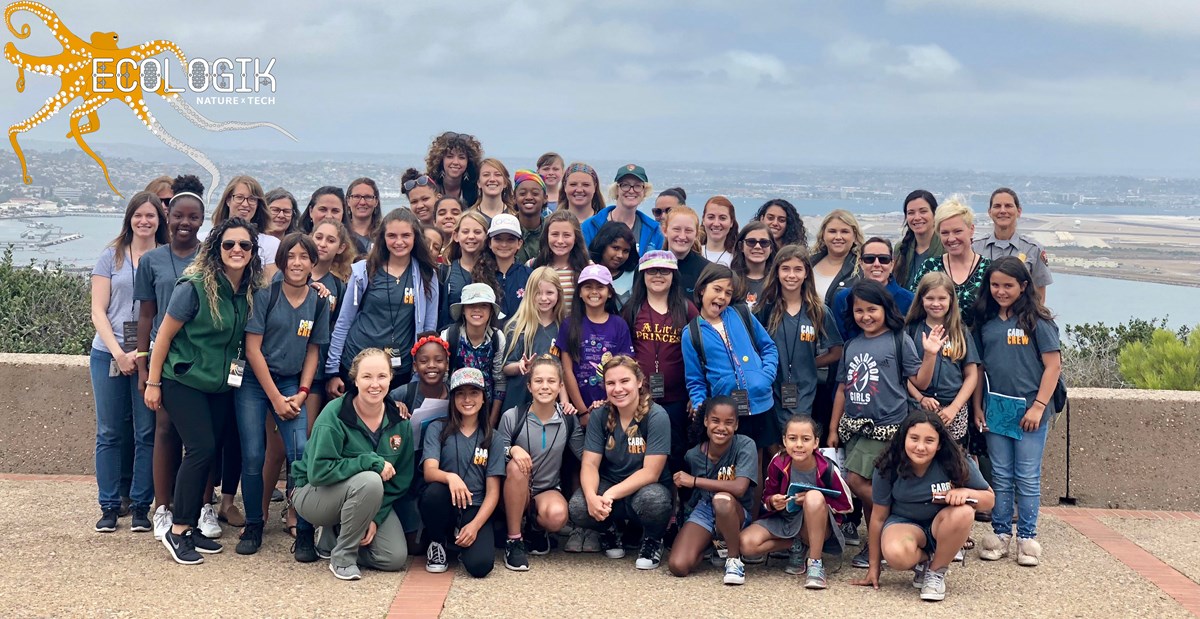 EcoLogik is a free 2-week STEM summer day camp for underrepresented female and female identifying youth, ages 9 - 16. This unique program fuses ecology and technology to connect youth to the natural resources and science of America's National Parks. Camp will explore the themes of biodiversity, marine science, nature photography, and so much more!

For more information on EcoLogik, check out this beautiful new ARC GIS storymap.

Note: If your child has attended EcoLogik Summer Day Camp before they cannot attend again. However, students aged 13+ may apply for a camp counselor role at ecologikproject@gmail.com.
Registration for both EcoLogik Summer Day Camps Opens April 8th
,

2023 at noon!
Camp Dates
Camp #1: June 19th - June 30th , 2023
Camp #2: July 24th - August 4th , 2023
Last updated: November 7, 2022