EcoLogik
Visit our keyboard shortcuts docs for details
Duration:

4 minutes, 43 seconds
EcoLogik STEM Summer Day Camp for girls creates champions for nature, innovators in STEM, warriors for environmental stewardship, and leaders for their communities. Hear their stories in this video introduction to an extraordinary program.
The EcoLogik Project is a unique fusion of ecology, nature, and technology; EcoLogik connects the next generation of science stewards to the natural resources and science at Cabrillo National Monument. In collaboration with the San Diego Downtown Library's Innovation Lab, this multidisciplinary approach fosters a learning platform making technology more accessible to students while inspiring them to choose careers in STEM fields. The goal of the EcoLogik Project is to provide education tools and context empowering the 21st century of park stewards in meaningful and relevant ways with science.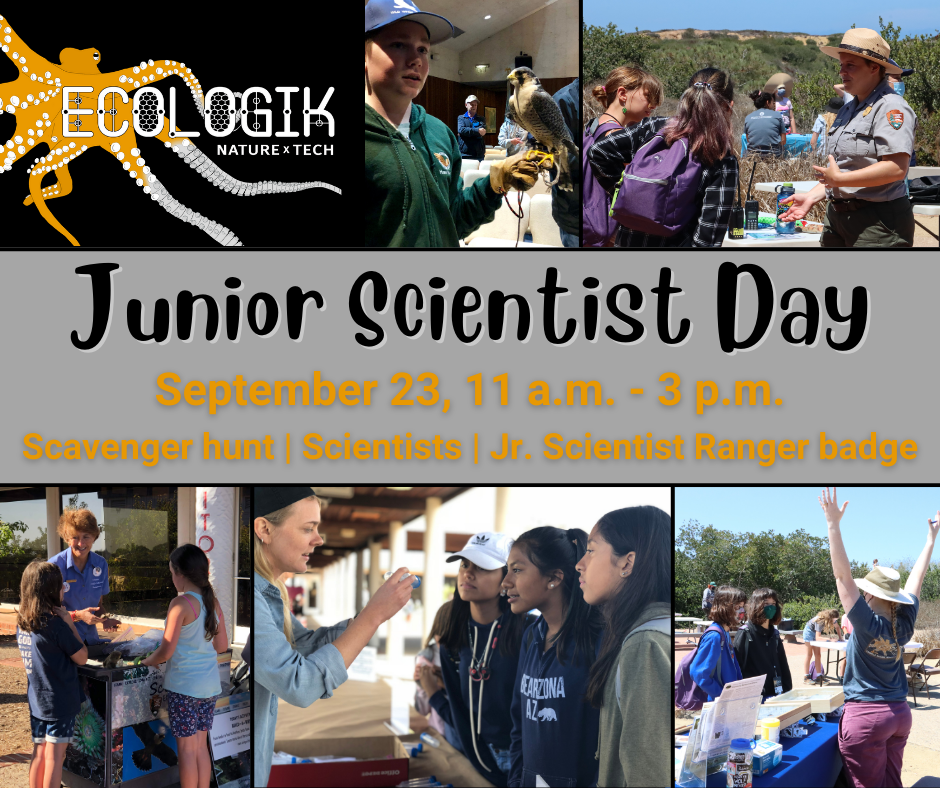 On Saturday, September 23rd, 2023, join scientists and engineers for Cabrillo's second Junior Scientist Day! You'll have the opportunity to go on a scavenger hunt, do some fun STEAM (science, technology, engineering, art, math) activities, meet some real STEM professionals for an "ask me anything" session, and earn a totally unique Junior Scientist Badge! Think Junior Ranger ... only SCIENCE.
When: 9/23/23, 11:00 AM - 3:00 PM
Where: Cabrillo National Monument - look for the station outside the Visitor Center
Who: All ages welcome
Cost: Absolutely free - it's a fee-free day so there is no admission to Cabrillo National Monument
Virtual Workshops
Stay tuned for future virtual offerings!

In-person Workshops
Join STEM (Science, Technology, Engineering, Math) professionals for a 1.5 – 3-hour workshop exploring the real science conducted in America's National Parks. Participants will use technology to investigate real-world problems and learn ways to solve them, empowering them to preserve and protect nature and sparking an interest in STEM. These workshops are free to the public, and can be located at Cabrillo, libraries, and other community spaces around the county. They include topics such as:
Radio Telemetry – learn how scientists track animals in the wild through radio signals, and what that data can tell us about an ecosystem by mapping your findings.

3D Printing – ever wanted to learn how to 3D print? Discover how to create a model of some of the animals we find in the Cabrillo tidepools.

Biologgers – how can computer programming help with wildlife conservation? Conduct an experiment with technology that helps scientists understand how temperature changes can affect animal health

Biodiversity Snapshot – scientists can't be everywhere at once, so it's important to crowdsource science! Learn how you can contribute to scientific discoveries using tools many of us have in the palm of our hands

Camera Traps – how do scientists monitor the park when they aren't around? Explore technology that enables scientists to learn about the ecosystem and try your hand at using this tech yourself.
… And stay tuned for new subjects later this Fall!
Schedule
9/18/23, 3:30 PM – 5:00 PM – Camera Traps at North University Community Library
9/25/23, 3:30 PM – 5:00 PM – Biodiversity Snapshot at North University Community Library
Register (on the library's website) for Camera Traps
Register (on the library's website) for Biodiversity Snapshot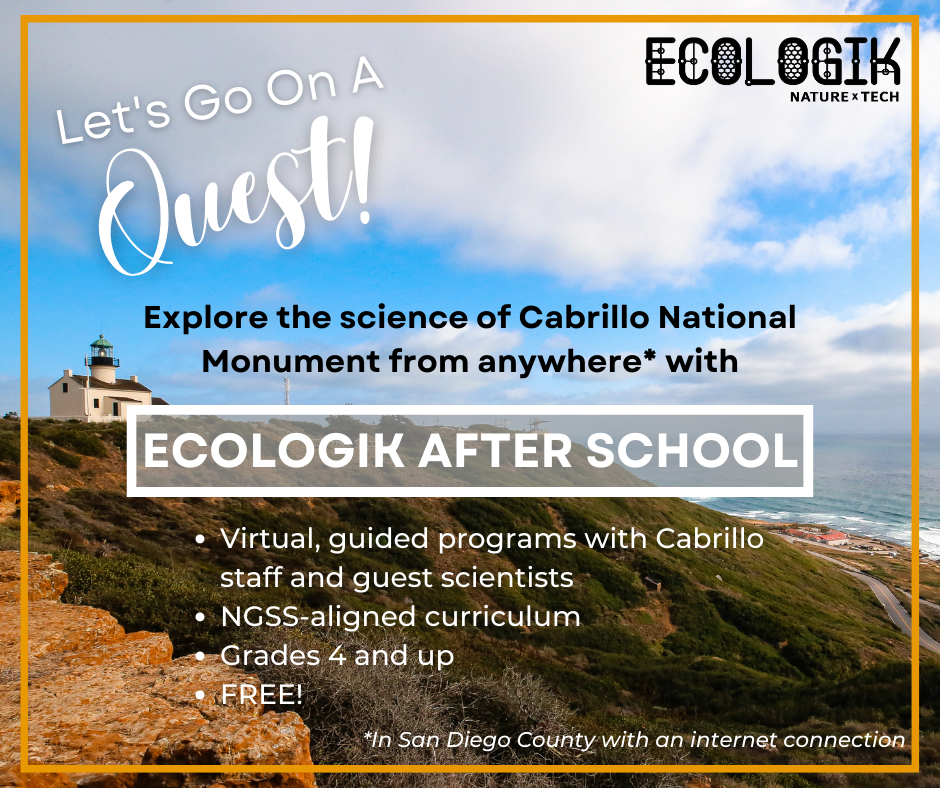 Are you a 4-12 educator looking for after school programming, or know someone who is? EcoLogik After School is a FREE, virtual, 2-4 week after school program designed for students to learn more about science through hands-on learning and art. We are currently recruiting teachers and groups to participate. For more information, read the program description or reach out to EcoLogik Director Sam Wynns at Samantha_Wynns@partner.nps.gov.
Ready to sign up? Register for your after-school programming.
Ecologik Summer Day Camp
The Cabrillo National Monument Foundation is a proud sponsor of the EcoLogik STEM Summer Day Camp.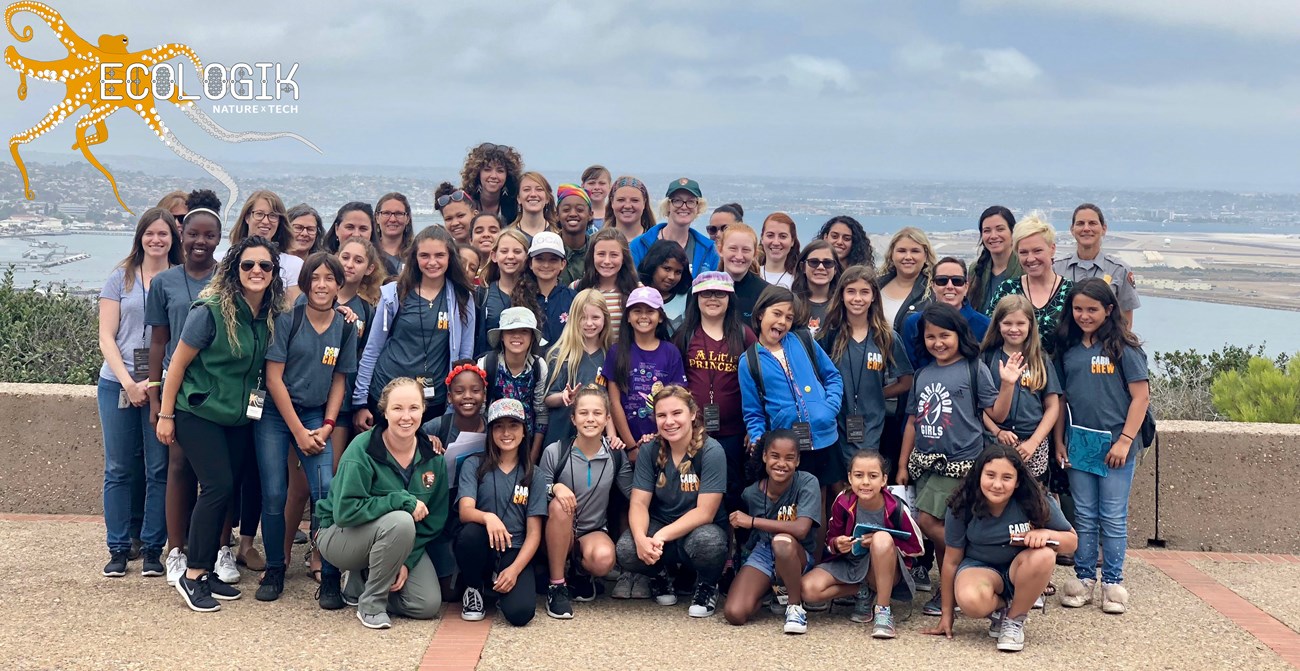 EcoLogik is a free 2-week STEM summer day camp for underrepresented female and female identifying youth, ages 10 - 16. This unique program fuses ecology and technology to connect youth to the natural resources and science of America's National Parks. Camp will explore the themes of biodiversity, marine science, nature photography, and so much more!

For more information on EcoLogik, check out this beautiful new ARC GIS storymap.

Note: If your child has attended EcoLogik Summer Day Camp before they cannot attend again. However, students aged 13+ may apply for a camp counselor role at ecologikproject@gmail.com.
Applications for EcoLogik Summer Day Camps 2024 will open April 6th, 2024 at noon.
The application cycle will remain open for two weeks, but we encourage you to apply early so that you don't miss out!
Last updated: September 6, 2023