EcoLogik After School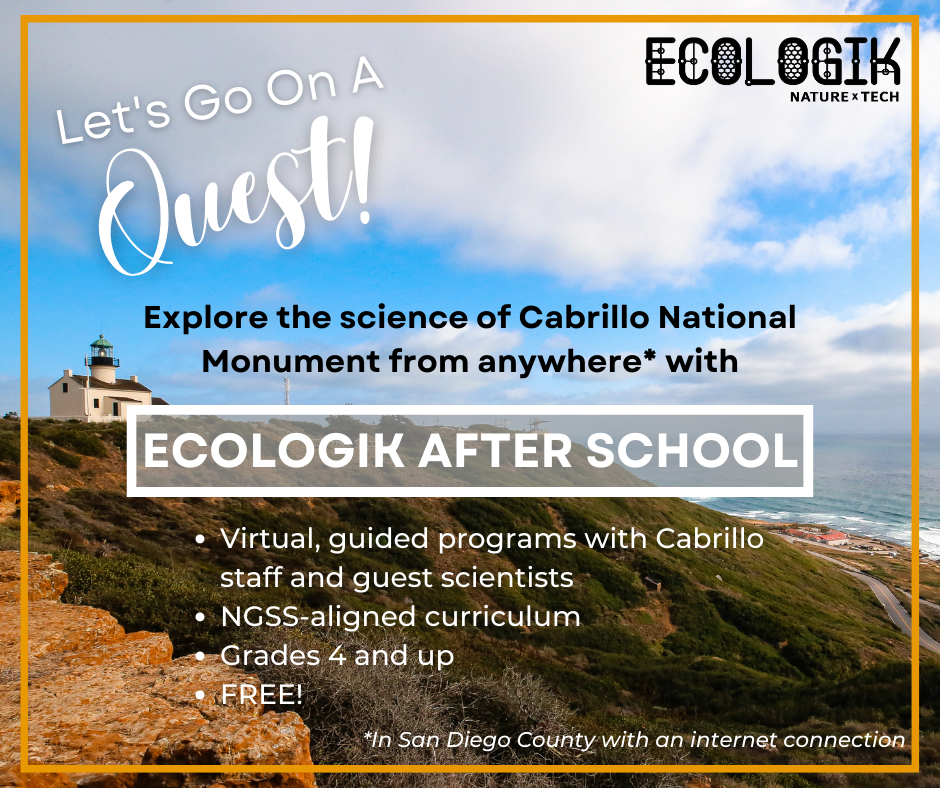 What is EcoLogik?
The EcoLogik Project is a unique fusion of ecology, nature, and technology. EcoLogik connects the next generation of science stewards to the natural resources and science at Cabrillo National Monument. In collaboration with community organizations such as the San Diego Public Libraries, this multidisciplinary approach fosters a learning platform that makes technology more accessible to students while simultaneously inspiring them to pursue careers in STEM (science, technology, engineering, math). The goal of the EcoLogik Project is to provide educational tools and context to connect 21st-century environmental stewards in meaningful and relevant ways with science.

The EcoLogik Project contains three free programs:
STEM Summer Day Camp for Girls (Ages 10-16)
Live In-Person and Virtual Workshops (Youth in Grades 4+)
After School (Youth in Grades 4+)
EcoLogik After School
EcoLogik After School is a FREE, 2-week, hands-on, standards-aligned STEAM (science, technology, engineering, art, math) program that is virtually facilitated by Cabrillo National Monument staff. This engaging content incorporates different learning modalities to reach a diverse audience with a breadth of learning abilities. By leveraging resources from TedEd Earth School and Cabrillo National Monument's curriculum, each day explores a different STEM theme - from biodiversity to plastics - through daily "quests." Students will learn STEM through art and hands-on activities.

Additionally, After School attendees will be introduced to real, diverse STEM professionals, many of whom are prestigious American Association for the Advancement of Science (AAAS) IF/THEN® Ambassadors. Students will conduct a science experiment and have the opportunity to chat with these professionals during a live call.
After School Schedule*
| Day | Topic |
| --- | --- |
| 1 | The Nature of Oceans |
| 2 | The Nature of Biodiversity |
| 3 | The Nature of Water |
| 4 | The Nature of Air, Weather, & Climate |
| 5 | The Nature of Climate Change |
| 6 | The Nature of Restoration |
| 7 | The Nature of Plastics |
| 8 | The Nature of Biodiversity Loss |
| 9 | The Nature of Plants & Forest |
| 10 | The Nature of Deforestation |
*Topic order and content subject to change
NGSS Standards
Fourth Grade:
4-ESS1-1, 4-ESS2-1, 4-ESS2-2, 4-ESS3-1; 4-LS1-1, 4-LS1-2

Fifth Grade:
5-ESS2-1, 5-ESS2-2, 5-ESS3-1; 5-LS2-1; 5-PS1-2, 5-PS1-4, 5-PS2-1

Middle School:
MS-ESS1-4, MS-ESS2-2, MS-ESS2-3, MS-ESS-2-5, MS-ESS3-1, MS-ESS3-3, MS-ESS3-4; MS-LS1-1, MS-LS1-3, MS-LS1-4, MS-LS1-5, MS-LS2-1, MS-LS2-2, MS-LS2-4, MS-LS2-5, MS-LS3-2, MS-LS4-1, MS-LS4-2, MS-LS4-4, MS-LS4-5; MS-PS1-1, MS-PS1-2, MS-PS1-3

High School:
HS-ESS1-5, HS-ESS1-6, HS-ESS2-2, HS-ESS2-5, HS-ESS3-3; HS-LS1-2, HS-LS1-3, HS-LS1-4, HS-LS2-1, HS-LS2-2, HS-LS2-6, HS-LS2-7, HS-LS3-2, HS-LS3-3, HS-LS4-4; HS-PS1
TED-Ed is TED's youth and education initiative. TED-Ed's mission is to spark and celebrate the ideas of teachers and students around the world. Earth School is comprised of daily adventures, or Quests, each organized around a different theme: "The Nature of…" While the initiative is hosted online, the Quests are very much designed for young people to truly connect with nature and their environment.

Covering real world concepts like the t-shirts we wear, the water we drink, the trees in our forests, or the food on our plates, each Quest consists of a discovery video and fun quiz combined with a series of interactive resources – including additional content to watch, read, teach, do, and share, with ageadjusted exercises built into each lesson.
The AAAS IF/THEN® Ambassadors Program is a key element of the IF/THEN® Initiative designed to further women in STEM by empowering current innovators and inspiring the next generation of pioneers.

IF/THEN® is proud to recognize talented women STEM professionals across a variety of industries as IF/THEN® Ambassadors who served as high-profile role models for middle school girls from 2019 through 2021. In partnership with the American Association for the Advancement of Science (AAAS), IF/THEN® created the AAAS IF/THEN® Ambassadors Program that brought together 125 of these innovators for specialized media and communications training. Using a talent agency model, IF/THEN® supports the Ambassadors and their inspiring work by showcasing them on a national platform.
Contact Us & Register
ecologikproject@gmail.com
(619)523-4287
Last updated: April 14, 2023