It's the biggest convention of its kind in North America, and the largest happening in San Diego every year. That's right – we're talking about
San Diego Comic-Con
(SDCC)! Each July, over 170,000 people attend this massive celebration of the popular arts. Inside the convention center you will find everything that has to do with games (both tabletop and video), television, movies, animation (and anime), comics, books, art, podcasts, costumes, and all creative endeavors under the sun. In recent years,
San Diego Comic-Con International
has broadened their perspective on what constitutes "popular arts" by highlighting non-standard media. For instance, there are now discussion panels at SDCC that explore the music behind movies, or the scientific principles behind beloved science fiction. This is where
Cabrillo National Monument
(CNM) and the National Park Service come in.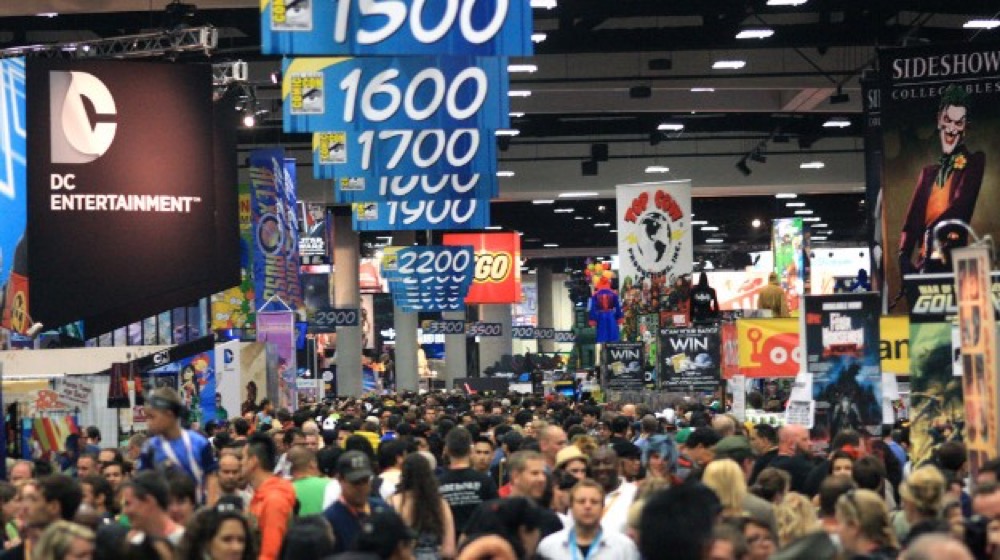 Photo courtesy of geek.com – Inside the exhibit hall at San Diego Comic-Con 2019.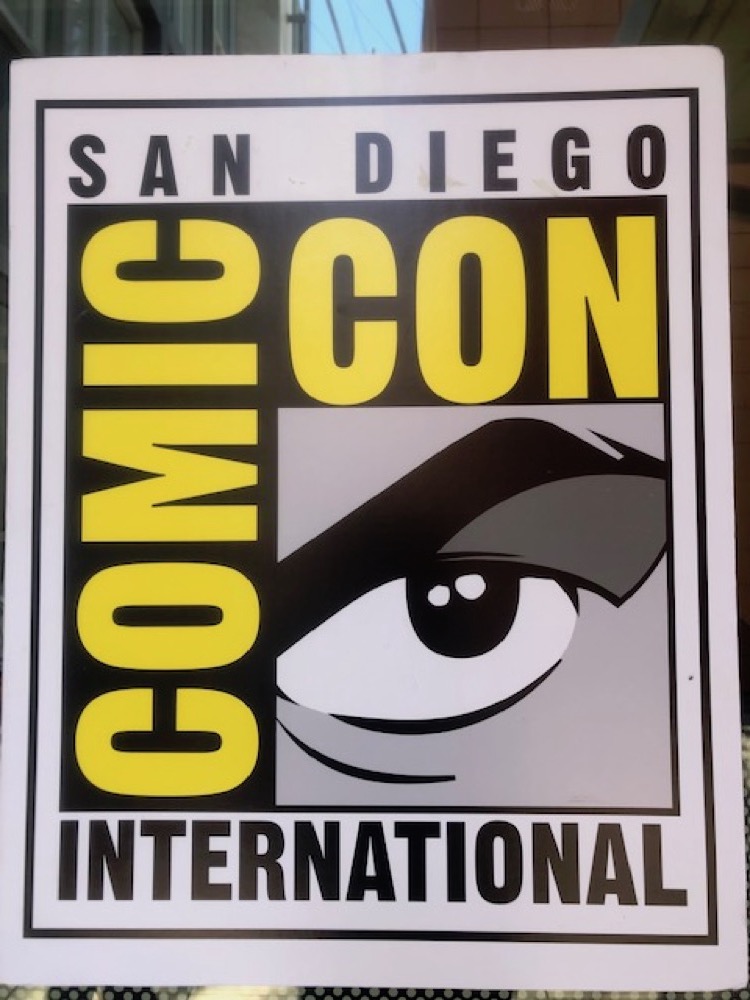 Photo courtesy of Thomas Brennan – The San Diego Comic-Con International sign.
Last year, park partner the
Cabrillo National Monument Foundation
(CNMF) started an outreach initiative to engage the community about their public lands. CNMF Outreach Coordinator Samantha Wynns has been doing just that – from science and engineering fairs to Fleet Week, Cabrillo National Monument is bringing the national parks abroad. This year, Samantha was able to arrange for CNM representation at San Diego Comic-Con through one of her innovative programs, Conservation + Comics. Initially this workshop was held only at Cabrillo, but as the outreach initiative has grown so, too, has the scope of programs like this.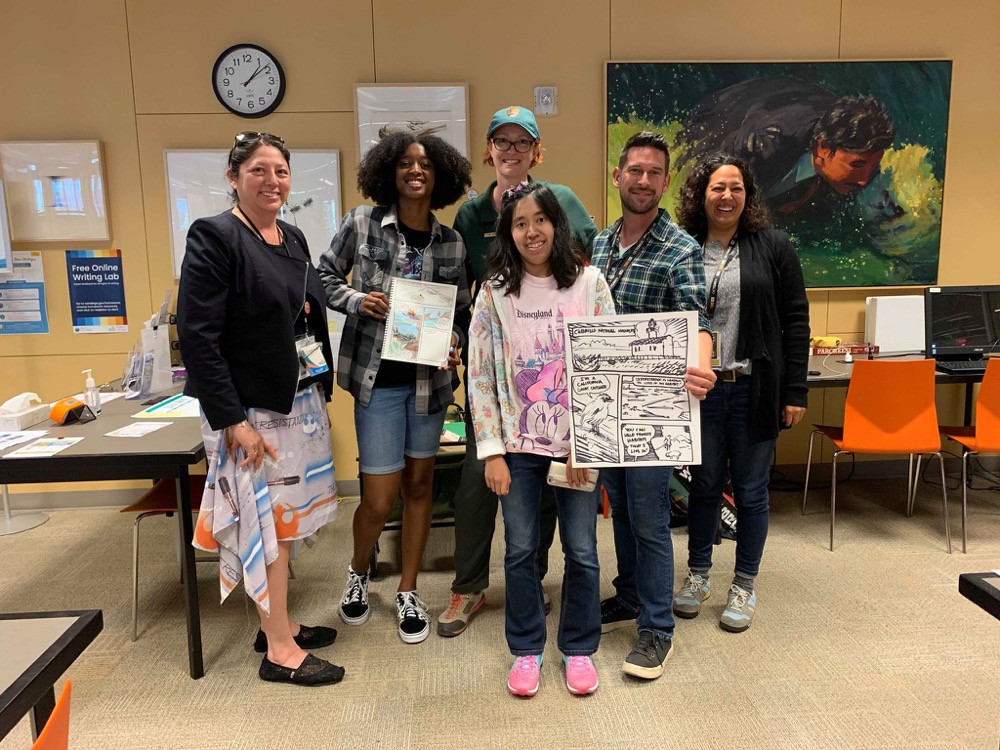 Photo courtesy of Zin Chiang – The instructors, library staff, and some of the students from the Conservation + Comics workshop at the SD Central Library.
This year, free public Conservation + Comics workshops were held at the
San Diego Central Library
the week of SDCC in celebration of the popular arts convention. But that wasn't it for Cabrillo National Monument's representation at Comic-Con – there was also a discussion panel about using art to communicate science titled "Conservation + Comics: Enhancing the Understanding of Science Through Art".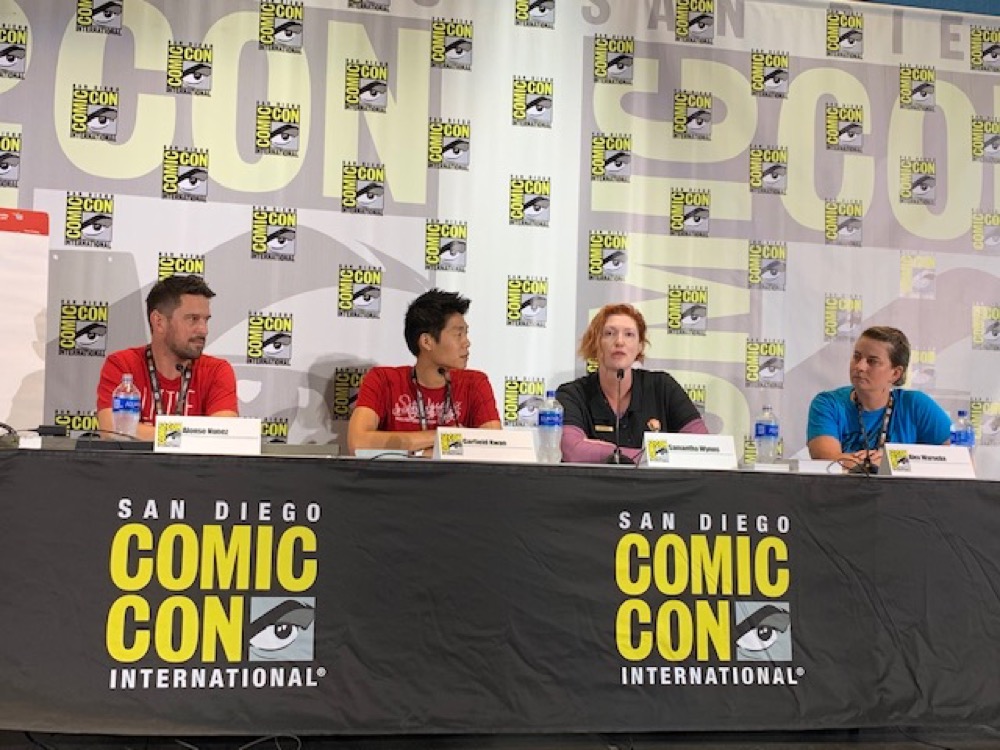 Photo courtesy of Thomas Brennan – Members of the Conservation + Comics panel at SDCC speak about how art is an effective method for science communication.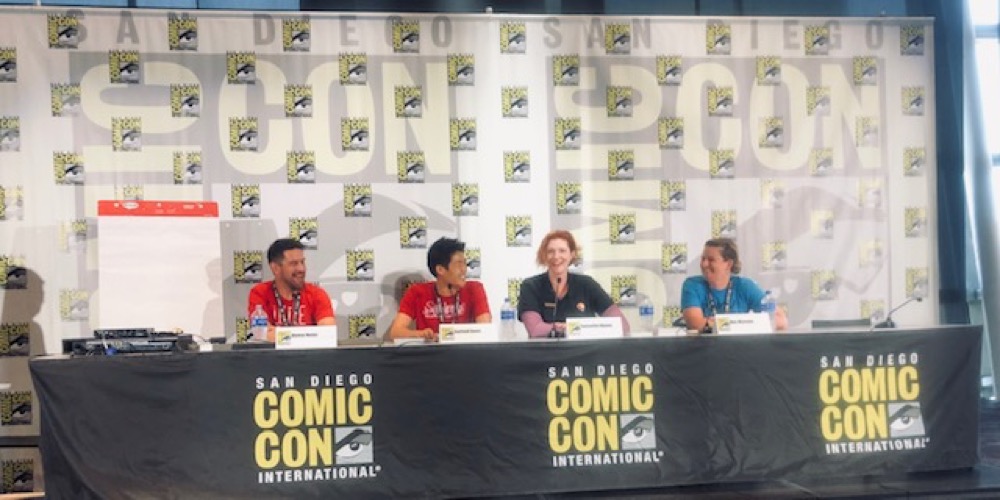 Photo courtesy of Thomas Brennan – Members of the Conservation + Comics panel at SDCC.
Moderated by Paul Wynns of the non-profit
The Kevin Workman Foundation
, this panel focused on methods to better communicate science. Art is one of these effective methods – it can convey detailed information while simultaneously creating an emotional connection with the observer. Since science can be a difficult topic to communicate due to its complexity, art has been recognized as a very useful communication tool – you don't even need to speak the same language to receive a message from art. Panel participants Garfield Kwan (Squidtoons, marine biologist), Alex Warneke (
Climate Science Alliance
, chemical ecologist), Alonso Nunez (
Little Fish Comic Book Studio
), and Samantha Wynns (Cabrillo National Monument, biologist) each discussed how they use art to enhance the understanding of science, pointing out pitfalls and offering up tips and tricks for efficacy. Those in the audience were encouraged to participate in the discussion with questions and by participating in a live-draw, where Alonso Nunez took audience suggestions in order to create a conservation comic on stage.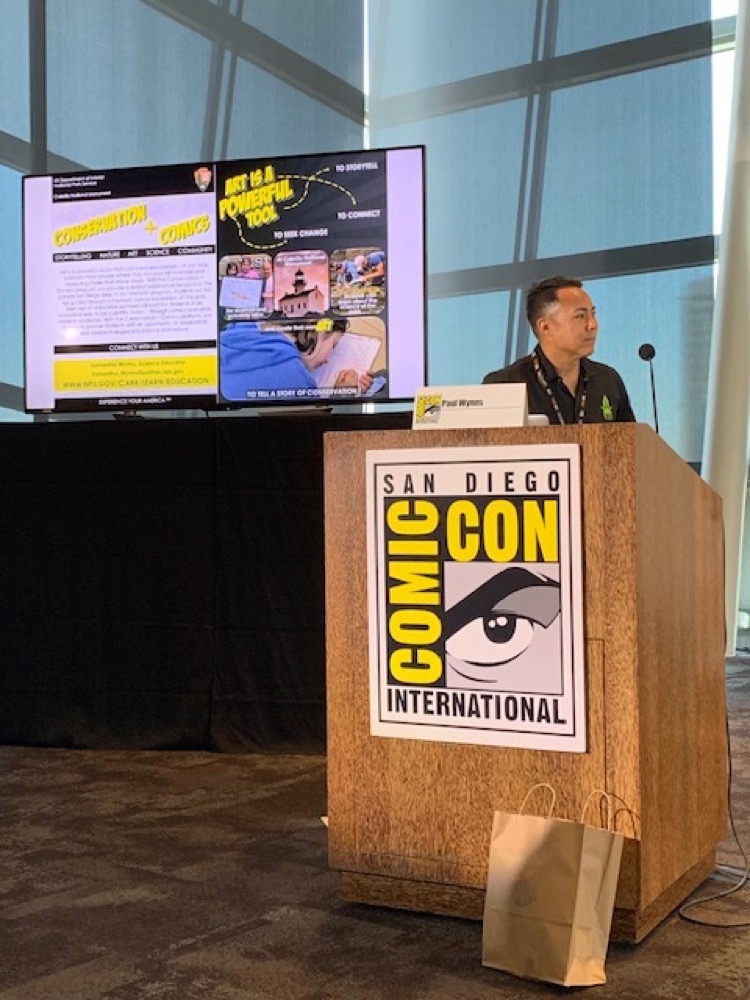 NPS photo – Moderator Paul Wynns of the Kevin Workman Foundation asks questions about the marriage of art and science.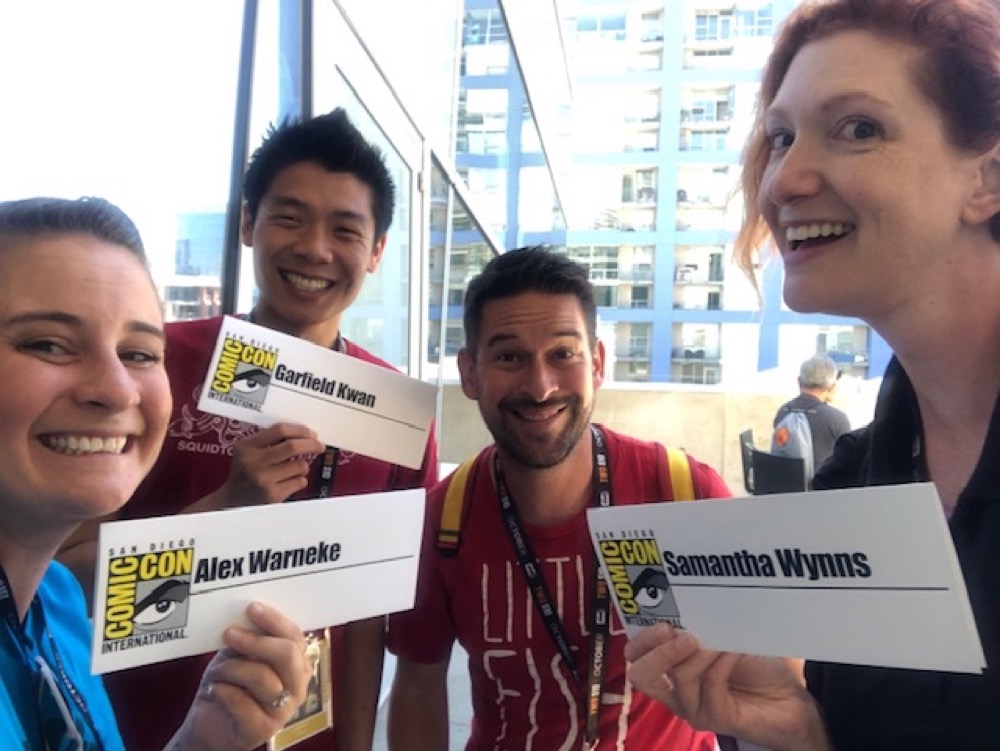 NPS photo – The panelists show off their SDCCI nametags after the panel.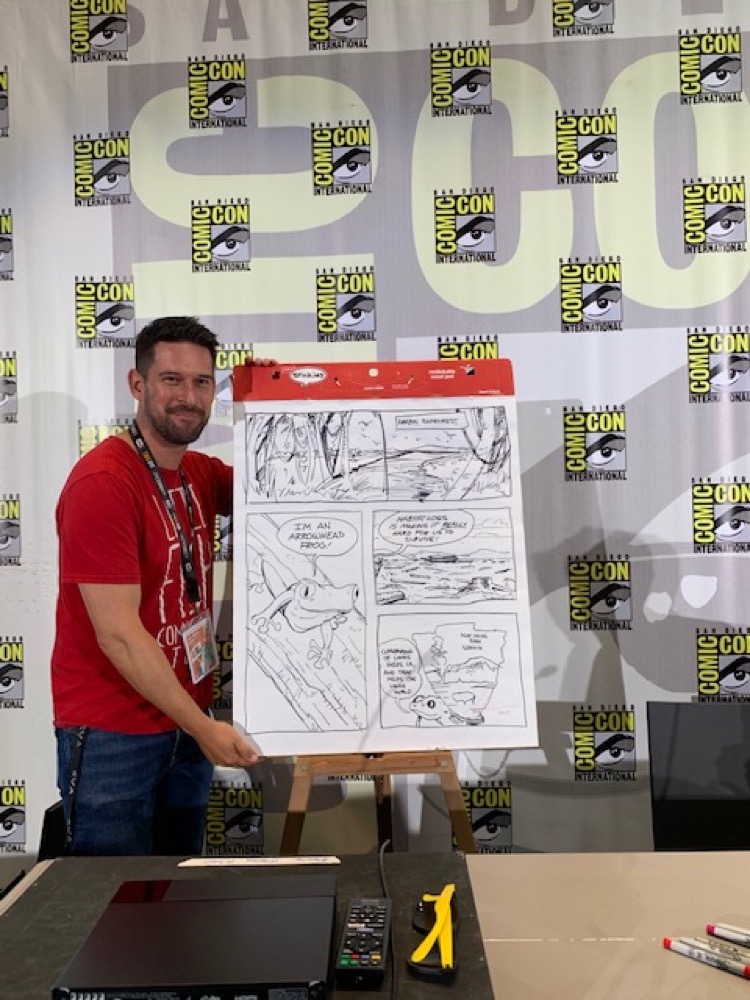 NPS photo – Alonso shows off his live-draw comic after the panel.
So much of public service is about engaging the people where they're at and finding new ways to reach them. For the National Park Service, that means connecting people to their public lands in a meaningful way. Cabrillo National Monument's presence at SDCC was one such method to touch new audiences, and to share the beauty of the natural resources of this nation's incredible national parks. Preserving and protecting these cherished lands starts by connecting with one mind, one heart, and one person at a time and art can help us do so.
References
More about the Cabrillo National Monument Foundation Outreach Initiative:
https://www.nps.gov/cabr/blogs/bringing-the-people-to-the-parks-and-the-parks-to-the-people.htm
More about Conservation + Comics:
https://www.nps.gov/cabr/blogs/conservation-comics-telling-the-story-of-science-through-popular-arts.htm
https://www.pbmonthly.net/news/sd-cm-pb-cabrillo-outreach-programs-20190703-story.html