The majestic beauty, rich history, and cultural mosaic of our National Parks is open and available to all people. However, sometimes circumstances prevent the populace from making a trip out to their public land. Whether it's transportation issues, lack of awareness, or other limitations, we here at Cabrillo National Monument want to break down these barriers to create accessibility for the people. One way to accomplish this task is to enlist in community outreach – by traveling out into the greater San Diego area, Cabrillo National Monument staff and volunteers can introduce the public to their National Park.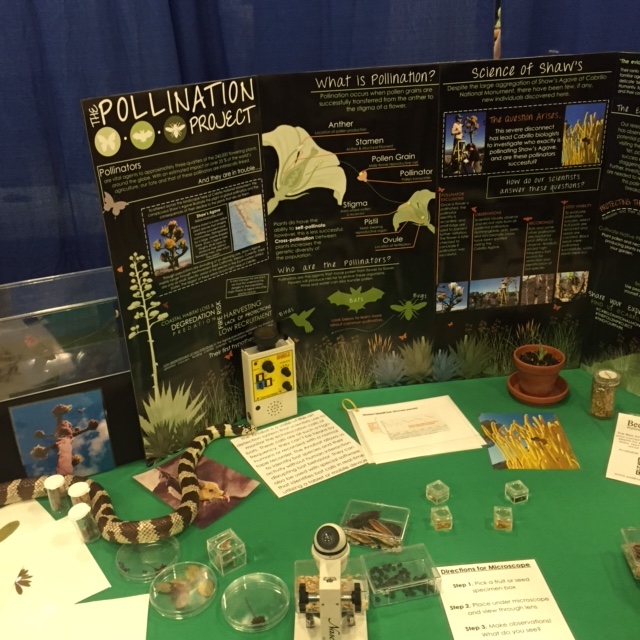 NPS Photo/Alex Warneke – An outreach table for the Fleet Science Center's annual High Tech Fair. The activity focused on plants and pollinators.
But how can the staff at Cabrillo both manage the park and spend their time at offsite events? 
With the continued valuable support of our nonprofit partner,
Cabrillo National Monument Foundation
, park staff have been able to implement a community outreach initiative. The first step in building the program was the arrival of an outreach vehicle – look for the CNMF Subaru as it drives to and from offsite events!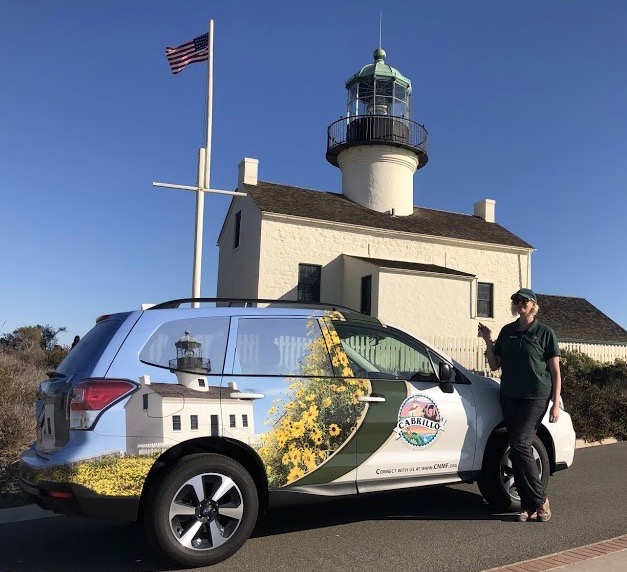 NPS Photo/Andrew Rosales – Outreach Coordinator Sam poses by the Cabrillo National Monument Foundation's outreach vehicle.
Now that we have transportation, CNM staff aims to increase their attendance at community events such as the
Cabrillo Festival
, the
San Diego Festival of Science and Engineering
, and many more. At these events there will be an interactive activity that is both fun and educational. These activities will focus on the resources found specifically at Cabrillo - whether it's some of the science performed by the Natural Resources and Science Division or a history lesson about Juan Rodriguez Cabrillo, the public will be able to engage with their National Park offsite and out in the community.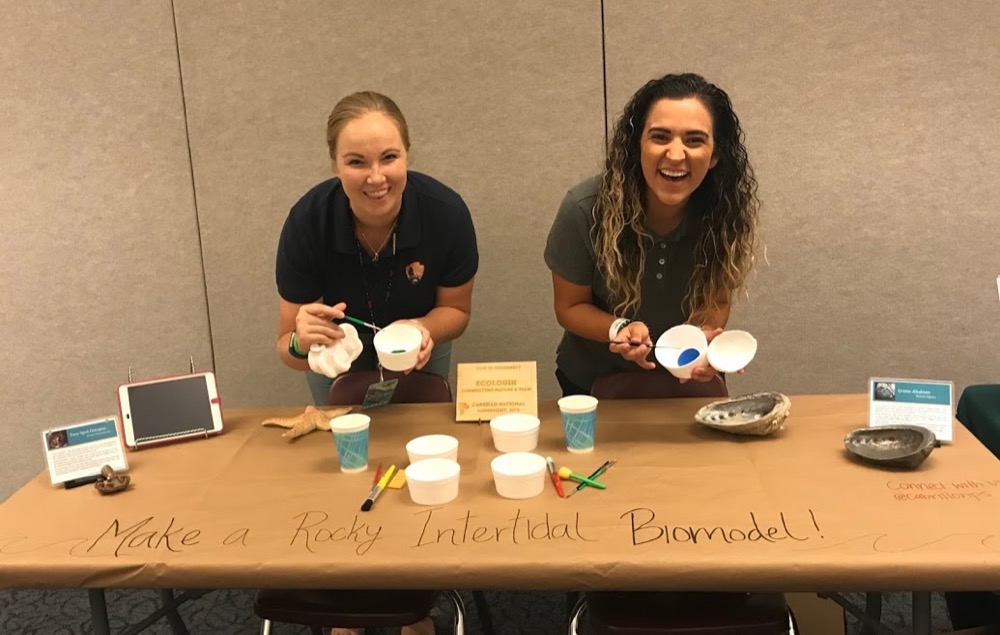 NPS Photo/Nicole Ornelas – Science educators McKenna (left) and Nicole (right) paint 3D-printed Two Spot Octopuses (Octopus bimaculoides) at the 2017 San Diego Maker Faire.
One of greatest ways to reach more people is to partner with community organizations such as schools, libraries, and non-profits. CNM's
Science Education Department
already hosts thousands of students at the park and even travels to classrooms for their
Science Sampler lesson
,
Conservation + Comics
, and other programs. However, Science Education is always looking to increase their reach and, as the community initiative grows, there will be more lessons available to classrooms, libraries, and other community organizations – stay tuned!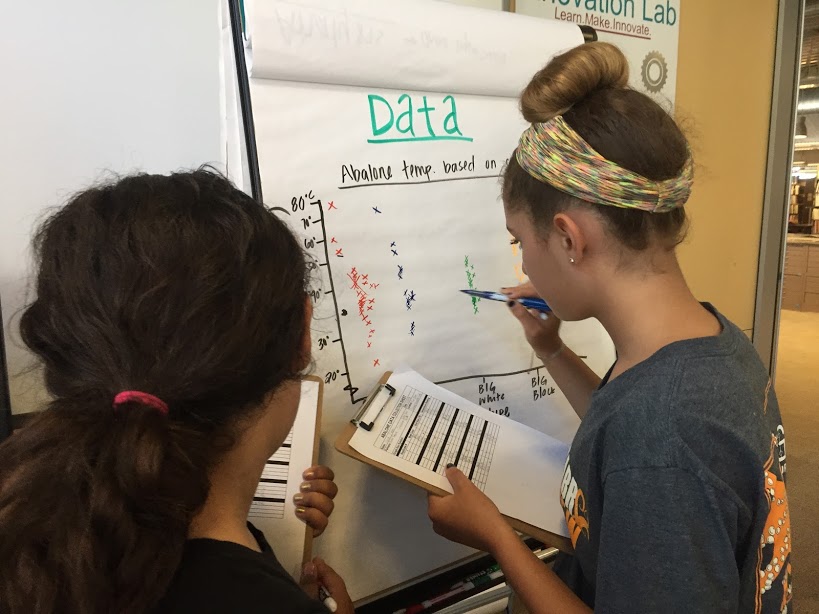 NPS Photo/Alex Warneke – Two students graph data illustrating how temperature may be affecting tidepool species.
NPS Photo/Samantha Wynns – Information about the innovative program Conservation + Comics, which connects students to nature through the platform of art.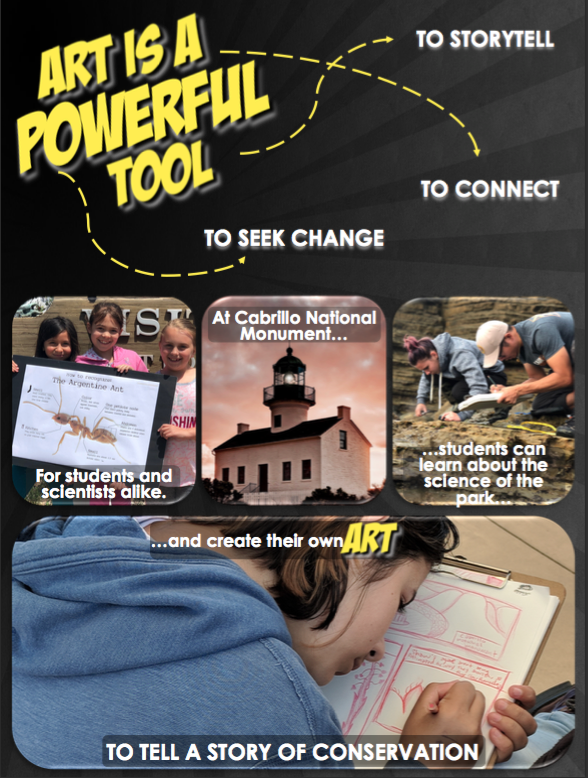 NPS Photo/Samantha Wynns – Page 2 of Conservation + Comics.
If you are interested in partnering with Cabrillo National Monument for any of its programs on or off-site, please contact Community Outreach Coordinator Samantha Wynns at:   
Samantha_wynns@partner.nps.gov
We want to bring the people to the Parks AND the Parks to the people – that means you!