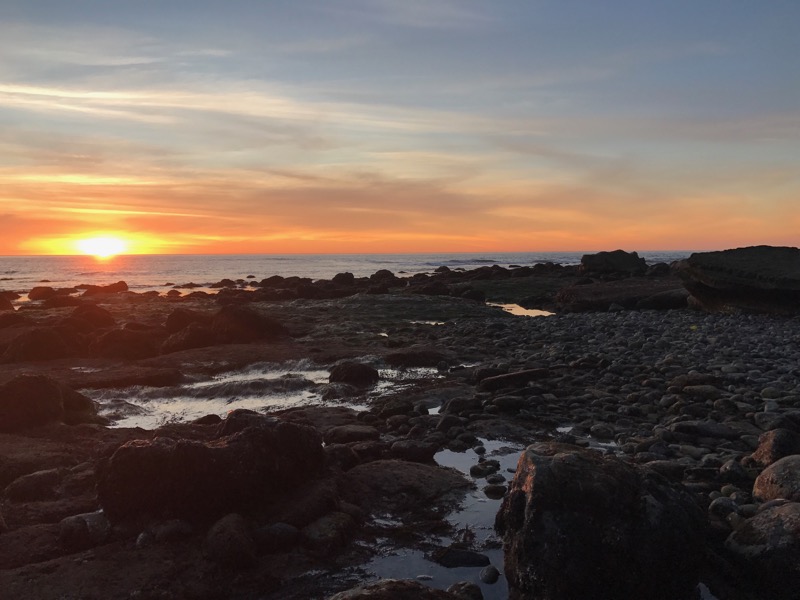 Sunsets on the Cabrillo Rocky Intertidal Ecosystem. Photo credit: Nicole Ornelas/NPS
As I look back on this past year, I am beyond proud of what we have accomplished in science programming here at Cabrillo. Alongside our committed partners and collaborators, we shed light for over
17,000 students
and even thousands more members of the public on the critical natural resource management occurring at this park. Not only did we teach them, we showed them. We brought them into the field with us and we gave them real, hands-on science experiences. And with every program we sought to inspire the next generation of stewards by cultivating their investment into their public lands and into their legacy.  
With our project-based learning initiatives, local students
helped germinate and restore native plants into the park
,
they made stop-action films to inspire conservation of our rocky intertidal zone
,
they created beautiful art pieces to connect the public with the themes of the Point.
With our
science seminar series
we had open conversations with hundreds of guests on topics such as climate change, biodiversity, and species decline. This year, we trialed a summer program with the San Diego Central Library for 30 young, underrepresented ladies in science.
"EcoLogik"
fused nature resource themes with new and innovative technology in order to prepare these young scientists for our changing landscape.  
All said, 2016-2017 year, has been one of so many wonderful stories and experiences that our team wasn't sure if we could top it! Challenge accepted. We hope that you will join us in our next season as we work harder than ever to bring you real and engaging scientific experiences. In the coming month, please stay tuned for information on what's on the horizon- a new science education series, specialty workshops, exhibit openings and more! As always, we are here for you – to preserve and protect our most precious spaces.  
Onward.