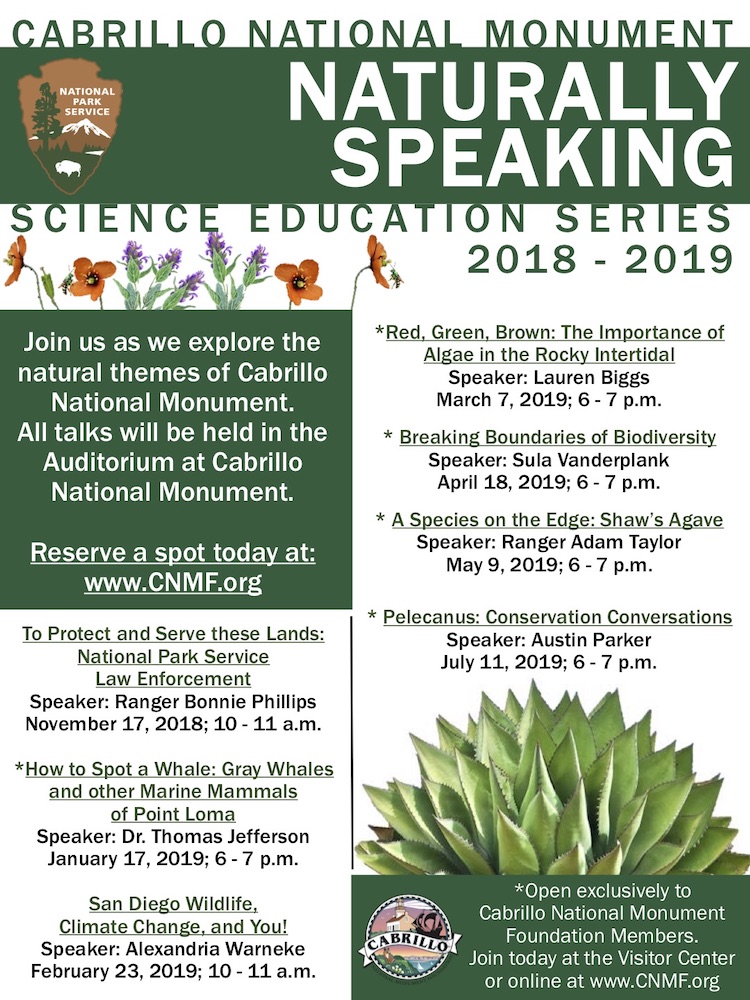 PS/Nicole Ornelas – Naturally Speaking: Science Education Series 2018 - 2019
Naturally Speaking is a Science Seminar Series that explores the natural themes of Cabrillo National Monument. The talks are held on Thursdays from 6-7 pm in the Cabrillo National Monument Auditorium exclusively to Cabrillo National Monument Foundation Members and Cabrillo National Monument Volunteers. Two additional lectures have been added to the series and will be open to the public on Saturday, November 17, 2018 and Saturday, February 23, 2019 from 10 – 11 a.m.
The series will include topics from a Cabrillo National Monument Law Enforcement Ranger, Botanists, an Ecologist from the Natural History Museum, and much more. The concept behind the lecture series is to reach beyond our comfort zones and enhance the way people interact with public lands. We hope to see you there!
Check out some of our Field Notes from past Naturally Speaking Lectures:
Nature's Tiny Fighter Jets
Life on the Rocks Part 2: Point Loma's Preserved Past
Nature in Balance
Peregrine Falcons Masters of the Air
Am I bugging You?
Of Islands and Reptiles
Tolerating the Flames