Clocking in at over 240 miles per hour as it dives through the air, the Peregrine Falcon (Falco peregrinus) is the fastest animal known on earth! Unlike other raptors, Peregrines prefer to hunt and capture prey in aerial combat, requiring incredible speed and agility. Naturally Speaking lecturer and licensed falconer, Charles Gailband, says that these animals have a "contempt for gravity" because they seemingly defy the laws of physics as they speed through the air. But how do they accomplish such a feat? What makes these birds the fastest animal alive? The answer is simple – adaptation.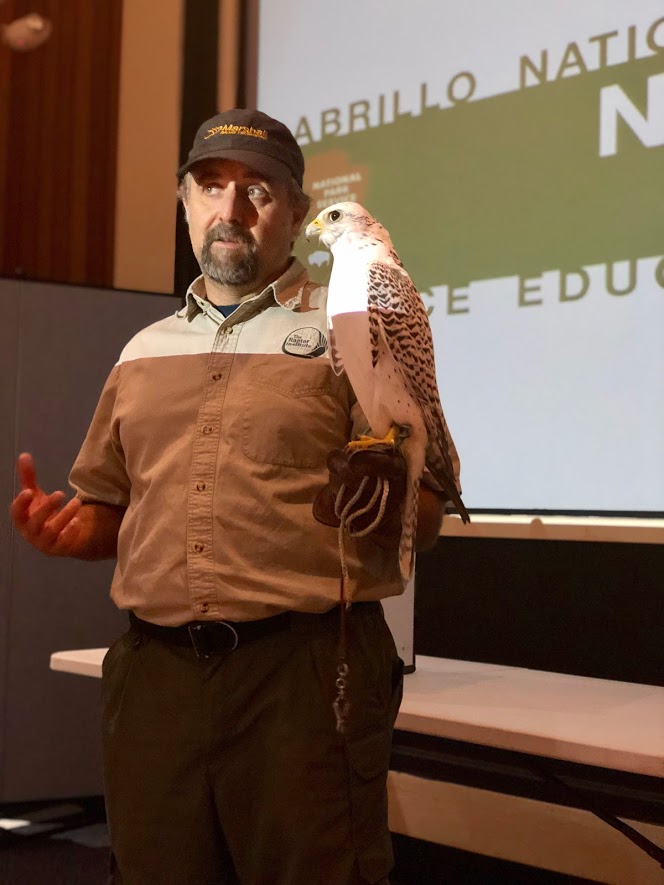 NPS Photo/Nicole Ornelas: With a Gyrfalcon (Falco rusticolus) in hand, Naturally Speaking lecturer Charles Gailband speaks to attendees about the bird's lifestyle and adaptations.
Unlike other raptors, Peregrines don't have a bony ridge, or "eyebrow" above their eyes, and as they dive, they tuck their feet and wings into a teardrop shape, making them more aerodynamic. Peregrines also have what is known as a "mallard stripe" – a dark "mustache" near their eyes to absorb the glare of the sun and better pursue their prey. They also have a structure inside their nostril that helps to fan the air out and minimize the force of diving so quickly through the air. These adaptations, combined with the special texture of their wings, allow the Peregrine Falcon to reach top speeds with minimal effort. Smaller, less agile birds like pigeons don't stand a chance.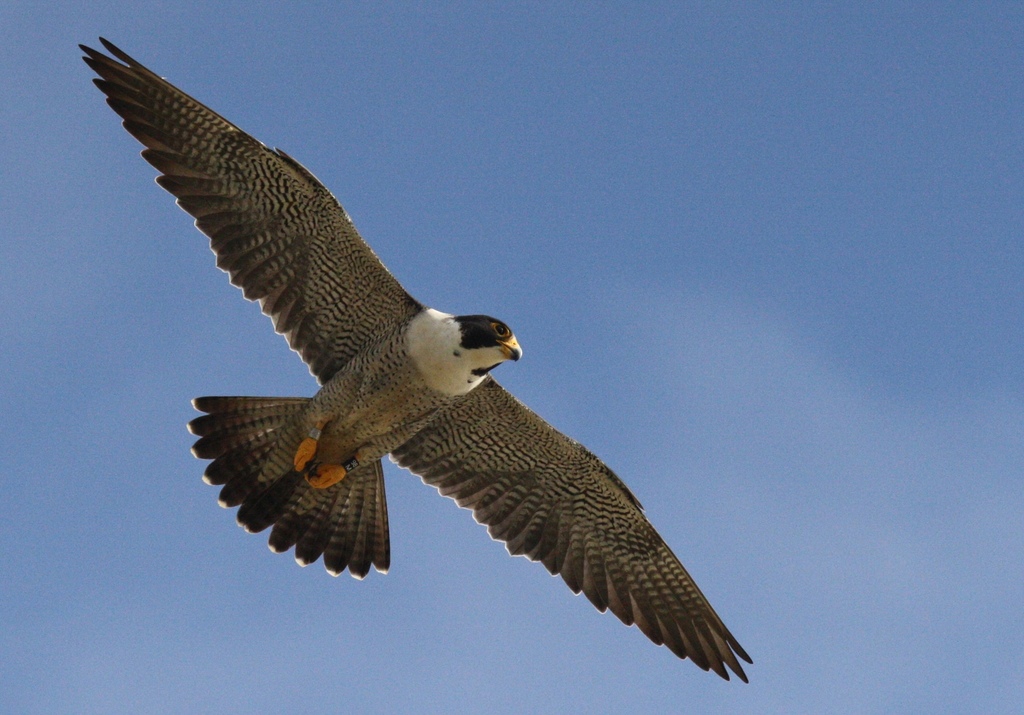 NPS Photo/Patricia Simpson: A male Peregrine Falcon soars through the air at Cabrillo National Monument.
Cabrillo National Monument is home to a single nesting pair of Peregrines. Lucky visitors may be able to catch a glimpse of them hunting south of the lighthouse or near the Bayside Trail. Our nesting pair, as well as populations across North America, are doing very well, but that hasn't always been the case. These birds were once on the brink of extinction due to a mosquito repellent known as DDT. However, after the ban of DDT in the late 1950s, captive breeding and wildlife management efforts have helped Peregrines make a comeback. Surprisingly, these birds have taken over almost every urban area in the world. The tall skyscrapers found in cities make excellent nesting sites, and pigeons make easy, and plentiful, prey.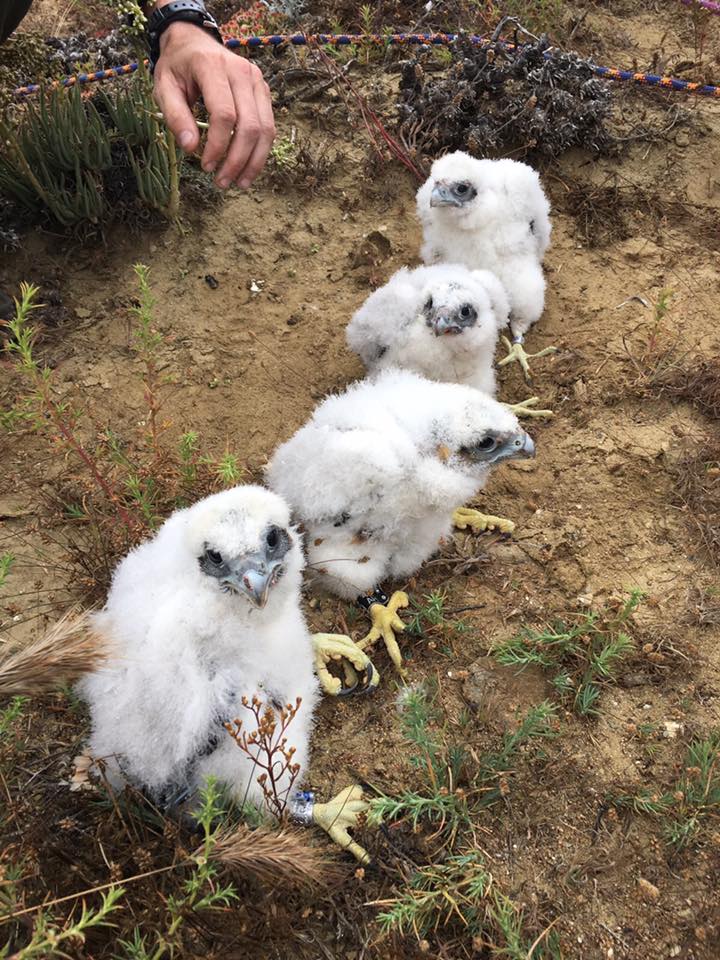 NPS Photo: Four Peregrine hatchlings pose for the camera on banding day last season (2017) at Cabrillo.
Peregrine Falcons are an excellent example of the need for good conservation science and wildlife management practices. However, like all other animals in today's world, they are not without threats. Here at Cabrillo, we will continue to monitor our nesting pair and hatchlings to help ensure their survival into the future, as well as protect their habitat and minimize human impacts. Next time you visit the park, bring a pair of binoculars and stay on the lookout for these amazing creatures.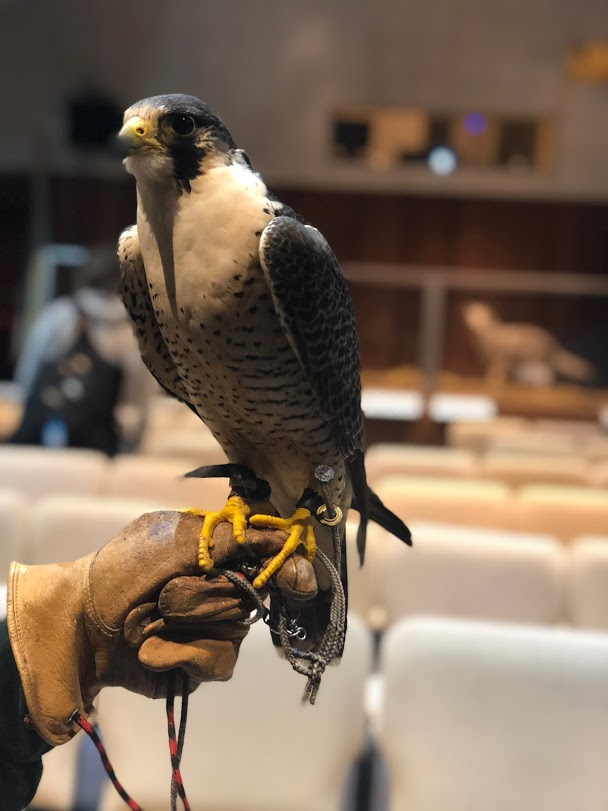 NPS Photo/Nicole Ornelas: A trained Peregrine Falcon greets visitors in the Cabrillo Auditorium following Charles Gailband's lecture.
*A special thank-you to Charles Gailband for his captivating lecture on March 22. If you would like to become a Cabrillo National Monument Foundation member and attend future members-only events, visit the CNMF website at:
https://cnmf.org/shop/membership/
**Our next Naturally Speaking lecture, entitled "Am I Bugging You? – Insects of the Peninsula", features volunteer naturalist Patricia Simpson. This lecture will highlight the biodiversity and importance of insects at Cabrillo and beyond. The event will be held June 21 at 6 pm in the Cabrillo National Monument Auditorium. RSVP to this CNMF event here:
https://docs.google.com/forms/d/e/1FAIpQLSfIThLgmG1lMDHS4V2K4tKVrUW0qH0wR48HPmv3BPu4TYOf6g/viewform