Centennial Celebration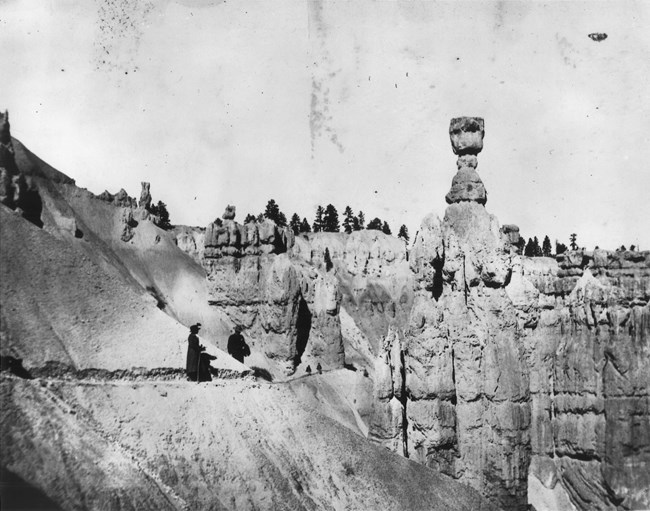 Nature's Fairyland: A Century of Wonder
A lot has happened here in the last 100 years: the rim of the Bryce Amphitheater has retreated an average of 22 inches, 18,000 freeze and thaw cycles have shaped and toppled countless hoodoos, the sun has risen 36,889 times over Thor's Hammer (not to mention innumerable stars every night), a beloved national park was created, and perhaps you got to see it for the very first time. Rangers like to call a person's first view their "Bryce Moment": when the forested plateau rim suddenly gives way to a vast, sublime and chromatic expanse. Some have described it as "a cave without a ceiling", others "a forest of stone" or "red painted faces". What do you see in this landscape? What words could ever do it justice?

Throughout this centennial year we will provide opportunities to reflect on this park's rich past, vibrant present, and the next century of wonder to come. Our goal is to be reflective and inclusive, and we invite you to check this webpage throughout the year as we add more stories, events, and ways to connect with your park.
A Brief History
Bryce Canyon National Monument was originally established by President Harding on June 8, 1923 and administered by the U.S. Forest Service to preserve the "unusual scenic beauty, scientific interest, and importance." On June 7, 1924, Congress would establish Utah National Park with the stipulation that all state and private land within its boundaries must first belong to the United States. On February 25, 1928 "Utah National Park" was changed to "Bryce Canyon National Park". Conditions of the 1924 congressional bill were met later that year, and Bryce Canyon National Park was officially established on September 15, 1928.
A Park Timeline
1872 - A survey team headed by Lieutenant George C. Wheeler maps the geologic resources of the Colorado plateau. The Wheeler Report includes the first written description of the area: "...a perfect wilderness of red pinnacles," wrote Grove Karl Gilbert.
1875 - Ebenezer and Mary Bryce and their 10 children join 10 other Latter-day Saint families, settling in the valley east of Bryce Canyon.
1880s - Livestock grazing consumes many plants that are a staple of the Southern Paiute diet and denies them access to cultivating grounds near water sources, leaving them with mostly unfarmable areas. Paiute populations decline up to 90% in some areas.
1891 - The Tropic Ditch, an irrigation ditch that diverts water from the plateau through the Mossy Cave area, starts flowing to the newly founded town of Tropic.
1915 - Sevier National Forest Supervisor, J.W. Humphrey, views the canyon for the first time and begins publicity efforts to tell the world. This includes articles, photographs by A.W. Stevens, and a film by George Goshen that were sent to Washington D.C.
August 1916 - The National Park Service is created by Congress to manage parks and monuments in such a manner as to leave them unimpaired for future generations.
1919 - Utah Legislature passes a Joint Memorial recommending that the "Temple of the Gods" National Monument be created.
1920 - Ruby and Minnie Syrett construct "Tourist Rest," providing food, lodging, and entertainment near modern-day Sunset Point.
June 8, 1923 - Bryce Canyon National Monument proclaimed by President Warren G. Harding. Boundaries of the 9,760 acre monument extend roughly from modern-day Sunrise Point south to Paria View.
1923 - The Union Pacific railroad purchases the Syrett's Tourist Rest.
June 7, 1924 - After persistent campaigning by Utah Senator Reed Smoot, Congress establishes "Utah National Park" with the stipulation that all state and Union Pacific-owned land within its boundaries must first belong to the United States.
1924 - Construction begins on the Bryce Canyon Lodge.
1925 - Governor George Dern and a large caravan travel through the newly-completed Red Canyon tunnels to visit the new national monument.
February 5, 1928 - A bill changes the name of the park back to "Bryce Canyon".
September 15, 1928 - After the requirement is met that all land within the boundaries be United States owned, Bryce Canyon National Park is established. Management transfers from the U.S. Forest Service to the National Park Service.
1929 - The first year that visitation is tracked with the park seeing 21,997 visitors. 78% arrive via automobile and 22% arrive on Union Pacific buses.
1930 - The Mount Carmel Tunnel is completed, dramatically shortening the trip from Zion to Bryce Canyon.
1931 - The park boundaries extend south to Podunk Point (now Rainbow Point), doubling the size of the park.
1932 - The Union Pacific's Utah Parks Company (UPC) constructs the Bryce Inn (now the General Store) near Sunrise Point. The NPS constructs the first Administrative Office and Ranger Station (now the High Plateaus Institute) also near Sunrise Point.
1933 - The North Campground is built. Maurice Cope is hired as the park's first permanent ranger.
1934 - The Civilian Conservation Corps camp NP-3 arrives. Company 962 occupies a camp near the picnic area at Mile 4 on the main road.
1938 - The State Road Commission arranges for the park road to be plowed by state road crews to allow the park to remain open year-round.
1939 - The first year that entrance fees are charged. A $1 pass (approximately $21 today) is good for entry to both Bryce Canyon and Zion National Parks.
1942-1946 - Visitation declines during World War II from 103,162 visitors in 1940 to a low of 8,075 visitors in 1943. The Lodge closes from September 1942 until May 1946.
October 24, 1947 - United Airlines Flight 608 crashes in the northern end of the park. All 52 passengers onboard are lost in the crash.
1954 - The National Park Arrowhead logo is introduced. The Lodge is painted a bright "modern" yellow.
1956 - Bryce Canyon becomes administratively independent from Zion. The first park superintendent is Glen T. Bean.
1959 - Mission 66 modernization plans include a new Visitor Center and offices for the park.
1961 - The park's official non-profit partner, the Bryce Canyon Association, is established.
1962 - Sunset Campground is built.
1969 - Don Follows, Chief of Interpretation, begins the first astronomy programs at Bryce Canyon.
1972 - The Utah Parks Company donates all their buildings to the National Park Service. TWA, a subsidiary of Transworld Airlines, is selected as park concessioner (a role held today by Aramark Destinations).
1975 - After being listed as an endangered species in 1972, the Utah Prairie Dog is reintroduced to meadows within the park.
1985 - The Sunrise and Sunset Motels are built near the Lodge to provide more modern accomodations. These motels replace most of the park's standard cabins, though a few remain near the Lodge.
1986 - The Bryce Canyon Lodge undergoes a major rehabilitation project. The interior is gutted to restore its 1920s character. This work continues through 1989.
2000 - The Shuttle Bus System begins operation in Bryce Canyon. The first Astronomy Festival is held.
2001 - The Visitor Center is expanded and rehabilitated to add additional floors with more office and bookstore space to a Mission 66 building.
2002 - The Olympic torch passes through the park on its way to the Salt Lake City Winter Olympic Games.
May 23, 2006 - An estimated 400 to 500 tons of rock falls in the Wall Street section of Navajo Loop. Thankfully no one is injured. Stairs are built through the rubble.
2007 - The first Geology Festival is held in the park.
2008 - The last time California Condors were documented within the park.
2009 - The 3,947 acre Bridge Fire becomes the largest wildfire in park history along Miles 8 to 10 of the Main Road.
2015 - Approximately 40 million year-old hymenoptera (wasp) cocoon chambers are discovered after an inspection of a rockfall.
2016 - "The Sentinel" hoodoo above Navajo Loop falls. 100th Anniversary of the National Park Service. After exceeding 1 million visitors in 1992, the park's visitation exceeds 2 million visitors for the first time.
2023 - Bryce Canyon National Park celebrates 100 years since its establishment as a national monument.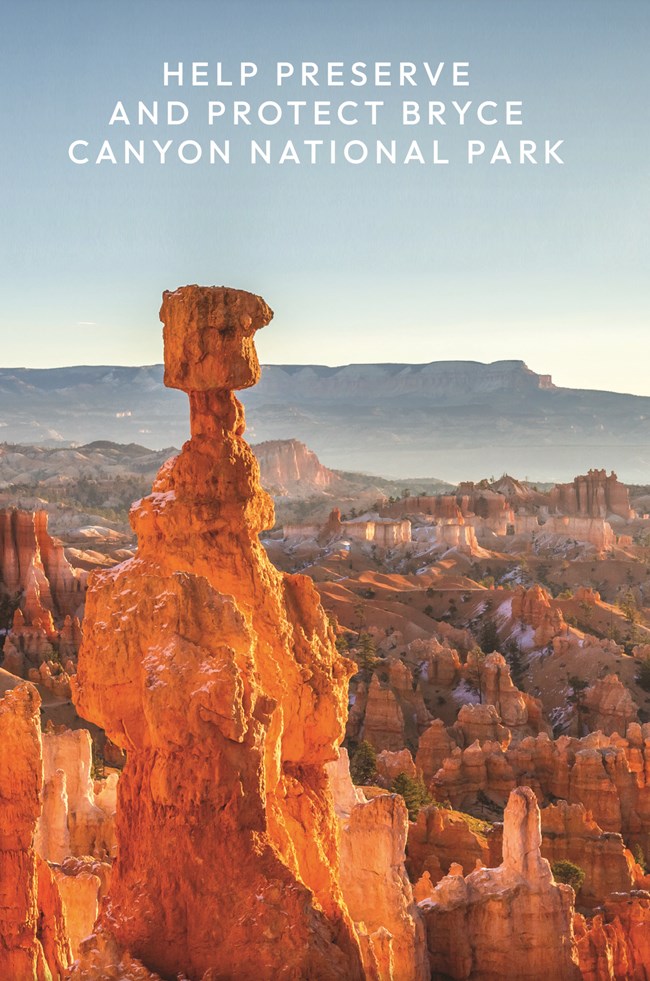 Supporting Bryce Canyon
Hoodoo You Love? If your experience of Bryce Canyon National Park feels like an ongoing love story, you're not alone. The Bryce Canyon Association is here to channel that love into meaningful support.

The Bryce Canyon Association (BCA) is dedicated to assisting the National Park Service in furthering its scientific, educational, historical, and interpretive activities. The BCA's mission is to enhance your appreciation and enjoyment of this national park.

First established as the park's official non-profit partner in 1961, the BCA and its members have contributed over 10 million dollars in support of:
Free publications
Annual festivals and special events
The Junior Ranger program
Resource management research and activities
Citizen Science Events
Cultural youth outreach programs
Scholarships and internship opportunities
Search and Rescue equipment and supplies
Infrastructure projects
Bryce Canyon's recycling program
Your Visitor Center purchases and Membership directly support Bryce Canyon
Through exclusive publications, merchandise, and programs the BCA helps people not only better understand and connect with the park but directly support its mission with their purchases.

Ready to do more? By joining the Association, you take an active role in your park's future. Members also enjoy exclusive benefits, including discounts at more than 400 Public Lands Alliance stores around the country. Learn more at www.BryceCanyon.org
Centennial Events
A variety of virtual and in-person activities and events will occur in Bryce Canyon National Park throughout 2023. Browse our list of events below, follow us on social media and use #BRYCE100 to share your centennial experiences. Events and details will be added and updated throughout the year, so check back often!
Last updated: August 30, 2023