Hoodoo You Love?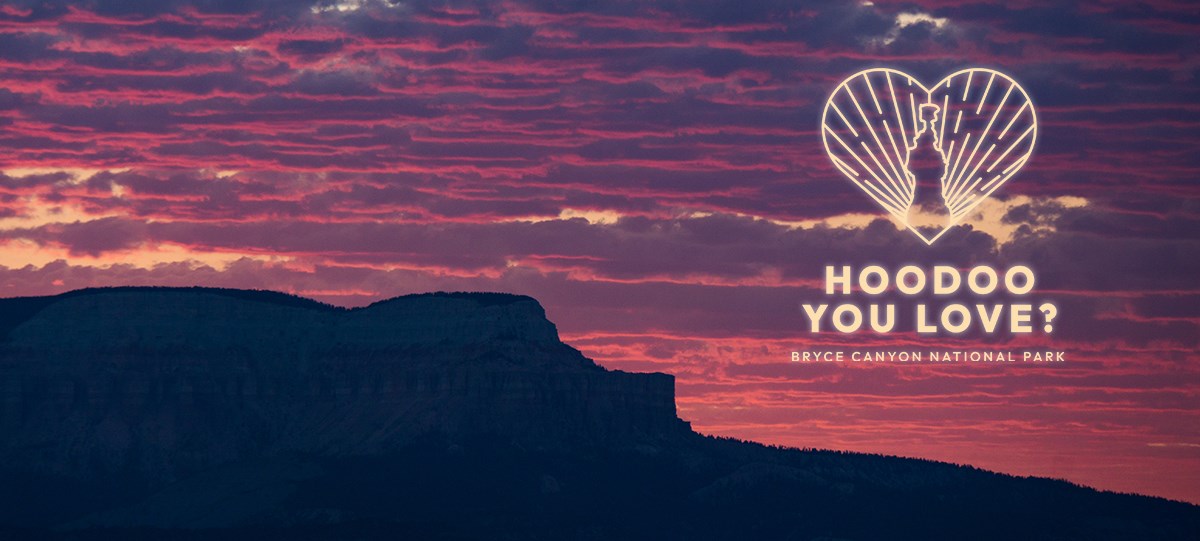 Has Bryce Canyon National Park brought more love into your life? We want to hear about it!
Perhaps you found new or deeper friendship here? Discovered a passion or direction for your own life? Encountered a new favorite flower while hiking? Proposed marriage near Sunset Point? Or parted with a beloved's ashes at Piracy Point?

However you read this prompt, if Bryce Canyon has inspired love in your life, we would love to hear your story.
How to participate?
We invite you to send us a message on social media or by e-mail to Tiffany_Zadi@nps.gov

Know someone else with a story to share? Please do share this with them!

We look forward to sharing these experiences as part of a series we're calling "Hoodoo You Love?"
Sharing your Park Story
All throughout 2023, we will be celebrating Bryce Canyon's centennial year with stories and experiences that bring alive the past, present, and future of this special place. Quite fittingly, the National Park Service has also chosen to elevate #YourParkStory and #MyParkStory as a theme for the year ahead.

We invite you to join as visitors, employees, partners, volunteers, and public land stewards share their park stories by using #YourParkStory and #MyParkStory.
Elva and Steve + Paige and Garrett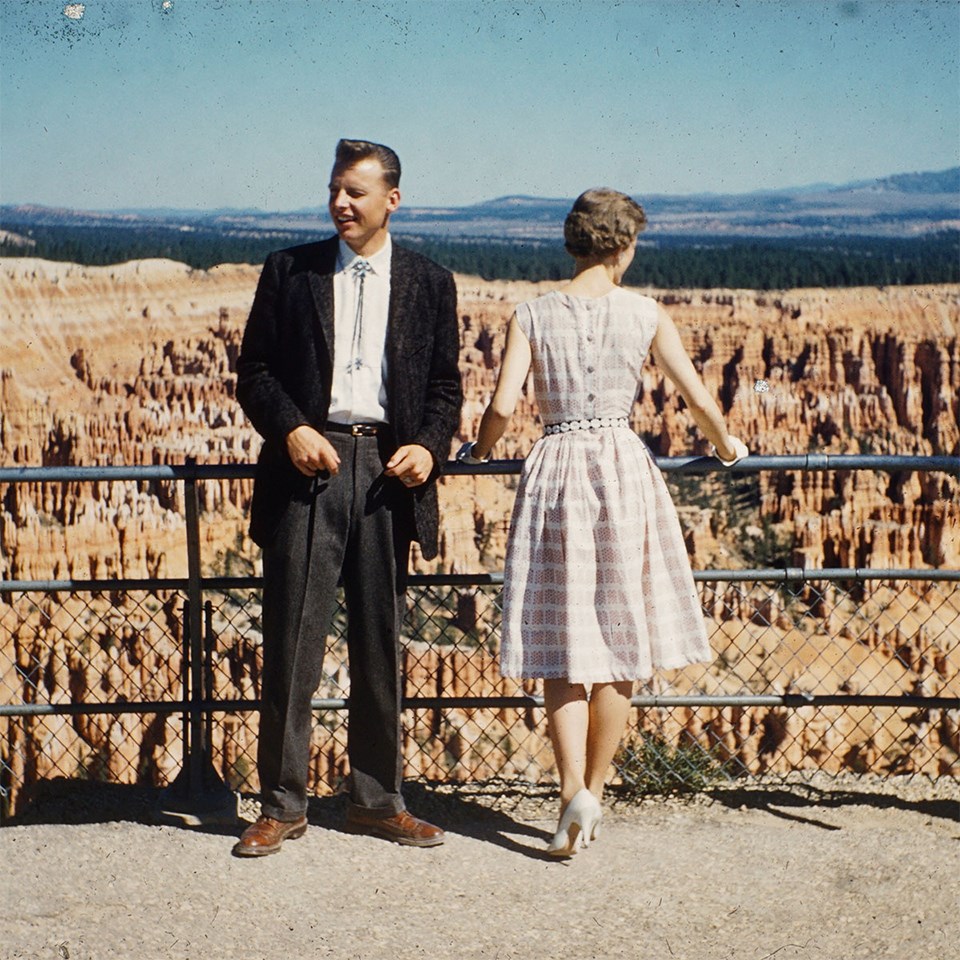 Left image
Elva and Steve in 1959
Right image
Garrett and Paige in 2022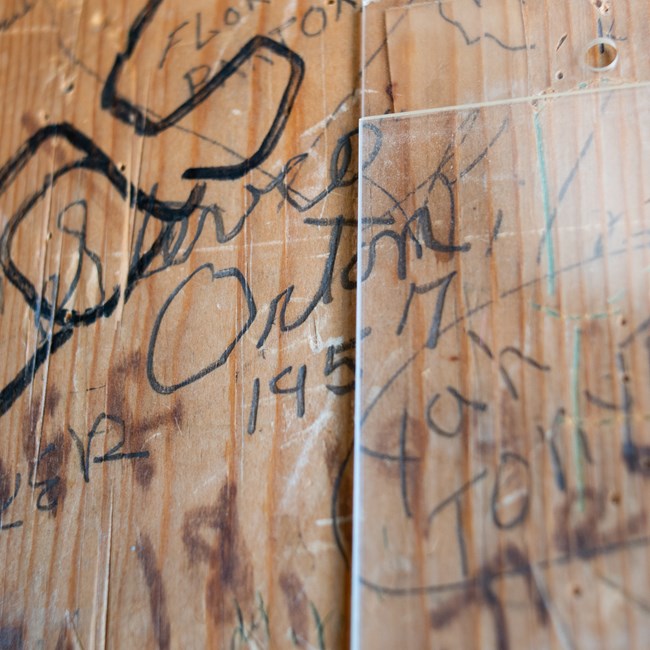 Hoodoo You Love? It was the summer of 1959, and a Bryce Canyon love story was just about to begin. 63 years later, it would inspire the beginning of another.
Elva first saw Steve while gazing out the window of a Utah Parks Company employee bus bound for a summer at Bryce. The girl beside her just so happened to know Steve, so Elva wished aloud, "I want him to ask me to go on a date."

His invitation to a fireside program came less than a week later, as did a first kiss. Together they'd discover the park is full of romantic places, "We could walk straight out in front of the Lodge to the rim. There was a great place to make out. So we did that quite frequently. What can I say? We were madly in love."

They knew that summer that they wanted to marry, but first Steve would leave on a church mission. They promised to reunite at Bryce Canyon, and two years later he returned. Elva was now working at Grand Canyon, but she caught the first bus back. The "gearjammer" driving the bus told everyone that she was returning to Bryce to meet her sweetheart, and "as soon as we got close to the Lodge he started honking the horn and they were all clapping for me…and he was standing there."

After almost 55 years of marriage, Steve would pass away in 2017. In celebration of their 60th wedding anniversary, Elva returned to Bryce. She was accompanied by many of her children and grandchildren, including her granddaughter, Paige. They toured the lodge deluxe cabins (also one of those romantic places) and a linen cabin where past employees have covered the walls and rafters with signatures. To the amazement and tears of all present, Steve Orton's signature from 1957 was discovered near the door.

The next morning would bring even more amazement and tears. Paige's boyfriend Garrett drove through the night and surprised her with a sunrise marriage proposal along the canyon rim (she said yes). In homage to her grandparents, they then recreated a photo taken of Elva and Steve at Bryce Point in 1959.

As Paige would tell her grandmother Elva, "Growing up this has been the most romantic place in the world to me because of your story."
Watch more of our conversation with Elva below:
Visit our keyboard shortcuts docs for details
Duration:

24 minutes, 55 seconds
Elva Orton worked at Bryce Canyon, Zion, and the Grand Canyon in the late 1950s and early 1960s. While at Bryce Canyon she would meet the love of her life, Steve. Elva's memories of the park at this time include an intimate perspective of Lodge employee life, love and entertainment during this time. We hope you enjoy.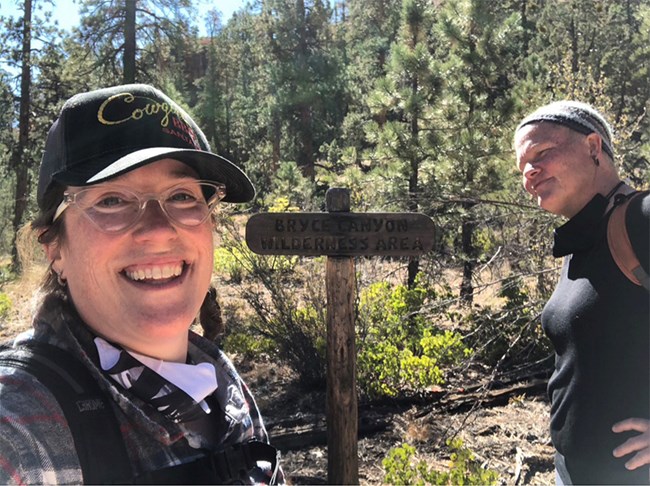 Betsy
My partner told me about her first time in Bryce early in our courtship- I remember telling a friend "I think I want to hike in Bryce Canyon now?" Or I was just deeply into this woman? Turns out both could be true. So in Summer 2020 my girl & I loaded our Jeep and drove from Chicago to Utah to find a new place to live, Salt Lake City. We were waiting to hear if our application for our apartment got accepted, and we spent a few days seeing Bryce, Capitol Reef, and Arches for my birthday. For me, Bryce Canyon was love at first sight. The first time I walked to the edge of the Canyon my heart swelled- as I looked over the edge and tears rolled down my face my partner said, "this isn't even the best view yet," and she was right. Even though I was already fiercely in love with her, in that moment I fell more in love - which some days doesn't seem possible. Bryce was the first National Park we ever spent the night in- we went to one of the socially distanced astronomy programs in the parking lot. It was early enough in COVID that the program opened with an intro warning us to keep our distance protocols tight so they could keep having the program. We laid on the asphalt and watched the Perseids blaze. We rode our bikes all over and saw every part of the park. I knew I had a favorite now. I've been there solo, got to take my 77 year-old mom there in 2022, and have returned many times always finding more ways to embrace the love among the hoodoos. I've stayed solo at the lodge, seen the sunrise, eaten dust, talked to strangers, raced the rain- and each time I wish we had one more day - but am always excited to leave because it means Niki & I get to come back.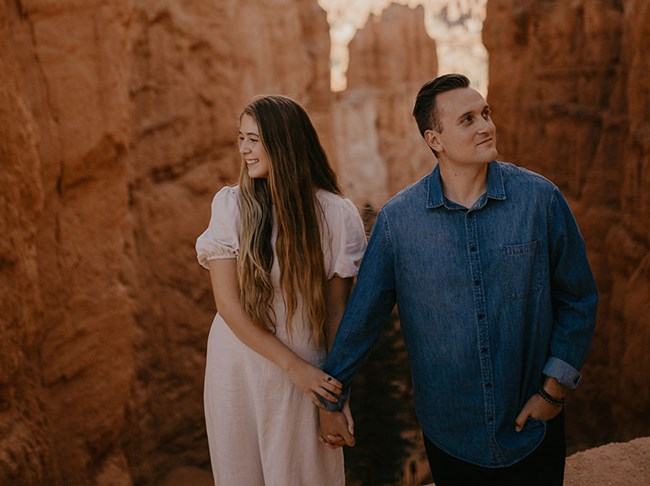 Brooklynn
The first time I realized I was falling in love with my now husband was when we went on our first trip together, which was Bryce Canyon National Park. We went camping with my family over Labor Day weekend- it was so special sharing a place that was special to me and my family with him. Falling in love is exciting, beautiful, and full of anticipation of what comes next. I could use those same words to describe what it's like to visit Bryce Canyon! While we were falling in love with one another, we fell in love with a place. 2 years later we returned, but this time to take our engagement pictures (Attached below) for our wedding photos. We've been married just over 2 years now and the hoodoos still hold a special place in our hearts.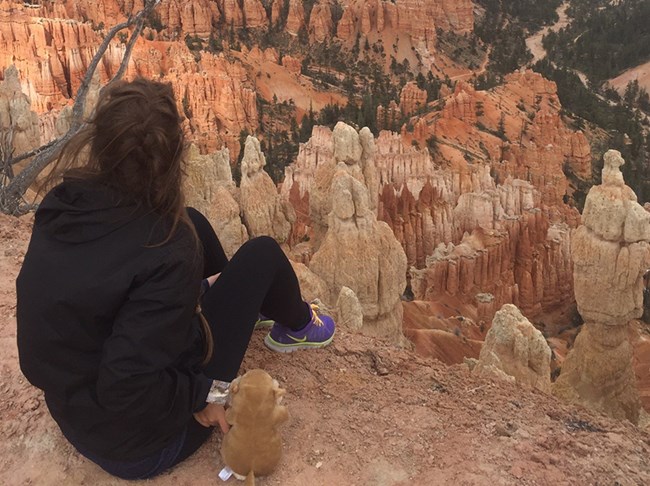 Suzie
In 2016, Suzie and her partner traveled to Bryce Canyon for the first time. At the Visitor Center, the Adopt-a-Prairie Dog colony was giving them strong "adopt me!" vibes. Not quite ready for the responsibility, they left, but soon saw a real-life Utah Prairie Dog wandering in the meadow alongside the road. "I knew it was a sign to go back and get him! We adopted the prairie dog stuffy and named him Blizzard, Bwizz, for short."

Since then, Bwizz has traveled the world. "He has camped in 30 national parks, lived in Dubai, camped on the Great Wall of China, backpacked in Canada, and visited Australia."

Bwizz is now living the sweet life in Edmonton, Canada and still goes on all the family's adventures. Suzie aims to bring him back to Bryce Canyon soon and adds "he has brought so much love and joy to our life."


Feeling ready to adopt? Proceeds from the Adopt-a-Prairie Dog program directly support Utah Prairie Dog conservation work in the park. Learn more at https://shop.brycecanyon.org/adopt-a-prarie-dog-p/1373.htm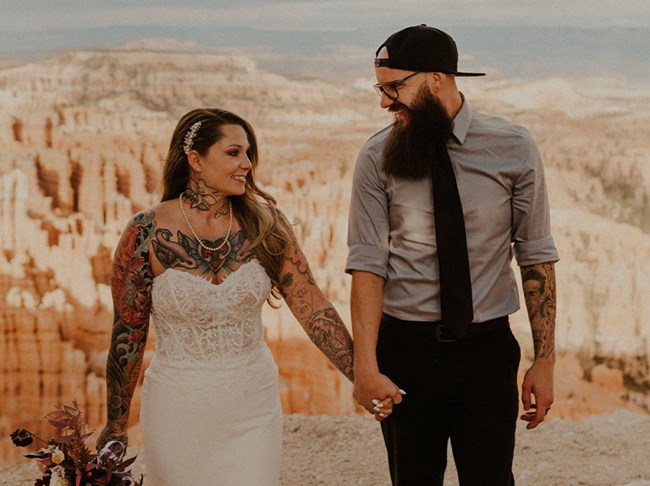 Preston
May 2020, first date was an impromptu trip to Bryce on our way down to lake Powell for Memorial Day weekend with friends, October 23, 2021 we tied the knot at at sunset point and for our first year wedding anniversary, you guessed it.. Bryce Canyon! Hoodoo I love? My best friend, life partner, my obvious better half!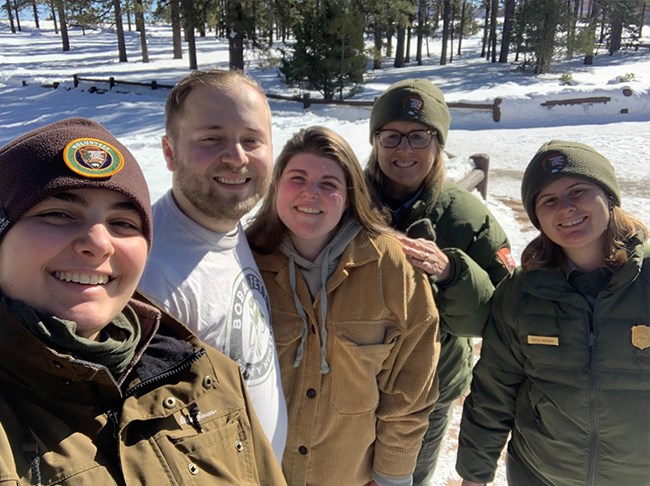 Riley
My new husband and I spent our honeymoon visiting Bryce Canyon! Everyone was so kind! These park rangers spotted our just married decorated car and were so kind and excited! They asked if we wanted a photo! We obviously said YES! Hoodoo we love? Your rangers! ❤️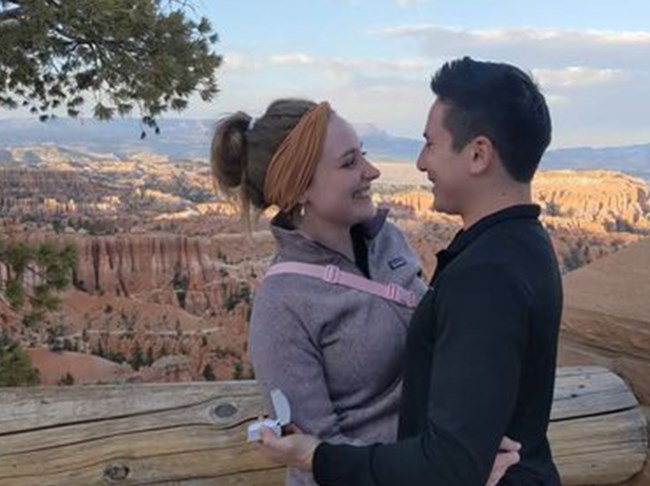 Tessa
Nick proposed May 17, 2022 at Bryce Canyon. We are getting married May 20, 2023 at a state park in MN. I was completely caught off guard when Nick proposed. We woke up early to catch the sunrise, drove the scenic drive, caught the sunset where Nick proposed, and lastly did some stargazing.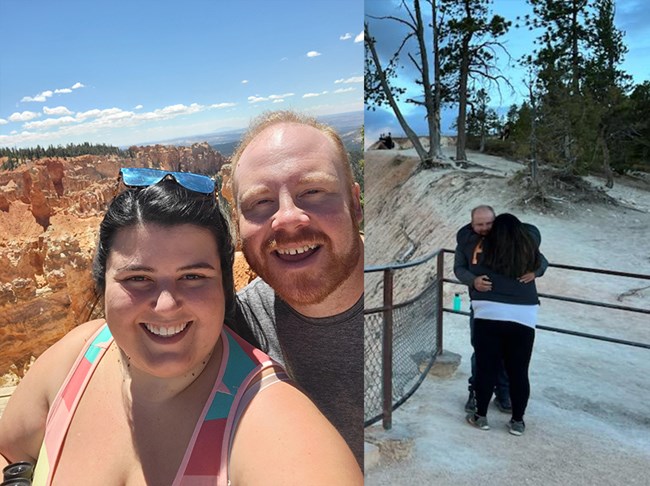 Maja
My partner and I came to this gorgeous park for our 5 year anniversary. On the morning of July 3rd (our day) we woke up at 5:30 am to watch the sunrise at Inspiration Pointe . As we are both walking up to the first lookout point I am wheezing from my asthma and I also saw an outline of a box in his pocket so I began to breathe even heavier. As we are waiting for the Sun to come up over the canyons and into the hoodoos I am in awe of the natural beauty of the amazing place. The moment the Sun made its debut Jared thanked me for waking up so early and for always being up for an adventure and then said "I want to always adventure with you for the rest of my life." He got down on one knee and asked "Will you marry me ?" Of course I said YES while crying happy tears and jumping up and down. I gave him the biggest hug and made a puddle of tears on his hoodie. Some amazing people took photos and we took some incredible memories ourselves. Bryce Canyon will forever be a Happy, Joyful and Loving place in our hearts so if you ask me Hoodoo I love the answer is my Fiance Jared! I can't wait to bring our children here and their children and share the amazing memories.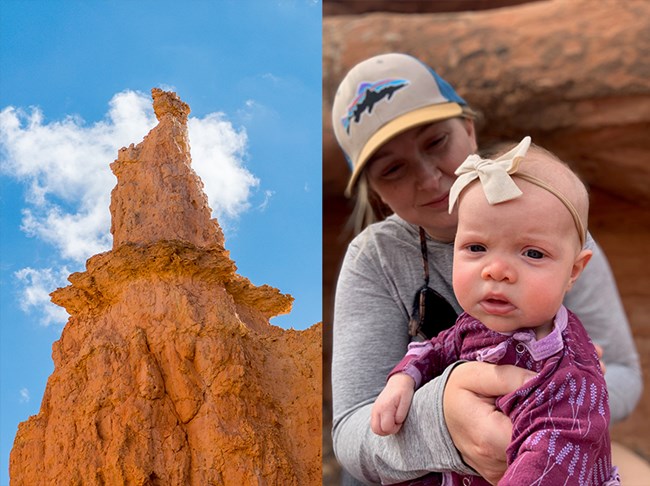 Heather
My friend Sterling and I first started going to National Parks together nearly 8 years ago, and we both we absolutely enamored by BCNP. It was one of the most stunning "reveals" we had ever seen and we went back every year, sometimes "Hiking the Hoodoos" and collecting medallions, sometimes exploring parts of the park we had never seen. Four years ago, that friend proposed to me in the Queen's Garden, and to me there was no place more perfect than that. Two years after that, we were joined by our very own queen, a baby that we named Victoria. Bryce Canyon holds a special magic for us, even despite getting poured on half the time we're out there!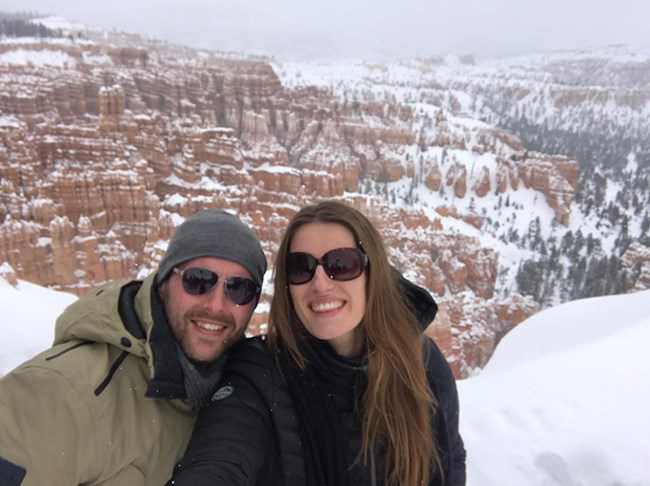 Joey
I asked my wife to marry me at sunrise point three years ago. There was huge snowfall that day and at first I didn't want to ask her then because there was no visibility. But when we arrived at sunrise point suddenly the snowfall stopped, the clouds broke and the sun came trough. I fell on one knee in the snow and popped the question. My wife screamed from surprise which alerted another visitor who got her camera and made this picture of us at that special moment. We came back to the US so marry three years later and are still happily married.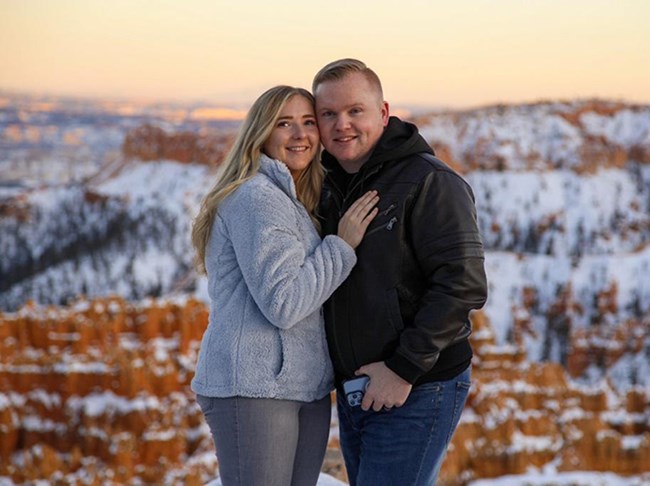 Jessica
Hoodoo you love? Bryce Canyon is one of my all time favorite places! This year for our anniversary, my husband and I celebrated by visiting Bryce. We couldn't have picked a better way to celebrate 5 years of being married!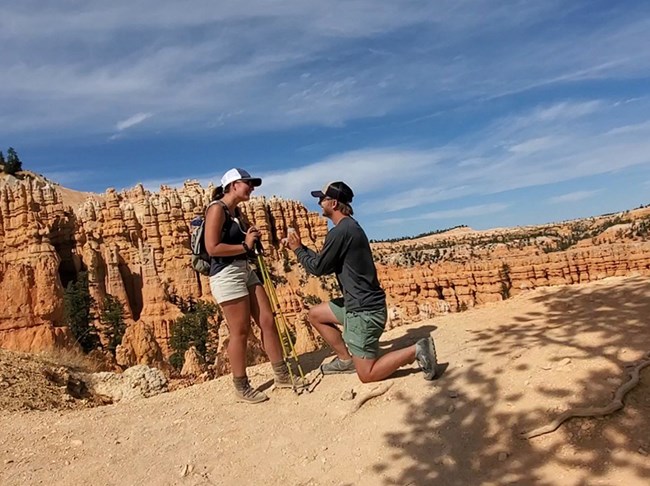 Bryce
I'm the oldest of 4 boys... my parents named all of us after geographical places. And after they visited Bryce in 1996, and two years later I happened to get the coolest one..... I was named after Bryce Canyon. So my whole life I felt a connection to this park..... in 2012 I finally got to go see it for myself..... fast forward to October 10th, 2020, my girlfriend of 5 years and I set off to hike Fairyland Canyon.... halfway through the hike I asked her to marry me. We were married a year later. Bryce Canyon means the world to my family. It ment the world to me to be able to share the love I have for Bryce Canyon with her! Bryce Canyon is such a magical place and both of us cherish our experience there!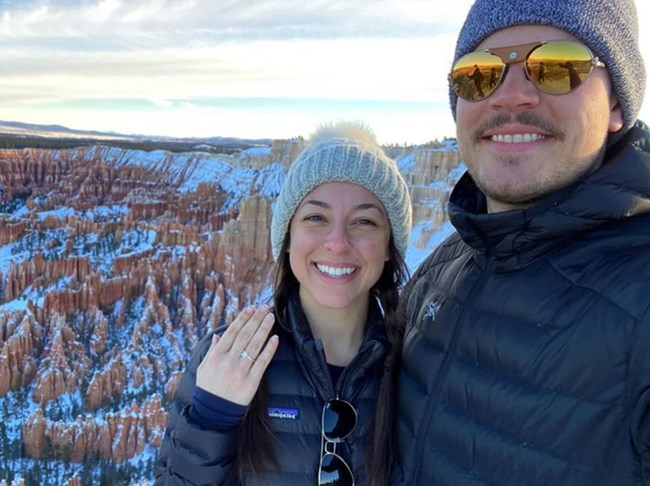 Nicole
My (now) husband and I are park enthusiasts and on Jan 2 2021 he proposed in the amphitheater during a hike!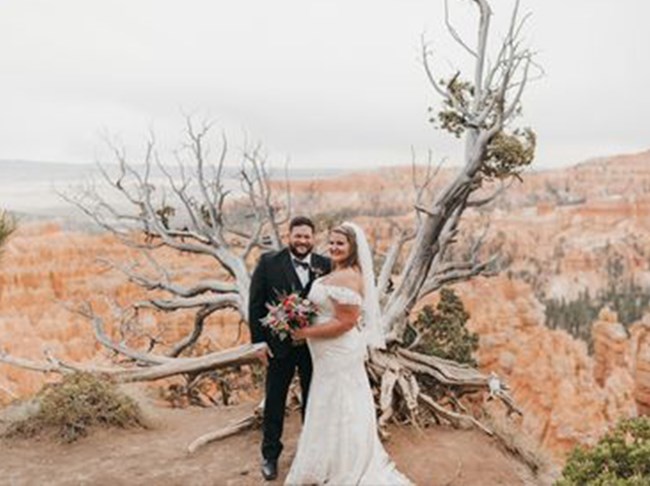 Karen
May 22, 2021 - we got married above the Main Amphitheater at Sunset Point surrounded by our immediate family and closest friends in Mother Nature's most beautiful venue! No better place to express #hoodooyoulove than right above the hoodoos and Thor's Hammer. Part of our initial connection upon first dating, was National Parks! When I first introduced my now husband to my family, we met them in Phoenix, AZ where we subsequently took him to the Grand Canyon for the first time and we hiked the park and tracked down passport cancellations.
When he proposed (which was right in the middle of COVID), we were trying to decide on a place that was personal, intimate, and meant something to us. A National Park was the obvious answer! Bryce Canyon is my favorite, those hoodoos really are magic. Plus, he had never been before so it tied our beginnings into the event.
When we discovered Bryce's wedding links on the website, we knew it was the place for us.
It couldn't have been more perfect. We enjoyed sharing the park with our family and friends, had a wonderful ceremony, and have absolutely amazing pictures!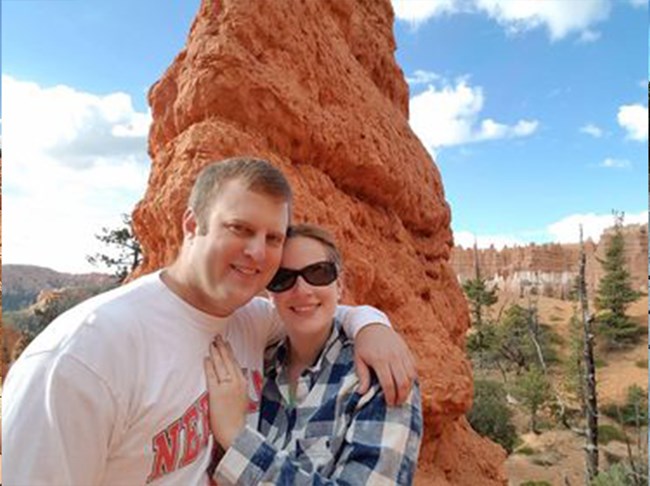 Kelly
My husband and I were engaged in Bryce off of Queens Garden trail. We were on a cross country road trip. He was so nervous the entire morning until he popped the question. The destinations from that road trip were the table numbers at our wedding, and when we were thinking of baby names for our first born a few years later, we both immediately said, "Bryce!".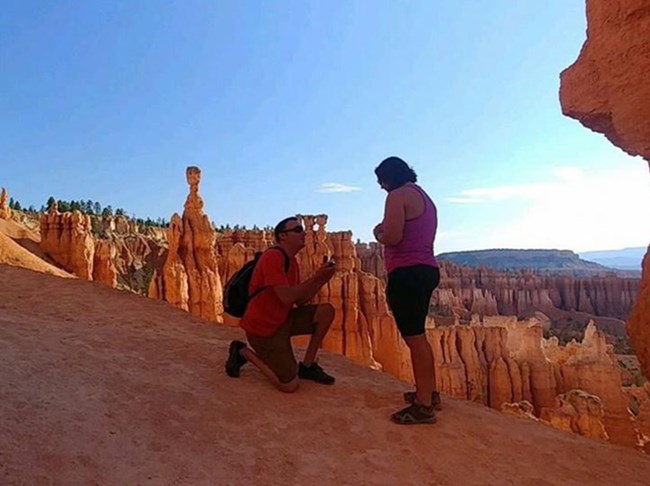 Julie
My husband proposed 6 years ago on 7/7/17. He knew it was my favorite National Park. When ever anyone mentions Bryce, I always hold up my engagement ring and tell them I found it there. They get really confused and then laugh. Can't wait to share Bryce with our kids someday!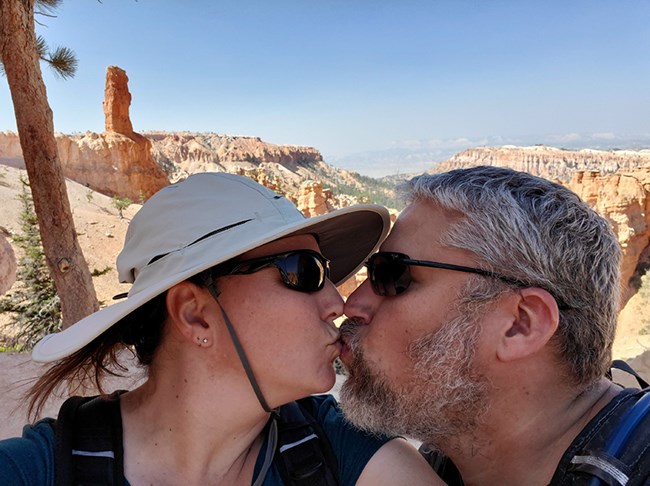 Heather
For our 20 year anniversary in 2020, my Husband and I took a kid-less trip to SW Utah. Bryce was on our short list for the trip. We fell in love with the area and was just the trip we needed. Sent the kids this picture and got the immediate emojis but I think someday they will appreciate the love thier parents have for one another. Two years later took another trip this time brought the kids to show the area just this past July 2022. Love our times we have spent in awe of the scenery at Bryce.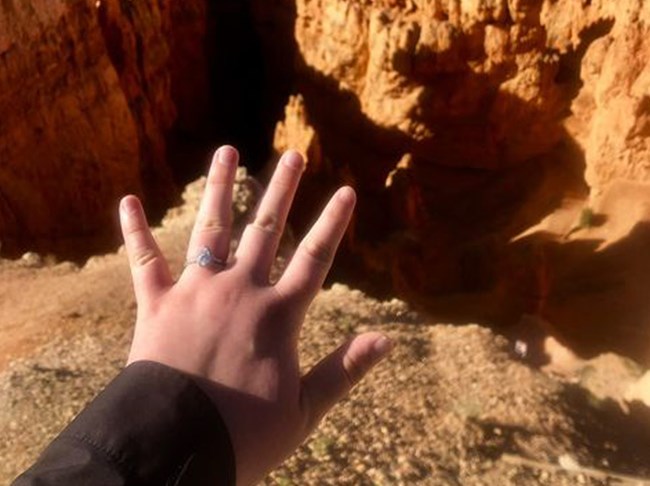 Amelia
My husband proposed to me while we were hiking in Bryce Canyon. Now we have a baby and we can't wait to show her the beautiful place our family started!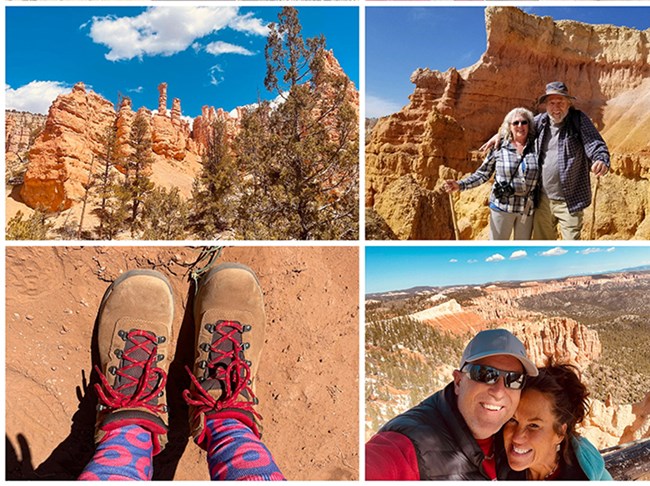 Cori
Every year on my birthday we visit Bryce…it's our favorite place. The hoodoos whisper sweet nothings in our ears & this trip was my 50th…we met this wonderful couple from Maine who we are still in touch with…we shared local brews around a campfire with people from 4 different countries…the fairyland loop gave us magical memories…we fall in love more every trip.
Last updated: March 4, 2023