Robert Gould Shaw and the 54th Regiment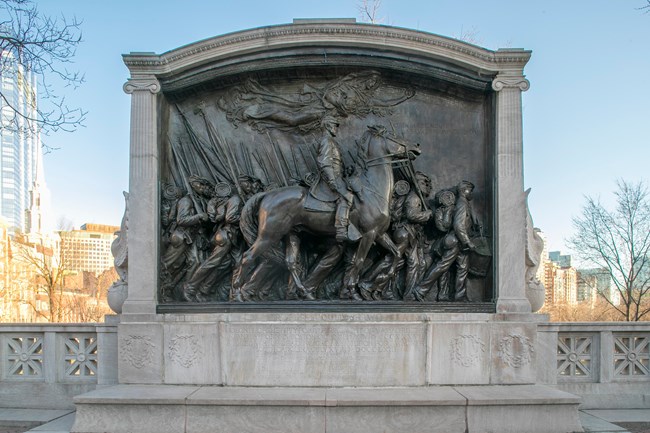 The Robert Gould Shaw and Massachusetts 54th Regiment Memorial commemorates one of the first Black regiments of the American Civil War. Although African Americans served in both the Revolutionary War and the War of 1812, Northern racist sentiments kept African Americans from taking up arms for the United States in the early years of the Civil War. However, a clause in Abraham Lincoln's 1863 Emancipation Proclamation allowed for the raising of Black regiments. Governor John Andrew soon created the Massachusetts 54th Volunteer Infantry. He chose Robert Gould Shaw, the son of wealthy abolitionists, to serve as its colonel. Notable abolitionists including Frederick Douglass and local leaders such as Lewis Hayden recruited men for the 54th Regiment. African Americans enlisted from every region of the north, and from as far away as Canada and the Caribbean.
Through their heroic, yet tragic, assault on Fort Wagner, South Carolina on July 18, 1863, in which Shaw and many of his men died, the 54th helped erode Northern public opposition to the use of Black soldiers and inspired the enlistment of more than 180,000 Black soldiers into the United States forces. Sergeant William H. Carney, severely injured in the battle, saved the regiment's flag. For this act of bravery, he became the first African American recipient of the Medal of Honor. The 54th Regiment also fought in engagements on James Island, the Battle of Olustee, and at Honey Hill, South Carolina, before their return to Boston in September 1865.
Augustus Saint-Gaudens took nearly fourteen years to complete this high-relief bronze monument, which celebrates the valor and sacrifices of the Massachusetts 54th. One of the premier artists of his day, Saint-Gaudens grew up in New York and Boston, but received formal training at the Ecole des Beaux-Arts Paris. In his studio in New York, he hired forty men to serve as models for the soldiers' faces. Paid for by private donations and unveiled on May 31, 1897, this monument depicts the 54th Regiment as they marched down Beacon Street off for war in 1863.
Works Consulted
Dryfhout, John H. The Work of Augustus Saint-Gaudens. Hanover: University Press of New England, 1982.
Grover, Kathryn, and Janine V. Da Silva. "Historic Resource Study: Boston African American National Historic Site." Boston African American National Historic Site, 2002.
Hope and Glory: Essays on the Legacy of the 54th Massachusetts Regiment. Edited by Martin Blatt, Thomas Brown, and Donald Yacovone. Amherst: University of Massachusetts Press, 2001.
Last updated: January 7, 2023