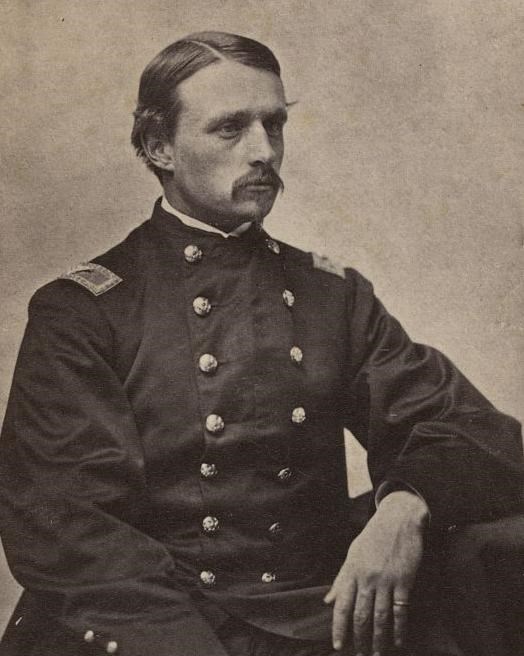 Significance:
Civil War soldier, Army Colonel
Place of Birth:
Boston, Massachusetts
Date of Birth:
October 10, 1837
Place of Death:
Morris Island, South Carolina
Date of Death:
July 18, 1863
Place of Burial:
Burial Trench, Morris Island, South Carolina
Robert Gould Shaw served as colonel of the 54th Massachusetts, one of the first Black regiments to fight in the Civil War.
Born in Boston, Shaw grew up in the city's elite social and political circles before the Civil War. His parents, Francis Shaw and Sarah Sturgis Shaw, committed themselves to societal improvement as reformers and abolitionists. Through their connections, Robert grew up surrounded by luminaries in the anti-slavery movement such as William Llyod Garrison and Harriet Beecher Stowe.1
As a young adult, Shaw took little interest in his parents' abolitionist and reform activities. Instead, he traveled abroad and later enrolled in Harvard but dropped out before graduation due to boredom and his own lack of direction.
After the firing on Fort Sumter and the onset of the Civil War, however, Shaw found purpose in military service. He enlisted as private, first in the defense of Washington D.C. with the 7th New York regiment, and later as an officer with the 2nd Massachusetts regiment in Virginia and Maryland.2
With President Lincoln's signing of the Emancipation Proclamation and subsequent call for Black regiments, Massachusetts governor John Andrew directed the formation of the 54th Massachusetts, one of the first Black fighting units from the North. He offered to colonelcy to Shaw. Though Shaw initially turned down the offer to command the regiment, his mother soon convinced him to change his mind, and he accepted his new commission in February 1863.3
Shaw keenly understood the importance the regiment's success. He organized the regiment at Camps Meigs in Readville, Massachusetts into an elite unit. The 54th Massachusetts, under Shaw's stern discipline, became most one of the best drilled and trained regiments in the U.S. Army.4 In the process, both soldiers and colonel developed a bond of respect and admiration for one another. Writing to his father with obvious pride, Shaw described a mustering officer from Virginia who stated that he had never mustered in so fine a set of men as the 54th. Concluding the letter, Shaw wrote, "the skeptics need only come out here now to be converted."5
Shaw pushed back against army leadership that sought to use the 54th for raiding or manual labor. He believed the regiment could prove itself in battle. When the opportunity arrived to lead an assault on Fort Wagner, South Carolina, Shaw quickly volunteered his regiment. Speaking to his men before the Fort Wagner attack, Shaw reminded them that "The eyes of thousands will look on what you do tonight."6 The soldier nearest Shaw responded, "Colonel I will stay with you until I die."7
Facing unsurmountable odds, Shaw led approximately 650 of his men into the attack on Ft. Wagner on July 18, 1863. In the fierce battle, Shaw soon fell dead after being struck by enemy fire on the parapet of the fort.
Confederates buried Colonel Shaw in a common burial pit, intending it as an insult to the leader of the Black regiment. After being offered to move Shaw's body to an officers' cemetery, his father directed he be left in the place of honor with his men.
Shaw did not initially join the war effort to end slavery. However, his leadership of the 54th and their collective heroism at Fort Wagner encouraged the widespread enlistment of Black soldiers. This, in turn, ultimately helped turn the tide of the war and secure emancipation throughout the country.
---
Footnotes:
 Robert Gould Shaw, "Letter to Annie Shaw, February 4, 1863," in Blue-Eyed Child of Fortune: The Civil War Letters of Colonel Robert Gould Shaw, ed. by Russell Duncan (Athens, Georgia: University of Georgia Press, 2011), 1. 
William Mcfeely, "Introduction," in Blue-Eyed Child of Fortune: The Civil War Letters of Colonel Robert Gould Shaw, ed. by Russell Duncan (Athens, Georgia: University of Georgia Press, 2011), 6-7.
Mcfeely, "Introduction," 21-27.
Mcfeely, 32-35.
Robert Gould Shaw, "Letter to Francis George Shaw, March 1863," in Blue-Eyed Child of Fortunte, 316.
Stephen J. Whitfield, "'Sacred in History and in Art': The Shaw Memorial," The New England Quarterly 60, no. 1 (Mar., 1987), 6.
Douglas R. Egerton, Thunder at the Gates: The Black Civil War Regiments That Redeemed America (New York: Basic Books, 2016), 128.
Last updated: January 16, 2023