News Release
Winter Newsletter 2023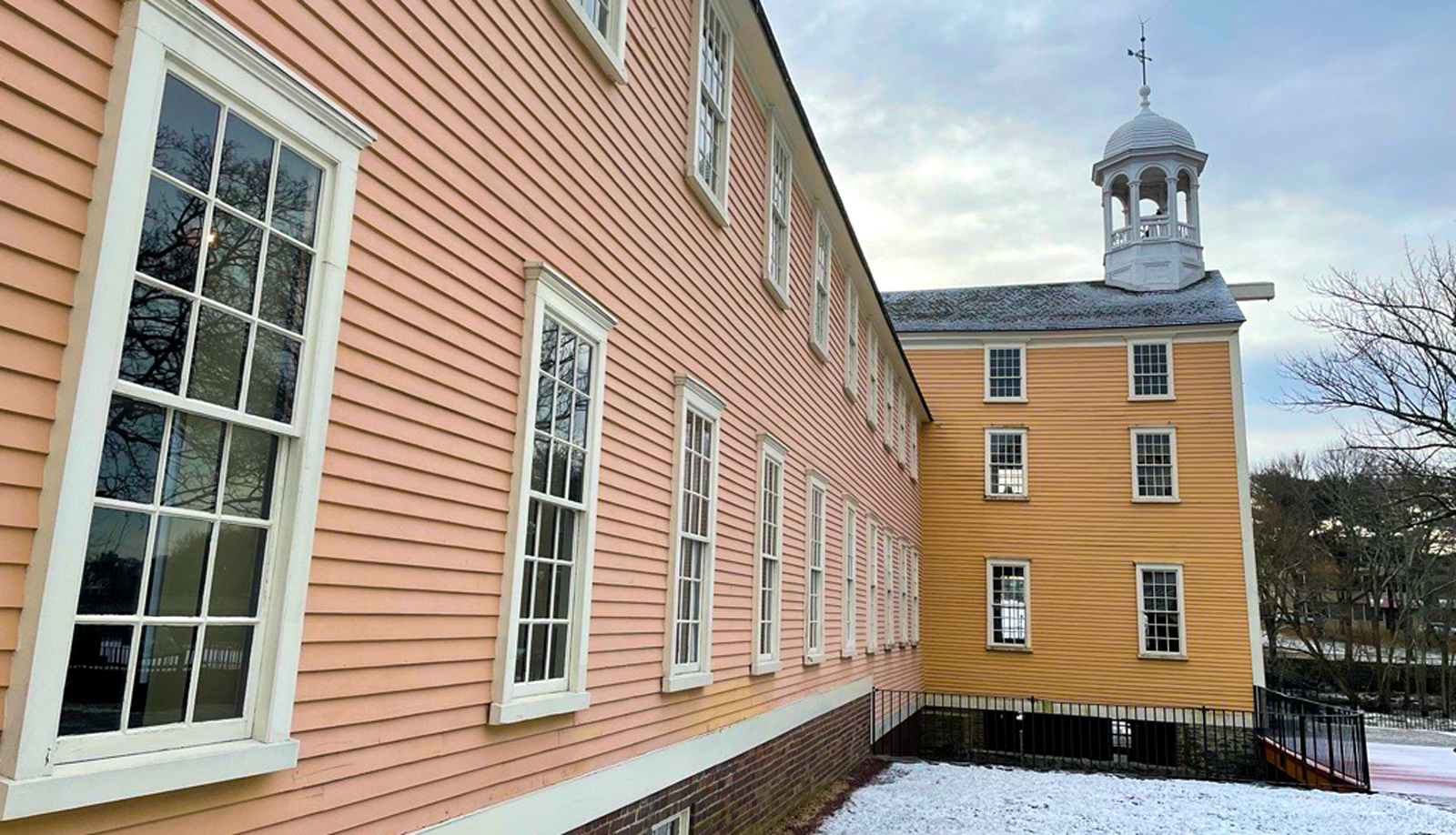 News Release Date:
February 24, 2023
From The Superintendent:


It has been a while since you have last received a newsletter from us. My apologies. We are always thrilled to be able to tell the world about everything we have going on – past, present and future – at Roger Williams National Memorial and Blackstone River Valley National Historical Park, but changes to our National Park Service public communication requirements meant that we had to recalibrate our newsletter system. Now that our newsletter is back, we have a lot to share about our upcoming virtual Parked at Home education series, great past programs and projects, upcoming volunteer opportunities, and ongoing preservation efforts.

As Superintendent, my senior staff and I also have been busy working with national and regional planners to craft the General Management Plan for the Blackstone River Valley National Historical Park, for which the public comment period should be open this spring for the Environmental Assessment required for the plan under the National Environmental Policy Act. We are excited to be planning additional site improvements at both parks as the weather turns warmer and to be busy preparing for expanded programming at Roger Williams National Memorial and the re-opening to the public of sites and programs at Blackstone River Valley National Historical Park this spring. So, I invite you to read about our compelling virtual offerings, learn about our past successes and think about volunteering to help host guests and beautify our parks while our industrious staff continues to do the great things they do to keep our two great parks relevant, preserved, educational, recreational and inviting to one and all. 

Superintendent
W. Eric Breitkreutz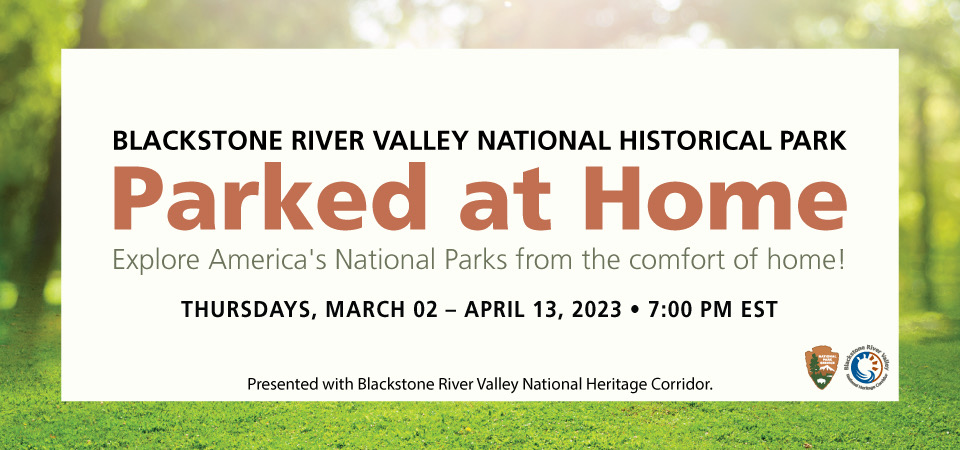 Every park has a story. During this virtual series, we'll connect with people from across the country to talk about special places and complex stories at National Park Service sites. Join us to learn more about a place that might be close to home, or in a destination you dream of visiting. Each hour-long program includes a presentation and opportunities for questions and answers.
All Parked at Home programs are free and will be hosted on Thursday evenings at 7:00 PM (eastern) in March and April.
Please register to receive a link for access:
https://us02web.zoom.us/meeting/register/tZIocOioqDMsG9XbxBWscZxLZQ4SNFmE7L2s

To learn more about the series, click here.
Signs of Change in Hopedale
The Little Red Shop Museum preserves the history of the Town of Hopedale and the Draper legacy. From within this small, unassuming building, one of the followers of Adin Ballou, the founder of Hopedale, created the foundation for a textile empire.

The Draper Company, once one of the largest producers of power looms in the world, started in this shop.

Today, the Little Red Shop is managed by the Town of Hopedale. Volunteers work to care for the collections and to provide access to Hopedale's history. This winter, Preservation Carpenter Nate Risteen, who is part of the Maintenance Division at Blackstone River Valley National Historical Park, paid a visit to the museum. After a thorough inspection of the building, Risteen has authored a report on the state of the shop for the Town of Hopedale. To address some of the short-term and long-term needs of the museum, the park is working with the Town of Hopedale and their team of volunteers to write a more in-depth study. This collaboration pulls from the park's Maintenance team and Cultural Resources team as well as National Park Service experts at the regional level.
Planning a visit to Hopedale? Be sure to check out the new interpretive signs installed around the Little Red Shop Museum this winter. Did you know? The Little Red Shop was originally located on the opposite side of the millpond in Hopedale. It was moved to its present-day location in 1951.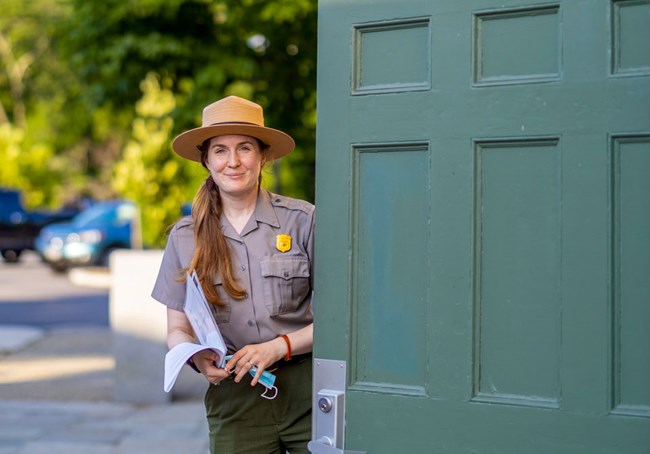 Slater Mill Summer 2023 Hours Announced
Old Slater Mill will reopen on Thursday, May 11, 2023 for our summer schedule.
Operating Hours & Tour Schedule:

Thursday - Sunday
10:00 AM - 4:00 PM

Guided tours will be offered at:
10:30 AM, 12:30 PM, & 2:30 PM




Events:
Saturday, May 13, 2023, Join us for our second annual First Strike Festival at Old Slater Mill. A commemoration of the first industrial workers strike in the United States and a celebration of community, this event offers numerous opportunities to learn, explore, and enjoy Pawtucket's rich and diverse community. Listen to live music, learn how to dance, watch spinning demonstrations, complete a family-friendly activity, play some old timey games, chat with a Ranger, and more. The evening will culminate in a showing of a special video about the First Strike on the big screen. This video was made in partnership with Metamorphosis Dance Company. The event is free.

Sunday, May 21, 2023, participate in a gathering at Blackstone River Valley National Historical Park at the Pawtucket Falls with Friends of the Blackstone, the Blackstone Collaborative, and representatives from Native American communities for a blessing of the river and fish passage rally. For more information, contact Blackstone River Watershed Council.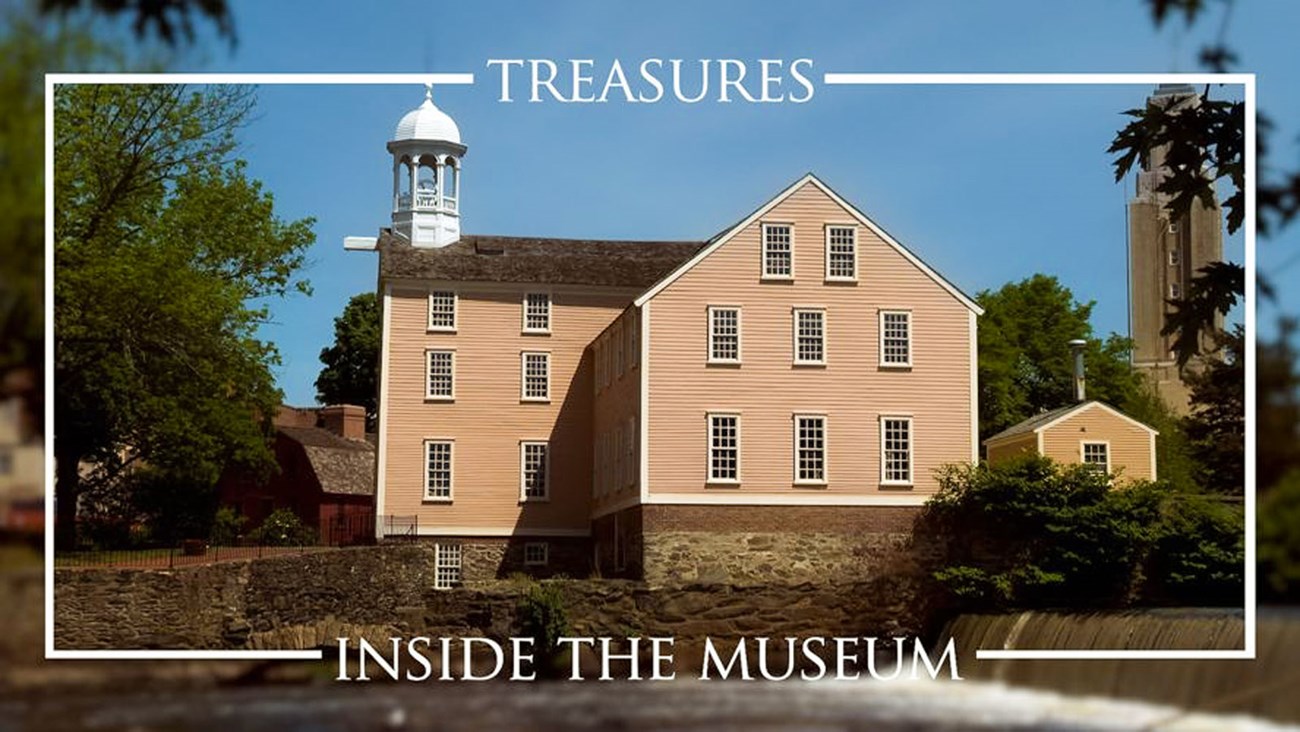 Treasures Inside The Museum

Get an insider's view of Slater Mill on Rhode Island PBS. Slater Mill in Pawtucket, RI, is recognized as the birthplace of the industrial revolution. In this episode, learn more about the people who made the area what it was and how the machines changed the face of manufacturing everywhere. Plus, discover what makes some of the machines on exhibit so rare, and examine some of the artifacts from the 1890 Cotton Centennial.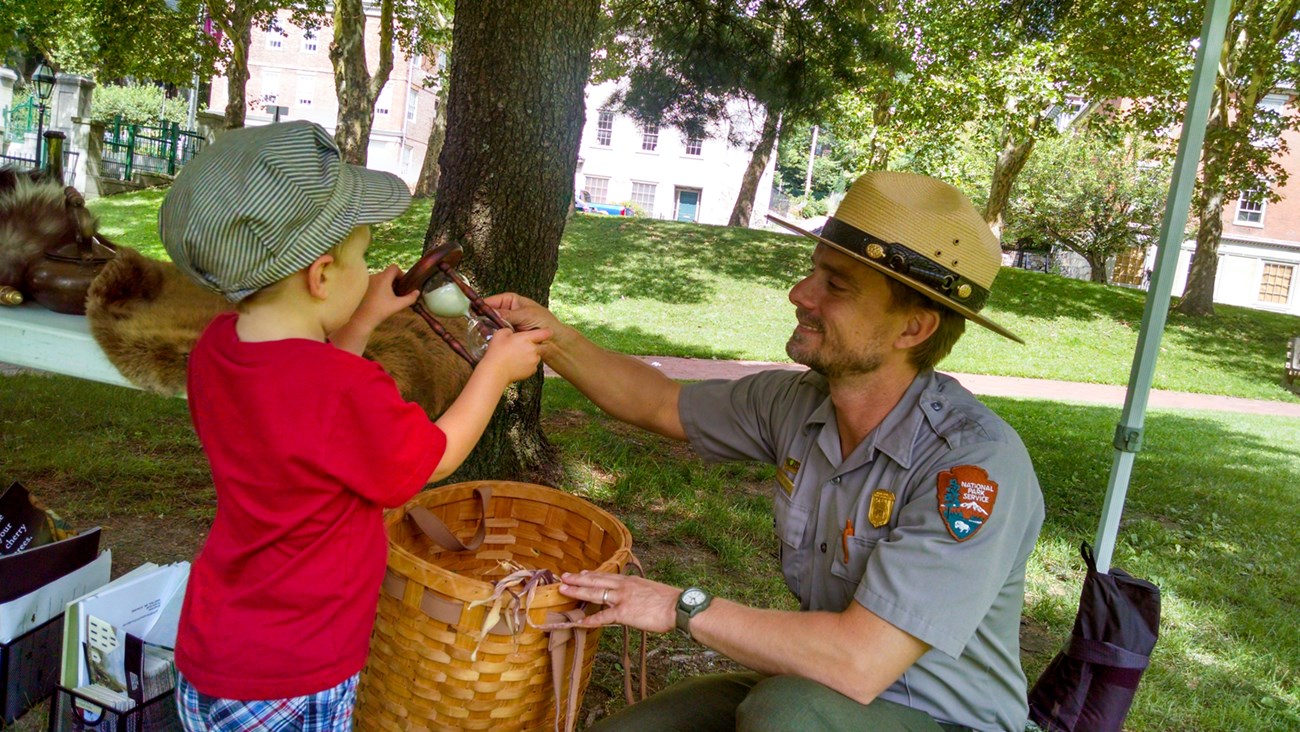 Spring Happenings at Roger Williams National Memorial
This spring is shaping up to be a "bee-sy' one for Roger Williams National Memorial!
To kick off some of the festive events we have planned, renowned storytellers Mark Binder and Christopher Johnson will be "spinning tales" & poems in celebration of America's best idea, national parks. The fun will begin on Saturday, April 15th at 1:00PM at the Old Slater Mill in Pawtucket.

In early May, we will co-host a nature walk with the Providence Parks Urban Wildlife Refuge Partnership. Open to all ages, we will explore and learn about the different animals, plants, and trees that call the memorial home.

Finally in early June, we are bringing back our popular Yoga in the Park series. Taking place on Saturday mornings at 9:00 AM, we will collaborate with a local yoga studio to have classes in the park. Stay tuned to our website at nps.gov/rowi for more details.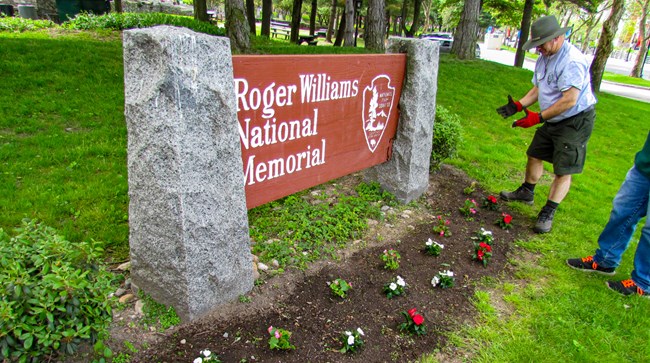 Get Your Hands Dirty at a National Park
Join us for a spring cleanup on Saturday, April 22 at 9:00 AM to give Roger Williams National Memorial and the Old Slater Mill Historic District a good cleaning before the weather warms up and we welcome our 2023 visitors. We are looking for volunteers who love public lands to help us out for a few hours. Safety supplies and training will be provided on site.

If you can't make it in April, May 20 is our annual flower planting bonanza. Both sites are looking for volunteers to help us plant hundreds of flowers that are sure to bring color to the sites through the summer.

For more information, reach out to Volunteer-in-Parks coordinator, Molly Cardoza at mcardoza@blackstoneheritagecorridor.org
Cleanups at Old Slater Mill and Roger Williams National Memorial:
The Spring Clean-up: April 22, 2023 9:00 AM - 1:00 PM
The Flower Planting: May 20, 2023  9:00 AM - 1:00 PM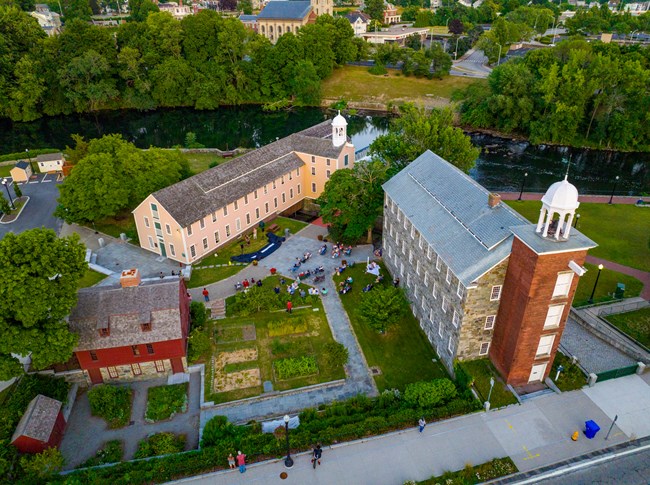 Permitting Office Running at Full Steam
Special Use Permits allow a short-term activity to take place in a park area. The vast majority of our visitors come to the National Historical Park and National Memorial in order to participate in a program offered by the National Park Service. However, sometimes folks want to take wedding photos, host an outdoor event, or exercise their first amendment rights. Some of these activities could require a Special Permit.

Many Special Use Permit types require a minimum of 30 days to process the permit request. So, if you want to do something like commercial filming, throw a party, or take wedding photos, get your requests in early!
Find out more information on our website:
Permits and Reservations - Blackstone River Valley National Historical Park (U.S. National Park Service) (nps.gov)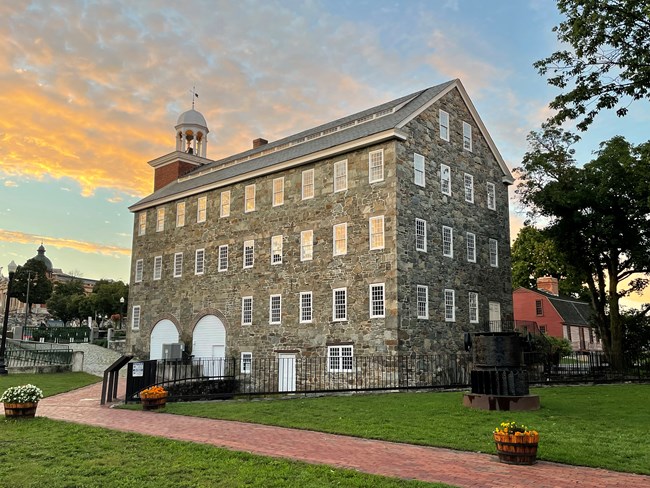 Crew Preserving Historic Windows at Wilkinson Mill
It takes a lot of work to maintain, preserve, and restore historic buildings. It is one of the most important tasks we undertake. Currently the facilities team of preservationist carpenters is working on the repair and rehabilitation of the windows in the Wilkinson Mill. Their expert woodworking skills are an essential part of our mission at Blackstone River Valley National Historical Park.

Next time you see a member of our facilites crew, be sure to say thanks for all their hard work keeping America's treasures beautiful!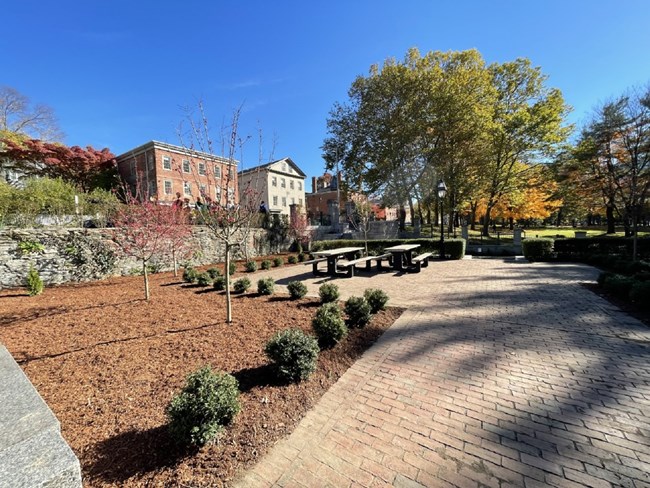 On Leaves and Needles at Roger Williams National Memorial
If you have driven on North Main Street in Providence lately, you may have noticed a change. This past fall, the National Memorial got a fresh set of trees! The Norway maples and Siberian crabapples were reaching the end of their lifespan and were replaced with native species. Now, you'll see red maple, tulip poplar, American crabapple, and two new white pines. Keep an eye out in late spring and early summer for the showy blooms of the crabapple trees! And kudos to our facilities crew, who do an outstanding job of maintaining one of America's 31 National Memorials.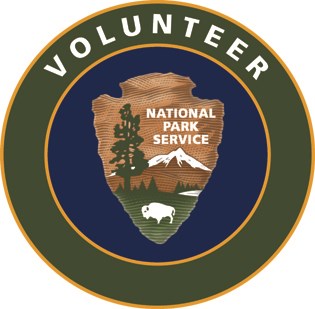 We're Recruiting Ambassadors to Volunteer for the National Park Service
The Blackstone River Valley National Historical Park and Roger Williams National Memorial rangers are "buzzing" with excitement about the fantastic programs planned for the 2023 spring/summer season! However, to accomplish our goals, we need your help. You can contribute your time and expertise by becoming a VIP (Volunteer-In-Parks). You will serve a vital role and make a real difference as a volunteer, whether working behind the scenes or face-to-face with park visitors.

There are numerous benefits to volunteering in a national park. As a VIP, you will work side by side with an NPS employee, have an opportunity to spend time in an area you enjoy, meet people from all over the world, develop new skills, and make lifelong friendships with coworkers.

To learn more about the VIP program, contact Molly Cardoza at mcardoza@blackstoneheritagecorridor.org.
Last updated: February 24, 2023