South Rim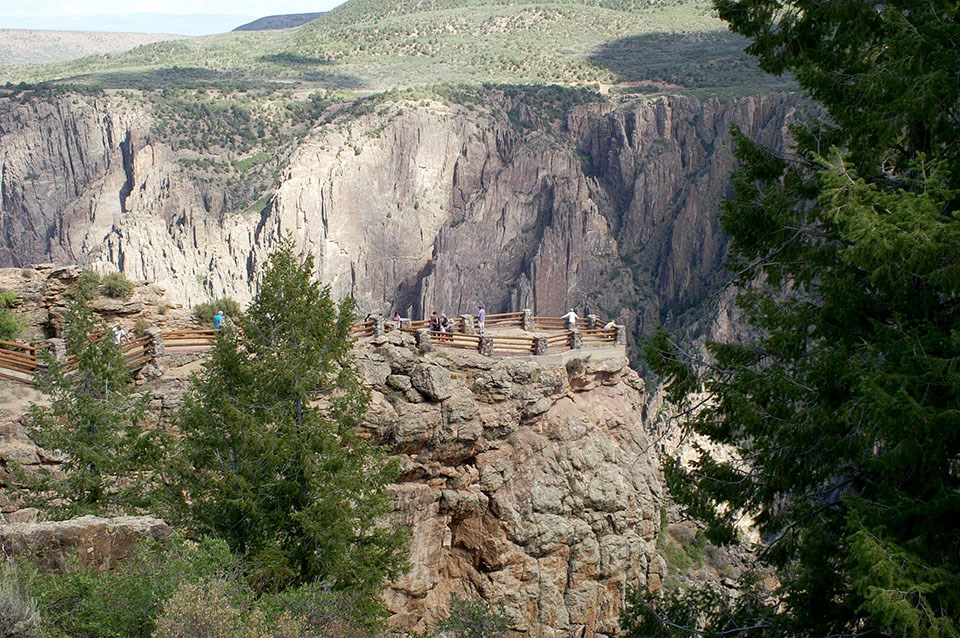 With a paved drive, park visitor center, and large campground, the South Rim is the busier, more developed side of the park.
Getting Here
The South Rim is 7 miles north on CO Highway 347 from the intersection with U.S. Highway 50 east of Montrose.
Roads
All roads on the South Rim are paved. In winter and early spring, the South Rim Drive is closed to vehicles just past the visitor center. The road to East Portal is also closed in winter and early spring.
South Rim Visitor Center
The visitor center is open all year, but opening and closing times vary by season. The visitor center is staffed with rangers and has exhibits, the park film, and a bookstore. Three hiking trails and Gunnison Point Overlook may be accessed from the visitor center. Maps, newspapers, junior ranger books, and wilderness permits are available within the visitor center. There is a self-registration kiosk for wilderness permits when the visitor center is closed. The visitor center has car parking and some trailer/ RV parking. In the summer, the parking lot often fills.

Location: 7 miles north on CO Highway 347 from the intersection with U.S. Highway 50.
GPS: N 38.5550 W -107.6866
Water
In the summer months, water fill-up stations are available in the campground and at the visitor center. All of the water on the South Rim is trucked in, so we ask that you use the fill-up stations conservatively and be prepared with your own water. In the Spring, Fall, and Winter, water is not available on the South Rim.
Things to Do
Overlooks
There are 12 overlooks to enjoy along the South Rim Drive. Most have a short (few hundred yards at most) walk to the edge. There are three handicapped accessible overlooks: Pulpit Rock, Chasm View, and Sunset View.
Three trails leave from the visitor center and one from High Point.
Intrepid visitors may rock climb or take an inner canyon scrambling route.
Last updated: April 14, 2022