East Portal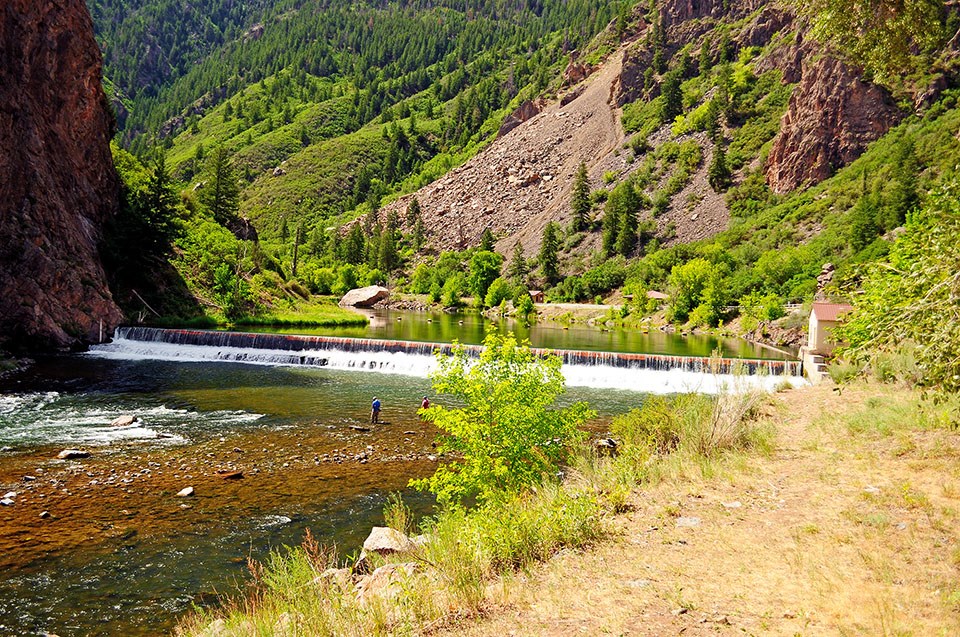 East Portal is within the boundary of Curecanti National Recreation Area, but accessible from the South Rim of Black Canyon National Park. East Portal is named for the Gunnison Tunnel and the town that developed around its construction. Although not much remains of the town, visitors can still experience the trepidation of winding down the canyon and appreciate the difficulties and joys of creating a community at the bottom.
Getting Here
East Portal is accessible from the South Rim, which is 7 miles north on CO Highway 347 from the intersection with U.S. Highway 50 east of Montrose. Turn right onto the East Portal road at the park entrance station.
Roads
The East Portal Road is managed by the Bureau of Reclamation. The road is paved and two-way, but windy and steep. Vehicles over 22 feet are prohibited on the East Portal Road. In a few places, the road is a 16% grade; vehicles should be in low gear on the road to avoid burning out the brakes. The road is closed in winter, typically from November to April.
Water
In the summer months, a water fill-up station is available in the campground. We ask that you use the fill-up stations conservatively and be prepared with your own water. In the Spring and Fall, water is not available.
Things to Do
East Portal is a popular spot to fish our Gold Medal Trout Waters.
Interpretive wayside exhibits tell the story of the men and women who lived at East Portal and the workers who constructed the Gunnison Tunnel. In the summer, rangers may also give guided walks. Check with the visitor center for updated program schedules.
Two primitive trails lead into the wilderness area from East Portal.
Last updated: October 26, 2019