Accessibility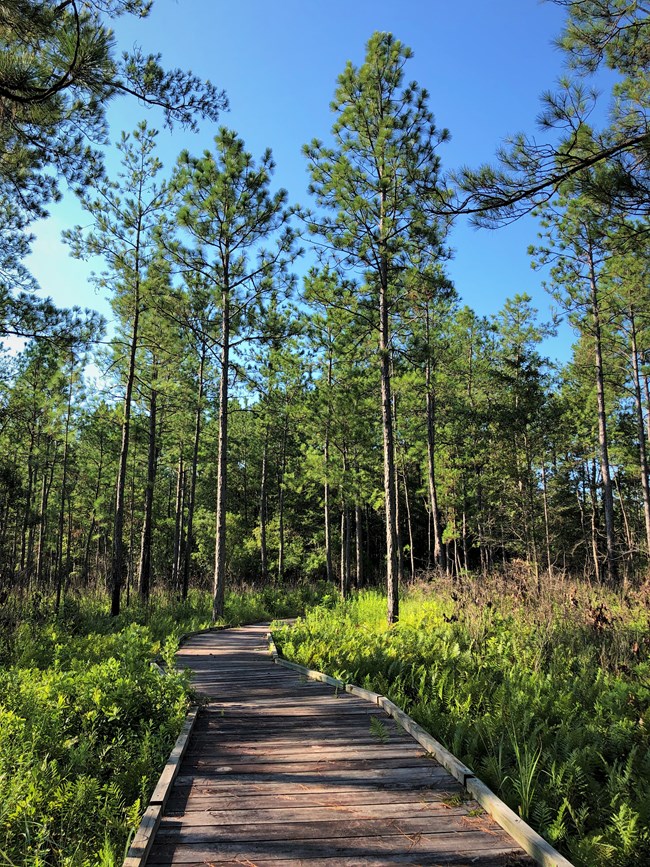 The National Park Service strives to make the Big Thicket experience possible for everyone. The preserve offers a variety of accessible facilities and services.
Visitor Center
The one-story visitor center, including the bookstore, exhibits, and theater, is wheelchair-accessible.
The 16-minute park film is open-captioned and audio described. Assistive Listening Devices (ALDs) are available.
An UbiDuo two-way communication device is available at the front desk to type out your questions and answers.
Sensory kits are available at the front desk. Kits include: noise-reduction headphones, sunglasses, antibacteral handwipes, sensory gel disc, textured rubber noodles, social story for hiking, and a Velcro task board to make your own day's agenda.
A list of common sounds throughout the park is listed on the board behind the front desk.
A social story and a "What to Expect" flyer for our fishing activities is available at each booth during our yearly fishing clinics.
Brochures
A large-print version of the park brochure and map is available at the visitor center upon request.
A Braille version of the park brochure is available at the visitor center upon request. Download a braille version of the brochure. (Please note this is a .brf file (Braille Ready File). You must have access to a braille printer or reader to make use of this file.)
An audio described version of the park brochure is available on the free UniDescription app, available on iOS and Android mobile devices.
Trails
Visitors that use wheelchairs or have mobility challenges may prefer the following trails:
Sundew Trail: The inner loop has a mixture of pavement and wooden boardwalks (0.3 miles roundtrip).
Pitcher Plant Trail: ¼-mile paved path and wooden boardwalk through a pitcher plant bog. Beyond the boardwalk, the trail is unpaved and may be muddy.
Be aware that wooden boardwalks along these trails often become very slick after rains. Most picnic tables and restrooms throughout the preserve are wheelchair-accessible.

Visitors should check the individual trail maps to determine if the trail surfaces are appropriate for them and their skill level. Feel free to contact a ranger at the visitor center for more information about the trails.
Accessible Ranger-Led Programs
Assistive Listening Devices (ALDs) can be available for all indoor and outdoor programs. Please request an ALD when you reserve your program space.
American Sign Language (ASL) Interpreters can be available for all programs. Please request an interpreter at least 5 days in advance of your desired program.
Service Animals
In accordance with NPS policy on service animals, dogs are the only animals that can be classified as service animals, and they must perform a specific task that assists a person with a disability. If the service dog meets this criteria, they are legally permitted anywhere that visitors can go.
Hunters with Disabilities
Hunters with documented disabilities may qualify for a special use permit that allows the use of an ATV, UTV, or RTV in certain areas. Please contact us for more information and to fill out the application.
Access Pass
US citizens or permanent residents with a permanent disability are eligible for the Access Pass, a free lifetime pass to all national parks and federal lands. It also provides a discount for certain recreational activities in the parks, like camping. Get your pass at the visitor center!
Accessibility Across the National Park System
Interested in visiting other accessible national parks? The NPS accessibility page has a map of all the parks with accessible features and provides information on NPS accessibility history and policies.


Last updated: October 26, 2022