Mooring Buoys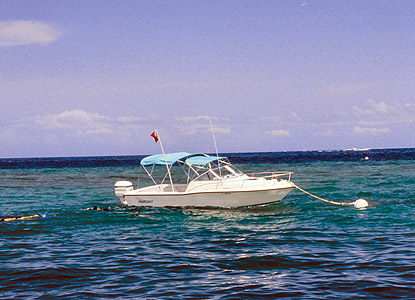 What Are They?
Mooring buoys help preserve the fragile coral reef ecosystem by preventing anchors from striking the coral and anchor ropes or chains from chafing or breaking coral. They also provide a convenient way to secure your boat. Mooring buoys are located adjacent to some of the more popular reefs in the park. Some of these reefs are very shallow so do not attempt to motor across a reef to reach a mooring buoy.
What does a mooring buoy look like?
Mooring buoys are hard, white plastic spheres about 18" in diameter. Lobster trap buoys are smaller Styrofoam balls, many of which are painted with bright colors.
How do I use a mooring buoy?
Use caution and idle speed when approaching the buoy. Look for and avoid shallow water near the buoy. Watch carefully for swimmers and snorkelers.
To secure your boat to a mooring buoy, pick up the floating line and pass your bow line through the loop. Secure both ends of your bow line to your bow cleat. DO NOT put the loop around your cleat. This increases the wear on the mooring system and increases the likelihood of pulling the mooring anchor free and of damaging your boat. In rough weather or for larger boats, increase the length of your line.
Inspect the mooring buoy your boat is tied to, you are still responsible for your vessel. Dive or snorkel the mooring line to be certain the mooring is holding. Note: Biscayne National Park assumes no liability for the use of the mooring buoys.
Mooring buoy use is limited to a maximum of four hours by any one boat.
Please report any problems, such as broken or frayed lines to Biscayne National Park (305) 230-7275, ext. 0.
Where are they?
See the park's Mooring Buoy Locations.
What if a mooring buoy is not available?
When anchoring near reefs, place your anchor in clean sandy areas downwind from the reef. This will keep the anchor line from being dragged across the reef. Placing an anchor in the reef can cause great damage to the reef and also result in a substantial fine. Use 5 to 7 times the length of rope as the depth of the water; in rough seas use more line. Snorkel or dive to check that the anchor and line are secure and not touching any coral.
Our national park system was established to preserve and protect America's natural and cultural treasures. Do your part to help.