Mooring Buoy Locations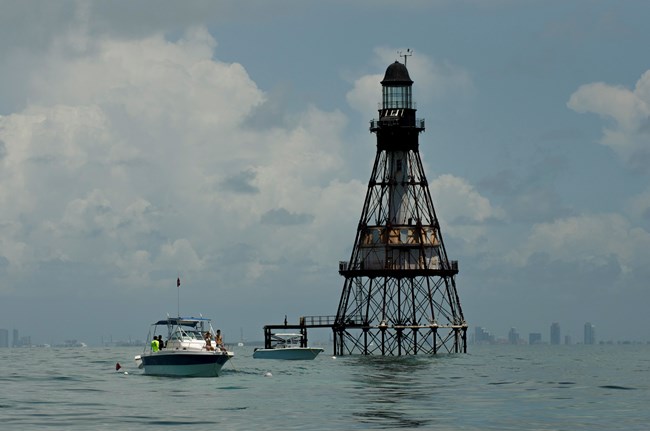 Below is a list of sites with mooring buoys available for use by park visitors. Many of these sites are in shallow water; approach mooring sites slowly so that you can properly read the water and avoid causing damage to natural and cultural resources.

Please note that due to several environmental factors, any given mooring buoy may be damaged or missing upon your arrival. Be sure to make alternate back up plans should this be the case at your intended destination.

Cross reference the following locations with our web-based map.

All mooring buoys are through-line 18 inch white plastic buoys with a blue reflective line. Moor by passing a deck line through the tag line attached to the buoy. Approach the mooring buoys with caution and use an appropriate amount of scope. Mooring buoy use is limited to four hours by any one boat. Proper use of mooring buoys greatly contributes to protecting our precious natural resources and cultural heritage.
Maritime Heritage Trail Mooring Buoys
| | | | |
| --- | --- | --- | --- |
| Name | Latitude | Longitude | Depth (ft) |
| Alicia 1 (NW) | 25.412733 | -80.12745 | 19 |
| Alicia 2 (NE) | 25.412617 | -80.127067 | 20 |
| Alicia 3 (SW) | 25.411817 | -80.127817 | 16 |
| Alicia 4 (SE) | 25.411767 | -80.127367 | 20 |
| Arratoon Apcar 1 (NW) | 25.591917 | -80.095583 | 15 |
| Arratoon Apcar 2 | 25.5917 | -80.095217 | 18 |
| Arratoon Apcar 3 | 25.59141 | -80.09592 | 11 |
| Arratoon Apcar 4 (SE) | 25.591333 | -80.095433 | 16 |
| Erl King 1 (NE) | 25.424967 | -80.12415 | 19 |
| Erl King 2 (NW) | 25.424783 | -80.12455 | 15 |
| Erl King 3 (SE) | 25.424483 | -80.124167 | 20 |
| Erl King 4 (SW) | 25.424467 | -80.124483 | 16 |
| Fowey Canyon | 25.5978 | -80.09535 | 30 |
| Fowey Rocks 1 | 25.5908 | -80.095917 | 12 |
| Fowey Rocks 2 | 25.590017 | -80.0959 | 12 |
| Fowey Rocks 3 | 25.58923 | -80.09589 | 10 |
| Fowey Rocks 4 | 25.58836 | -80.09615 | 9 |
| Fowey Rocks 5 | 25.58745 | -80.09611 | 11 |
| Fowey Rocks 6 | 25.586783 | -80.09655 | 14 |
| Fowey Rocks 7 | 25.59115 | -80.096333 | 10 |
| Fowey Rocks 8 | 25.589733 | -80.097 | 8 |
| Fowey Rocks 10 | 25.5884 | -80.09135 | 56 |
| Lugano Wreck 1 | 25.444683 | -80.119217 | 22 |
| Lugano Wreck 2 | 25.444183 | -80.11965 | 18 |
| Lugano Wreck 3 | 25.443683 | -80.11975 | 19 |
| Mandalay Wreck 2 | 25.442283 | -80.121783 | 10 |
| Mandalay Wreck 3 | 25.442233 | -80.121317 | 11 |
| Mandalay Wreck 4 | 25.4421 | -80.121883 | 9 |
| Mandalay Wreck 5 | 25.441867 | -80.121917 | 8 |
| Schooner Wreck 1 | 25.39895 | -80.160917 | 10 |
| Schooner Wreck 2 | 25.398733 | -80.16085 | 11 |
Reef and Other Mooring Buoys
| | | | |
| --- | --- | --- | --- |
| Acoustic Deflector | 25.5913 | -80.09113 | 59 |
| Ajax Reef 1 | 25.416717 | -80.123733 | 52 |
| Ajax Reef 2 | 25.399233 | -80.1282 | 56 |
| Alina Reef | 25.386383 | -80.162983 | 18 |
| Anniversary Reef 2 | 25.38825 | -80.1644 | 14 |
| Anniversary Reef 4 | 25.38505 | -80.16685 | 9 |
| Bache Shoal 2 | 25.486117 | -80.148267 | 13 |
| Bache Shoal 3 | 25.485183 | -80.148467 | 15 |
| Bache Shoal 5 | 25.484883 | -80.149 | 12 |
| Bache Shoal 6 | 25.483917 | -80.14965 | 14 |
| Bache Shoal 7 | 25.4832 | -80.1496 | 15 |
| Ball Buoy Reef 0 | 25.318733 | -80.18425 | 12 |
| Ball Buoy Reef 1 | 25.3183 | -80.18423 | 18 |
| Ball Buoy Reef 2 | 25.3179 | -80.1848 | 22 |
| Ball Buoy Reef 3 | 25.316867 | -80.1862 | 16 |
| Ball Buoy Reef 5 | 25.315483 | -80.187417 | 18 |
| Brewster 1 | 25.5702 | -80.100483 | 25 |
| Brewster 2 | 25.56815 | -80.0939 | 56 |
| Brewster 3 | 25.567017 | -80.101367 | 12 |
| Brewster 4 | 25.563283 | -80.094383 | 57 |
| Brewster Canyon | 25.575417 | -80.099217 | 31 |
| Ledbury 1 | 25.55645 | -80.101183 | 16 |
| Ledbury 2 | 25.551933 | -80.095117 | 57 |
| Ledbury 3 | 25.543967 | -80.102317 | 16 |
| Long Reef 1 | 25.447017 | -80.114417 | 59 |
| Long Reef 2 | 25.437417 | -80.11665 | 56 |
| Long Reef 3 | 25.430117 | -80.118817 | 51 |
| Long Reef Pool | 25.414083 | -80.137167 | 23 |
| North Drop | 25.366117 | -80.137683 | 42 |
| Pacific Anchor | 25.369733 | -80.1383 | 33 |
| Pacific Reef 1 | 25.371633 | -80.135933 | 55 |
| Pacific Reef 2 | 25.370033 | -80.139933 | 13 |
| Pacific Reef 3 | 25.371233 | -80.1397 | 17 |
| Pacific Reef 5 | 25.36824 | -80.14043 | 14 |
| Pacific Reef 6 | 25.36775 | -80.13675 | 53 |
| Pacific Reef 7 | 25.365333 | -80.1411 | 14 |
| Pacific Reef 8 | 25.36275 | -80.14115 | 22 |
| Rocky Reef 1 | 25.334617 | -80.161783 | 23 |
| Shark Reef 2 | 25.338167 | -80.167733 | 12 |
| Soldier Key | 25.587867 | -80.152983 | 11 |
| South Drop | 25.365833 | -80.137517 | 47 |
| Star Reef 1 | 25.53245 | -80.103167 | 16 |
| Star Reef 2 | 25.5266 | -80.0984 | 57 |
| Star Reef 3 | 25.52295 | -80.105233 | 21 |
| Tracy Reef | 25.4828 | -80.140933 | 10 |
| Train Wheels | 25.592433 | -80.091917 | 40 |
| Triumph Reef 2 | 25.47665 | -80.1113 | 14 |
| Triumph Reef 4 | 25.471917 | -80.111683 | 18 |
| Triumph Reef 5 | 25.471917 | -80.111717 | 18 |
| Triumph Reef 6 | 25.479933 | -80.10705 | 56 |
| Triumph Reef 7 | 25.474283 | -80.108067 | 55 |
| Whistle Wall 1 | 25.30795 | -80.15395 | 58 |
| Whistle Wall 2 | 25.305667 | -80.154767 | 60 |
| Whistle Wall 3 | 25.303683 | -80.157533 | 55 |
| Whistle Wall 4 | 25.301167 | -80.1594 | 55 |
| Whistle Wall 5 | 25.298783 | -80.1607 | 58 |
| Whistle Wall 6 | 25.296483 | -80.162183 | 58 |
| Whistle Wall 7 | 25.294283 | -80.163317 | 55 |
| Whistle Wall 8 | 25.291833 | -80.1647 | 56 |
Last updated: June 1, 2023