Accessibility
Access Your Park
Welcome
Biscayne National Park showcases the biodiversity found along the Florida coastline. Within the park you will find sparkling waters, shipwrecks and ample wildlife. This brochure outlines accessible services, facilities, and amenities to ensure you are able to enjoy your visit to the park. Biscayne seeks to provide opportunities for all to connect to these national treasures.
Park Hours and Entrance
There is no entrance fee at Biscayne. The visitor center is located at Convoy Point.
The address to Convoy Point is:
9700 SW 328th Street
Sir Lancelot Jones Way
Homestead, FL 33033
Convoy Point Grounds: 7am - 5:30pm, 7 days a week

Dante Fascell Visitor Center: 9am - 5pm, 7 days a week

Navigable Waters: 24 hours a day, 7 days a week
Service Animals
Service animals are permitted on Biscayne National Park property and in all facilities. Below outlines what is considered a service animal per ADA.

"Service animal means any dog that is individually trained to do work or perform tasks for the benefit of an individual with a disability, including a physical, sensory, psychiatric, intellectual, or other mental disability." - Americans with Disabilities Act.

Emotional support animals, comfort animals, or therapy dogs are not service animals according to Title II and Title III of the Americans with Disabilities Act (ADA).

All dogs that are not service animals, as defined by the ADA, must follow park pet regulations.

Follow this link to learn about the park's pet regulations:

https://www.nps.gov/bisc/planyourvisit/pets.htm.
Homestead Trolley
The city of Homestead runs a free trolley with various pick up locations and stops including Biscayne National Park.
Cellular Service
Cellular service is available but areas without coverage exist throughout the park, roads leading to the park and/or local area. Check with your local provider to verify coverage.
Download the NPS app before arriving at the park. Within the app, search for Biscayne National Park and download the park page to your phone to ensure you can access this information if there is no cellular service available at the park.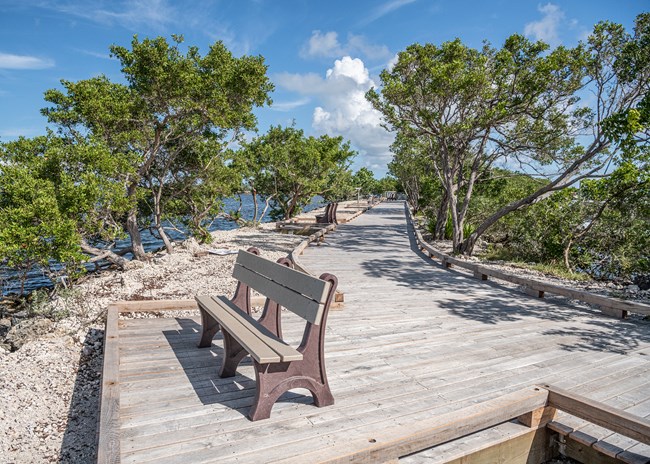 Convoy Point Facilities and Activities
Convoy Point
There are 4 designated handicap parking spaces available.

Wheelchair accessible picnic tables are located throughout the grounds.

ADA compliant restrooms located at the Dante Fascell visitor center.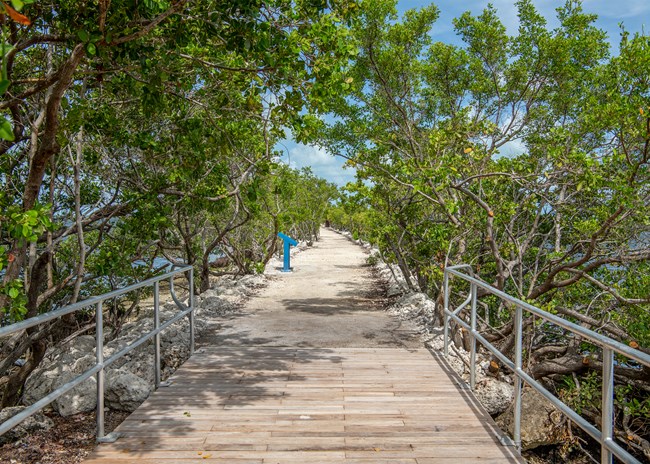 Jetty Walk
Scenic boardwalk overlooking Biscayne Bay is accessible by wheelchair and other mobility devices.

The majority of the walk is a wooden boardwalk and the remainder being a compact but natural surface. The natural material of the jetty walk is from points 7-10 in the map below. Shallow puddles may form on the natural trail following rain.

Benches are located throughout the walk, providing rest stops with scenic bay views.

Guided Jetty walks may be available during specific times of the day. Call the visitor center to inquire about times or look at the Biscayne calendar for up-to-date information https://www.nps.gov/bisc/planyourvisit/calendar.htm.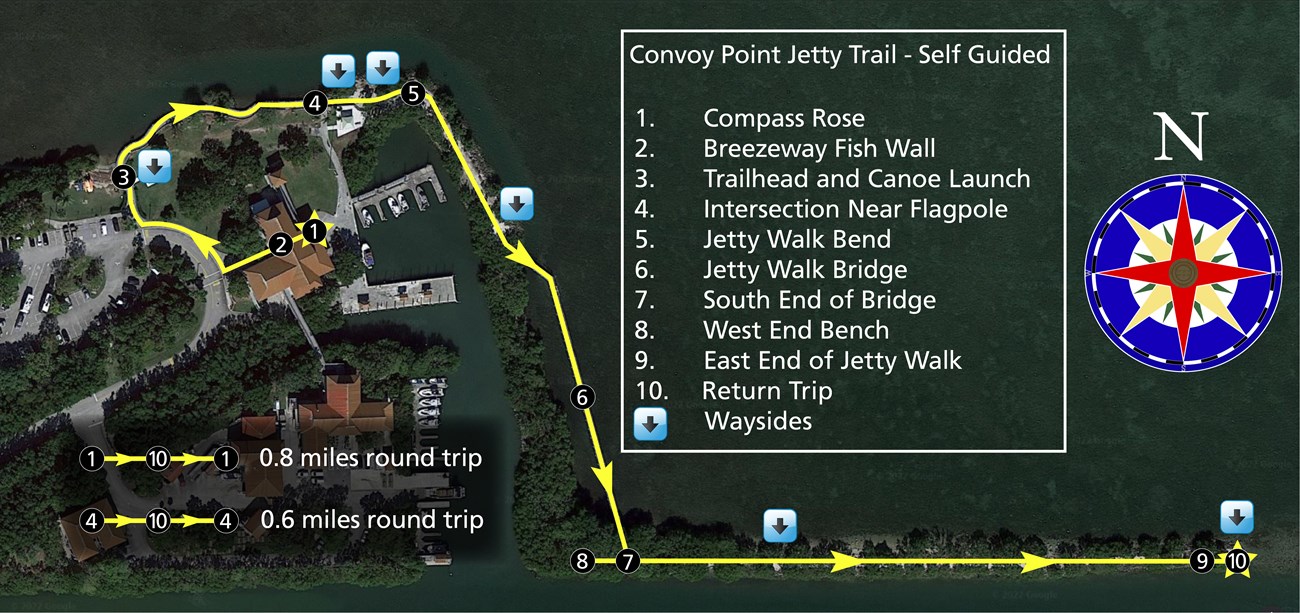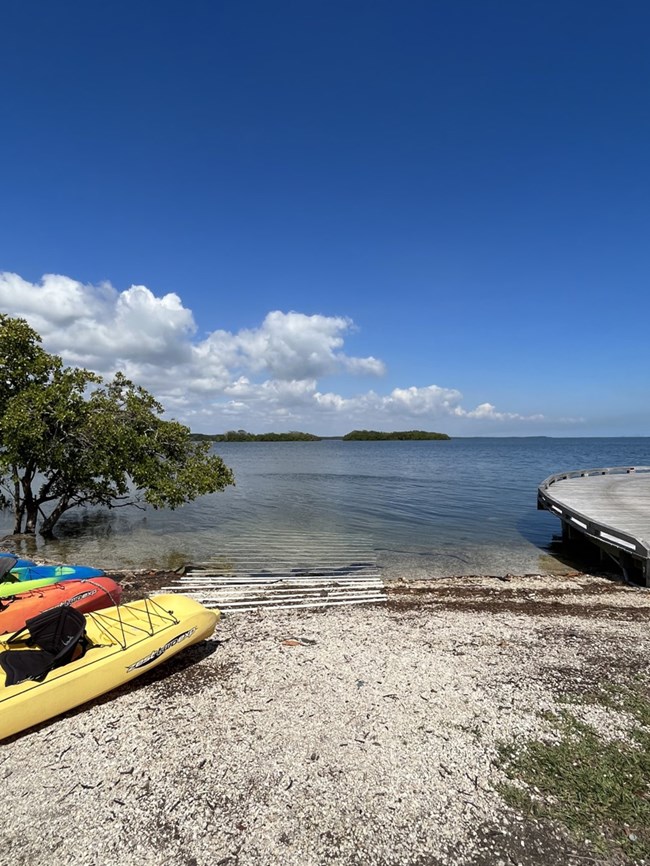 Canoe and Kayak Launch
Located at Convoy Point north of the parking lot. The launch is available from 7:00am - 5:30pm daily.

Kayak tours may be available with the Biscayne National Park Institute. https://www.biscaynenationalparkinstitute.org

The launch is not paved and there are no hand railings.

This is a great place to get in the water at Convoy Point if you wish to swim. Dive flags are available in the visitor center.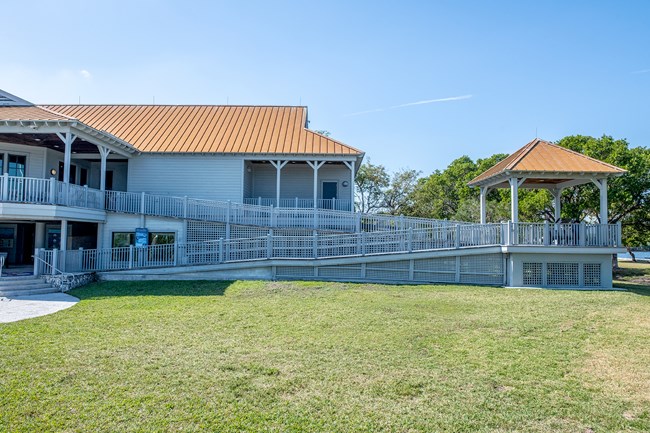 Dante Fascell Visitor Center
The visitor center is open from 9:00am - 5:00pm 7 days a week.

Ramp and elevator access to visitor center.

Automatic door openers.

Park rangers are available for questions.

Information brochures available to a variety of languages, including Braille. Contact the visitor center for additional information at (305)-230-1144.

Films

Several films showcases the beauty and highlighting different aspects of Biscayne are available in both English and Spanish.

Wheelchair seating is available inside the theater.

These films provide visitors with an in depth look at the different habits throughout the park along with the history of the park. This is great for individuals looking to learn more about the park and are unable to venture out onto the water.

Open captioning is used in all viewings.

Headphones with audio enhancement for movies are available upon request.

Films are shown on-demand. Current offerings are available at the front desk.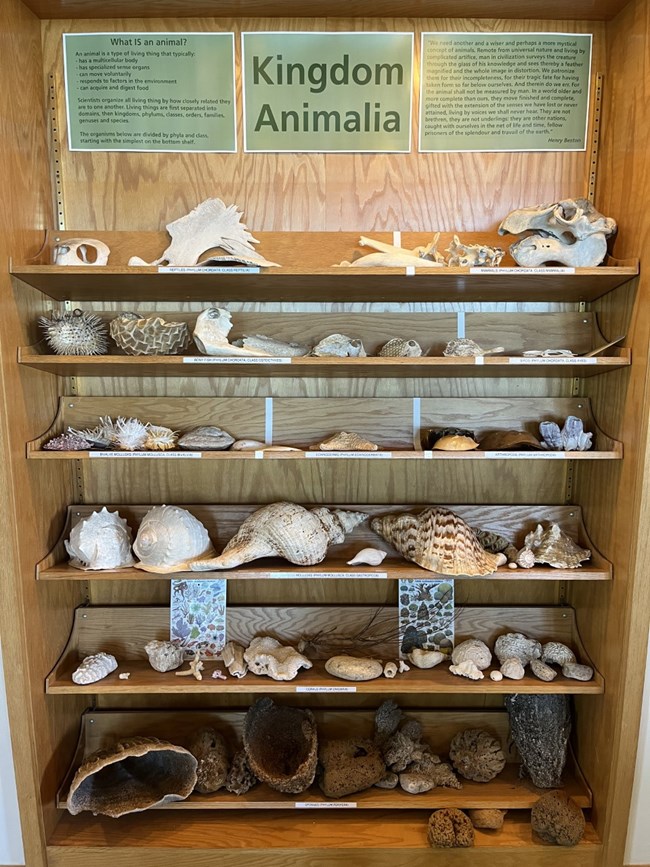 Exhibits
Visitor center exhibits are offered in both Spanish and English.

A touch table can be found inside offering visitors the ability to touch different organisms found within the park. Try to guess which animal the skull belongs to!

If you are unable to get out on the water, there is an aquarium with coral, fish, and snails. Try to find all the different organisms and see for yourself some of the biodiversity found within the park!

Throughout the visitor center is a gallery of art made by local artists who gathered their inspiration from Biscayne and South Florida!

Junior Ranger Program

The Tri-park Junior Ranger program offers children of different ages a colorful pamphlet full of activities to complete at Big Cypress National Preserve, Everglades N.P., and Biscayne N.P. The free booklet guides visitors throughout their visit to the park. Different versions are available based on the child's age, reading level, and executive functioning skills. Adults even enjoy completing the program! This is a great tool for keeping your Junior Ranger engaged during your visit! The participant will receive a Jr Ranger Badge upon completion of the pamphlet! Booklets are available in English, Spanish, and Creole.

Ask about other Junior Ranger programs at the visitor center!
Ranger Programs
Topics could include history, marine life, plants, and ecosystems.

These programs are great for individuals looking to learn more about the park!

These may be offered seasonally. Check out the Biscayne National Park calendar located on Biscayne's website for more information. https://www.nps.gov/bisc/planyourvisit/calendar.htm
Call the visitor center at (305)-230-1144 if you have additional questions.
Biscayne National Park Institute (BNPI) - Boat Tours
Some tours may be wheelchair accessible. These tours provide visitors with an experience to be out on the water and learn about beautiful Biscayne. Book your tour in advance to guarantee a spot on the boat! Check out their website for more information or call (786)-465-4058.
https://www.biscaynenationalparkinstitute.org/homestead-dante-fascell-visitor-center
Florida National Parks Association Bookstore
Located next to the visitor center on the 2nd floor of the main building. It is accessible by the same ramp used to access the visitor center. There is also an elevator available for use.

Snackbar, giftshop, and relevant books are located in the book store.

Check in for your boat tour in the bookstore with Biscayne National Park Institute.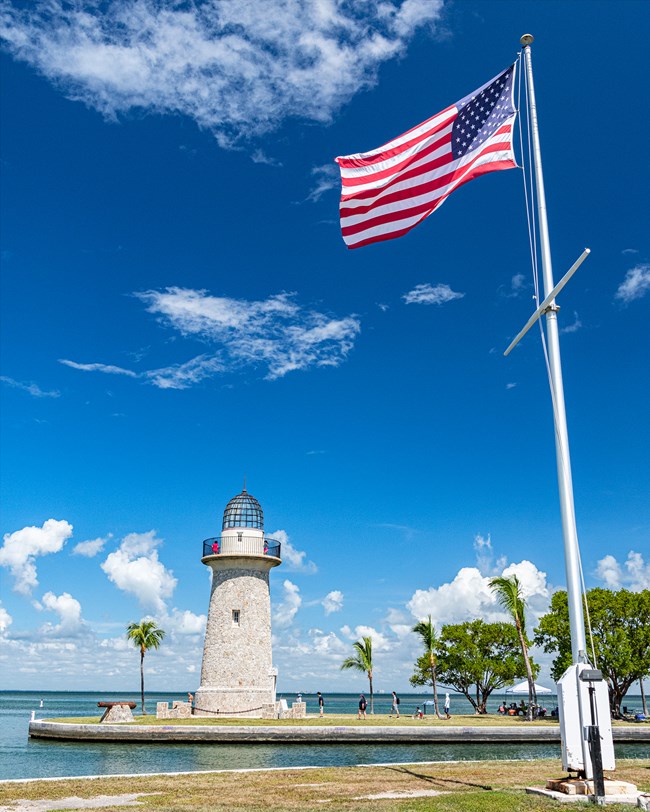 Boca Chita Key, Elliott Key, and Adams Key
Biscayne National Park is home to several islands known as keys. These keys showcase crystal clear waters, fish nurseries, and tropical plants. Visiting these keys provides opportunities for bird watching, camping, and connecting in the natural beauty of Biscayne National Park. On a clear day you can see downtown Miami from various locations throughout the park! All the keys are only accessible by boat. BNPI offers accessible boat rides to various locations throughout the park. Contact the Institute or look on their website for more information on boat tours. https://www.biscaynenationalparkinstitute.org
Departure points for the boat tours include Convoy Point, Deering Estate, and Dinner Key.
Boca Chita Key
One feature of Boca Chita Key is the lighthouse built in the 1930s. While access to the inside of the lighthouse is only through either a National Park staff or Biscayne Institute staff, individuals who can climb stairs can go to the top of the lighthouse. If you are not able to climb the stairs, you can still admire this historic lighthouse from the grounds nearby.

ADA accessible bathrooms are located on Boca Chita. Follow the short paved pathway from the dock to access the bathrooms.

There are no drinking fountains available on Boca Chita so please plan accordingly.

Camping is available at Boca Chita for a small fee per night. **As no campsites are paved, please be prepared to move about and set up your campsite in the grass. Mobility devices that can be navigated off-road are recommended for camping here.

There is a short walking trail around the perimeter of Boca Chita. This trail is not paved and has a bridge with 3 steps on each side. This trail is great for people who need to exert energy and love an adventure!

Learn about the rich history of Boca Chita with exhibits in both English and Spanish.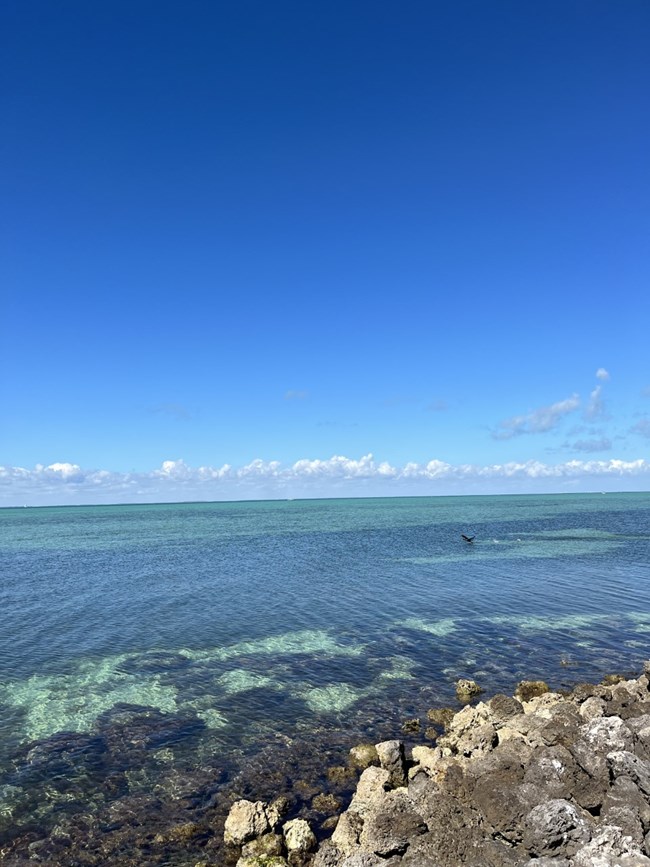 Elliott Key
Elliott Key is home to turquoise waters and ample nature. There is plenty of space to bird watch and take in the scenic views found at this key

Camping is available at Elliott Key but campsites are not paved nor is the path to campsites paved. Please keep this in mind when bringing a mobility device to the key.

Several picnic tables are located near the boat docks. This is a great spot to enjoy a rest break during your day out on the water! There is not a paved path to the picnic tables.

There is an oceanside water access located on Elliott Key. There is not a paved path to the water so if the visitor uses a wheelchair they will need either a beach wheelchair or off-road wheelchair.

Bathrooms are located on Elliott Key. There is a ramp to access the bathroom but the bathrooms are best used for those with ambulatory devices and not wheelchairs.

Purified drinking water is available from spigots outside of the buildings.
Become Involved at YOUR Park
We would love to have you join our team of volunteers at the park! There are several different teams available for you to use your skills to contribute to the success of the park! Some of the teams are: Interpretation and Visitor Services, Environmental Education and Outreach, Resource Management, and Maintenance. For more information and current volunteer opportunities, access this link https://www.nps.gov/bisc/getinvolved/volunteer.htm
For Your Health
While Florida is known for its beautiful sunshine, please take proper precautions while you are at the park
Drink plenty of water. There is a water fountain located next to the bathrooms on the first floor and on the second floor of the visitor center.

Apply sufficient reef-safe sunscreen with high SPF to areas of your skin exposed to the sun. We recommend sunscreen with zinc or titanium. You may not realize you are getting sunburnt until it is too late.

Current weather conditions can be found on Biscayne's website at https://www.nps.gov/bisc/planyourvisit/weather.htm
Summer
The average temperature in August is 90 degree fahrenheit. The average rainfall in August is 9 inches.
Winter
The average temperature in January is 77 degrees fahrenheit. The average rainfall in January is 2 inches.
Hurricane Season
Hurricane season lasts from June 1 through November 30, with the peak of hurricane season being mid-August through mid-October. Please be prepared when traveling during these times.
Bugs
Bugs are a natural part of being outdoors but if you are prone to bug bites, bring bug spray with you to the park to help protect your skin from biting insects such as mosquitoes.

Typically, there are fewer bugs during the winter months.

Medical Emergencies

If you experience a medical emergency while visiting the park, call 911. Please be aware of cellular service throughout the park as it may not be reliable. Contact your service provider for more information on their coverage.

If you are a boater with an emergency please use channel VHF 16 to contact the US Coast Guard.


Last updated: March 17, 2023