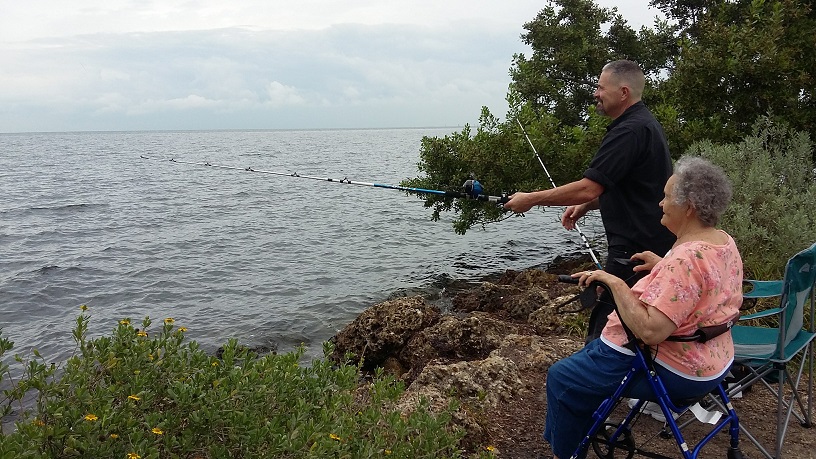 Visitors from New Mexico fishing near the park visitor center (NPS image by Matt Johnson)

For All Visitors
Since most of the park is covered by water, access beyond the mainland shoreline requires a boat.
On the Mainland
The Dante Fascell Visitor Center and park headquarters are located at Convoy Point, and ramps, elevators and boardwalks make these areas fully accessible to those with mobility challenges. Exhibits inside the Visitor Center are bilingual English/Spanish, as are the wayside exhibits along the Jetty Trail. Haitian Creole translations for the wayside exhibits are available at the visitor center information desk. Audiovisual programs are closed-captioned and available in both English and Spanish. Park brochure translations are available in several languages. Junior ranger program books are available in English, Spanish and Haitian Creole.
On the Islands
On Boca Chita Key, Elliott Key and Adams Key, restrooms are accessible, but some of the buildings are not. There are no sidewalks on Elliott Key or Adams Key, but Boca Chita Key does have sidewalks around the harbor and to the restrooms, but the remainder of the island is lawn and rocky ground.