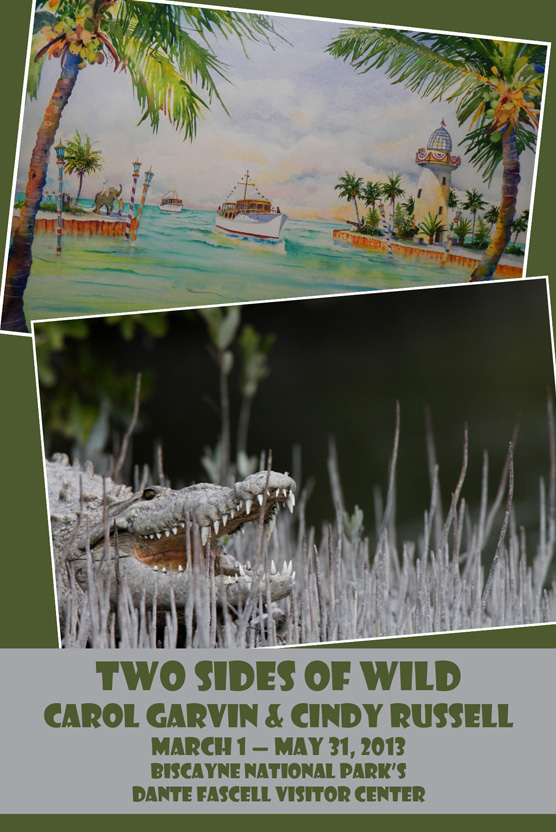 News Release Date:
February 24, 2013
Contact: Gary Bremen, 305-230-1144, x007
Two Sides of Wild, a collaborative show of paintings and photography by sisters-in-law Carol Garvin and Cindy Russell, is the newest show in Biscayne National Park's Dante Fascell Visitor Center Gallery. It features 27 images that portray both the park's wildlife and some of its wild history, including an elephant on Boca Chita Key, a fishing club on Elliott Key and the home of one of the park's most beloved former residents, Sir Lancelot Jones. The show runs from March 1 to May 31, 2013. A "Meet the Artists" Reception - featuring refreshments, an artist talk and a silent auction - will be held from 4:30 - 7:30 p.m. on Saturday, March 2, at the Dante Fascell Visitor Center located at 9700 SW 328 Street, 9 miles east of Homestead, Florida.
Biscayne National Park's diverse wildlife is rivaled only by its broad, varied and often raucous history. These two sides of "wild" served as the inspiration for this show. For 30 years, Carol Garvin (www.CarolGarvin.com) has been capturing magical scenes with her brush and watercolor paints. Her pieces instantly transport the viewer to a place of calm, tranquil beauty, and have been featured on posters, food labels, telephone book covers…and on the walls of some of the most prestigious art collectors in South Florida. For this show, Garvin visited parts of the park that once witnessed some pretty crazy stuff: wild parties at Stiltsville, elephant rides at Boca Chita, and ships wrecking on knife-edged reefs. While evidence of many of those scenes is scant, Garvin has brought them back to life on paper using extensive research in photo archives and in the corners of her own memories of enjoying these places over the decades.
Cindy Russell (www.Everglading.com) headed south to Miami from her rural Pennsylvania home after college, where she was introduced to Florida's wild lands by her aunt and uncle, and later by her husband Dave. Cindy was completely won over by the beauty of the flats and the diversity of life found there. Though employed at a Miami law firm, Cindy's passion is exploring anything and everything nature has to offer. When husband Dave began his career as a fly fishing, birding and nature guide, Cindy picked up a camera to help tell the story of the guiding business. Looking through the lens helped focus Cindy's attention on the intricacies of South Florida's amazing coastal ecosystems. Mentored by professional photographer and friend Oswaldo Saiki and her sister-in-law Carol Garvin, Cindy is now an avid nature photographer and is a Florida Naturalist, continuing her studies to become a Florida Master Naturalist through the University of Florida.
Two Sides of Wild is part of the park's Community Artists Program, started in 1997 as an outlet for the works of both established and emerging artists who are inspired by the beauty of Biscayne National Park. The program is made possible by the South Florida National Parks Trust through the generosity of Sedano's Supermarkets and the Miami-Dade County Division of Cultural Affairs and the Cultural Affairs Council, the Miami-Dade County Mayor and Board of County Commissioners.
For more details about the exhibit, contact park ranger Gary Bremen at 305-230-1144, x007. For regular updates from the park, "like" us on Facebook at www.Facebook.com/BiscayneNPS , or follow us on Twitter at www.Twitter.com/BiscayneNPS.