Maritime Heritage Trail Snorkel Adventure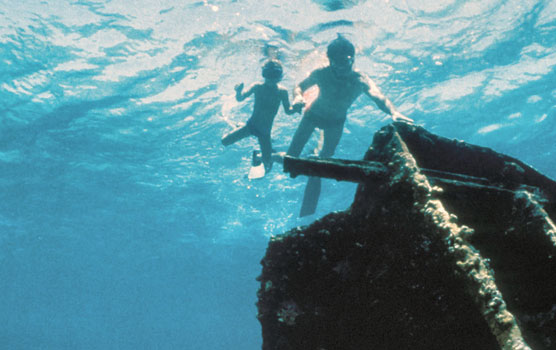 News Release Date:
April 18, 2011
After much planning and development, Saturday, May 7th marks the maiden voyage of the Biscayne National Park Maritime Heritage Trail guided snorkel adventure! The 3-hour tour is scheduled for every Saturday with 10:00 a.m. and 1:30 p.m. departures. The $45 per person fee includes the boat ride with a ranger as well as all necessary equipment (mask, fins, snorkel, and snorkel vest) and instruction. Space is limited and reservations are required. Call the park's concessioner at 305-230-1100, or visit their website www.biscayneunderwater.com for reservations. All trips depart from the park's Dante Fascell Visitor Center, 9 miles east of Homestead, Florida, and are subject to cancellation due to weather, marine conditions and/or passenger minimums.
A Biscayne National Park ranger will provide an overview of the park and the submerged cultural resources before leading an exploration of a selected shipwreck belonging to the park's Maritime Heritage Trail. These shallow-water glimpses into the past will offer a fantastic opportunity to discover these underwater treasures as well as dazzling marine life. This tour is suitable for the novice and experienced snorkeler alike, but all participants must be able to swim.
For more information about Biscayne National Park's Maritime Heritage Trail, please visit www.nps.gov/bisc/historyculture/maritime-heritage-trail.htm, or call the park's visitor center at 305-230-7275.
Last updated: April 14, 2015