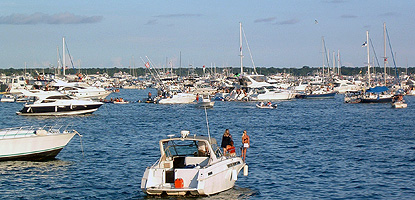 News Release Date:
October 2, 2006
Contact: Susan Gonshor, 305-230-1144, x3004
Contact: Didier Carod, 305-230-1144, x 3075
Traditionally large crowds of boaters are expected in BiscayneNational Park over the upcoming Columbus Day Weekend, October 7 - 9, 2006. The National Park Service and other law enforcement agencies will be stepping up efforts to protect park resources and promote visitor safety.
National Park Service Rangers are reminding boaters that their priorities for the weekend include protecting life, property and park resources. "We want everyone to enjoy their national park in a safe and responsible manner,"  states Mark Lewis, Biscayne National Park Superintendent. "In our attempt to make the Columbus Day Weekend as safe and enjoyable as possible, agency staff will be conducting safety inspections and BUI (Boating Under the Influence) checks at public boat ramps and in the channels leading from these ramps to the Bay throughout the weekend." The required safety equipment that must be carried on all vessels includes life jackets, fire extinguishers, horns or whistles and navigational lights for night boat operations. Vessels without these items will be turned around and prevented from entering the park.
Steve Clark, Chief of Visitor Protection and Law Enforcement at Biscayne, stresses "boating safety is about more than just equipment…it's about behavior and responsibility as well." BUI has resulted in several deaths, numerous injuries and scores of arrests and fines over past Columbus Day Weekends in the park. Intoxilizers that measure blood alcohol levels will once again be used as an aid to ensuring a safe weekend for all. Park rangers and law enforcement officers from the U.S. Coast Guard, Miami-Dade Police, Florida Fish and Wildlife Conservation Commission and other agencies will be ensuring that boat captains are not piloting a vessel recklessly or while under the influence.
As in past years, special regulations will be in effect over the weekend:
Vessels must anchor within the marked anchorage area from south of the Featherbeds, East of the Intra Coastal Water Way and north of "Billy's Point" which is on the west coast of Elliott Key. 

No more than five boats may be rafted together in this area.

 

A minimum distance of 75 feet must be maintained between rafts of vessels, or between individual, non-rafted vessels to allow emergency services personnel to access the area.

No unauthorized business operations (including charters and the sales of food, drink, beads, etc.) will be permitted.

 

Displaying advertising banners on vessels or aircraft is prohibited.

 

Vessels with external speakers broadcasting unusually loud music may be cited and the audio equipment confiscated.
Visit www.nps.gov/bisc/planyourvisit/columbus-day-weekend.htm for these safety regulations and other event specifics.  
Boat groundings are a particular problem during this weekend because of the large numbers of boaters who are unfamiliar with operating their boats in the extremely shallow water of the Bay. Park staff will be patrolling the area known as the Featherbed Bank redirecting boaters away from this shallow area in an effort to prevent groundings and to protect fragile seagrass beds and the marine life they support. Strobe lights will mark some of these areas after sunset. "Boat groundings are costly to boaters and to the resource", states Clark. "You can help prevent them by using navigational charts to get you to your destination safely."
Further details and information regarding the Columbus Day Weekend in BiscayneNational Park are available by calling 305-230-7275, or by clicking on the "Columbus Day" Quicklink on the park's homepage at www.nps.gov/bisc/. Information on the Columbus Day Regatta can be found at http://www.columbusdayregatta.net.