Columbus Day Weekend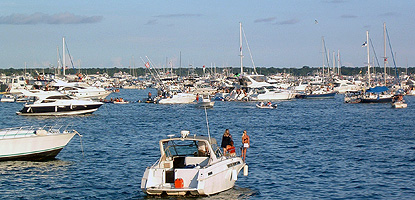 National parks are a tradition in which the United States has led the world for over 140 years. In all that time, fewer than 60 places in all of our states and territories have been deemed special enough to be designated with the title "National Park." Biscayne National Park is one of those special places - established to preserve and protect "...a rare combination of terrestrial, marine, and amphibious life in a tropical setting of great natural beauty..."
Columbus Day Weekend has traditionally drawn large crowds of boaters to the park. In order to provide for the safety of the park's visitors and resources, as well as preserve the qualities for which the park was established, a number of special measures are put in place each year over this busy holiday weekend. Even non-boaters should allow extra travel time, as backups along the road to the Dante Fascell Visitor Center are likely.
We Need Your Help
As you enjoy the company of your friends and family and the beauty of the park's waters and islands, please remember to do your part to remain safe and to protect this special place.
"Stay Parked After Dark!" This simple act can save your life, the lives of others, the environment and your pocketbook! As the sun sets, it becomes more difficult to see swimmers in the water, other boaters traversing area waters, and shallow shoal areas and accidents are likely to occur.
Maintain control of your trash and don't let it get into the water. Keep it on board and dispose of it when you return to shore.
Watch the water depth; seagrass beds are very important to the health of the bay and operating a boat in water that is too shallow can cause severe damage to them and result in costly repairs to the resource, your boat and your boat engine.
Finally, for your own safety, have a designated driver if alcoholic beverages are being consumed. We want you to arrive home safely.
Special Regulations
To help ensure your safety and the protection of fragile park resources, all boats must anchor within the marked anchorage area off the northern end of Elliott Key (shown in pink on the map in the handouts below), with a maximum of 5 boats rafted together, and a minimum distance of 100 feet between rafts of vessels, or between individual, non-rafted vessels. Additionally, the anchoring of vessels immediately outside the "Mandatory Anchorage Area" is prohibited. These special regulations are in effect from 12:01 am on Friday, October 10 through 11:59 pm on Monday, October 13, 2014. These regulations are in place to allow emergency vessels to navigate to and through the area as quickly as possible.
Special Emphasis on Existing Regulations: Arrests Will Occur!
Unmanned Aircraft: The use of unmanned aircraft is prohibited in Biscayne National Park except in very specific circumstances. For more information on the park's unmanned aircraft policy please click here.
Unauthorized Business Operations: Charters and the sales of food, drink, beads, etc. are prohibited.
Commercial Advertising: Displaying advertising banners on vessels or aircraft is prohibited.
Noise: Vessels with external speakers broadcasting excessively loud music will be cited and the speaker wire will be confiscated.
"Stay Parked After Dark": While no official curfew will be in place for the weekend, remember that all the fatalities and the majority of the boating accidents that have occurred over recent Columbus Day Weekends have occurred after sunset. Stay on your boat and remain in the anchorage after sunset.
Additional Aids to Navigation
In an effort to protect fragile shoals, improve boater safety, and help direct boaters around the extremely shallow areas and through the Featherbed Banks, Biscayne National Park is installing fourteen fixed shoal markers around the Featherbeds. The park hopes that these new markers, in addition to existing markers and navigational aids, will result in fewer vessel groundings in the area.
Lost Swimmers
Visitors who get separated from their boats ("lost swimmers") will be transported to Elliott Key to await eventual transport to the mainland where they must make arrangements to be picked up by friends or family members. Park personnel WILL NOT taxi lost swimmers back to their boats. A small tent will be provided for lost swimmers left on Elliott Key, but conditions are likely to be hot, humid and extremely buggy. Help minimize your chances of ending up in a miserable situation by keeping the following points in mind:
As tempting as an invitation by a pretty girl or cute guy might be, do not leave your boat.
Hitching a ride from a local marina is dangerous and is not recommended. If you must hitch a ride though, know the name of your boat and know the full name of the captain. Knowing that you were on a "white boat with a blue top" is useless in a sea of 1,500 boats.
Realize that, while a bikini or swim trunks might be comfortable on a 90 degree afternoon, the same outfit may not be appropriate after the sun goes down, temperatures drop, hypothermia sets in and all that skin is exposed to hordes of hungry mosquitoes.
Don't rely on your cell phone to operate successfully in the anchorage area. Regardless of your service provider, all have limited dependability and are spotty at best.
When you lose your phone, or the battery dies, speed dial doesn't work. Memorize phone numbers of several people who can help you in the event of injury or arrest.
Alcohol clouds good judgement; use it in moderation or you may be sorry in the morning.