News Release
Weather Change for the South Rim Fire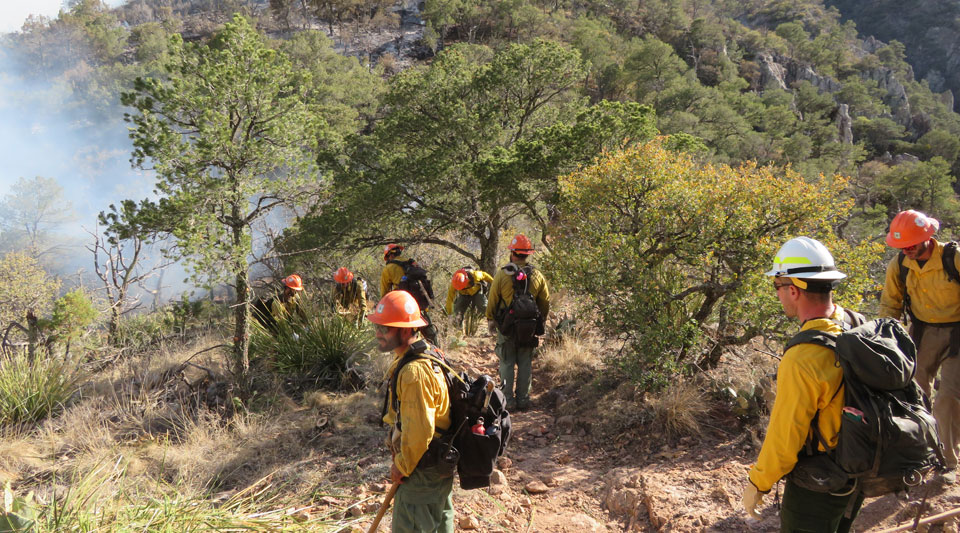 News Release Date:
April 13, 2021
Contact: Tom VandenBerg, 432-477-1107
BIG BEND NATIONAL PARK, TEXAS – Firefighters working the South Rim Fire will be assisted today with cooler temperatures, higher humidity, and the arrival of additional resources. After burning for six days, the South Rim Fire has grown to 873 acres and extended across the summit plateau of Toll Mountain. Several fingers of active burning continue in lower Boot Canyon, Juniper Canyon, and the high ridges of Toll Mountain.

A major change in weather has arrived across West Texas. Today, temperatures in the Chisos Mountains will be in the upper 60s (14 degrees cooler than yesterday), and humidity will drastically improve. Since the fire began last Thursday, firefighters have faced single-digit humidity, but today's forecast calls for 40-50% humidity which could reduce fire activity.  

Today, the Diablos crew and Mount Taylor Hotshots will be focusing on the 7000' high ridgelines of Toll Mountain. A new crew, the Carson Hotshots are now on scene, and expect to scout the eastern fingers of the fire by hiking up the steep Juniper Canyon Trail.  Crews will be directing helicopter water bucket drops as needed this afternoon.

The remote nature of the South Rim Fire makes it challenging for fire management, and difficult for personnel to even reach some of the rugged locations. The park's mule team has proven invaluable in carrying cargo, water, equipment, and supplies to the hard-working firefighters.

For visitor safety and to provide room for park fire teams to focus on the incident, the Chisos Mountains area of the park, including the road, campground, lodge, and trails will remain closed until further notice. This includes the popular Window and Lost Mine Trails. The fire has not entered the Chisos Basin developed area.

The National Park Service will continue to post regular fire updates and images of the through social media as they become available.