News Release
South Rim Fire Hits 860 Acres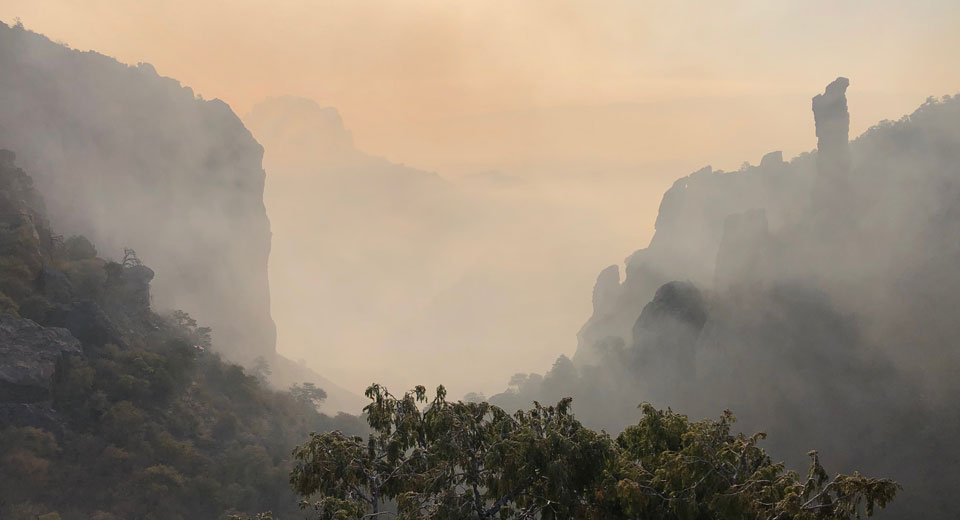 News Release Date:
April 12, 2021
Contact: Tom VandenBerg, 432-477-1107
BIG BEND NATIONAL PARK, TEXAS – After burning for five days, the South Rim Fire has grown to 863 acres and extended through much of the "sky island" of the high Chisos Mountains.  Aerial reconnaissance observed that the fire has left a patchy mosaic of scorched, burned, slightly singed, and untouched areas across the South Rim to Emory Peak, and into the lower Boot Canyon drainage. Several fingers of active burning continue, but approximately 2/3 of the fire has stagnated after moving into rocky terrain and cliff edges.

By late Sunday, the Diablos Firefighters were able to cold-trail and contain the entire western flank of the fire, while the Mount Taylor Hotshots worked directly on advancing flames at the Emory Peak/Pinnacles saddle. With the help of carefully coordinated helicopter bucket drops of water, the crews were able to successfully secure that area. During the evening hours, fire climbed the eastern side and across the summit plateau of Toll Mountain. Flames and thick smoke were observed throughout much of the park.

Weather forecasts indicate that the next few days will be cooler and with slightly increased humidity…a welcome respite for the 69 firefighters actively engaged in the fire. They will be focusing on the lower Boot Canyon and Toll Mountain areas today.  Helicopter operations will continue this afternoon with potential water drops and more recon flights.

"It takes a team to fight a fire," said Deputy Superintendent David Elkowitz. "I can't thank this team enough for the amazing efforts of our firefighters, partners, support personnel, and community members."  

The Chisos Mountain woodlands are home to a variety of plants and animals, many of which are found nowhere else in the United States. These high-elevation desert woodlands have been shaped by wildfire for thousands of years and depend upon fire to keep them healthy and resilient. Many of the areas currently burning have not seen fire for 70 years or more.

For visitor safety and to provide room for park fire teams to focus on the incident, the Chisos Mountains area of the park, including the road, campground, lodge, and trails will remain closed until further notice. This includes the popular Window and Lost Mine Trails. The fire has not entered the Chisos Basin developed area.

The cause of this fire remains unknown at this time, although it appears to have started near a popular backcountry campsite.  

The remote nature of the fire creates challenges both for fire management and even getting accurate estimates of fire size and conditions. The National Park Service will continue to post regular fire updates and images of the through social media as they become available.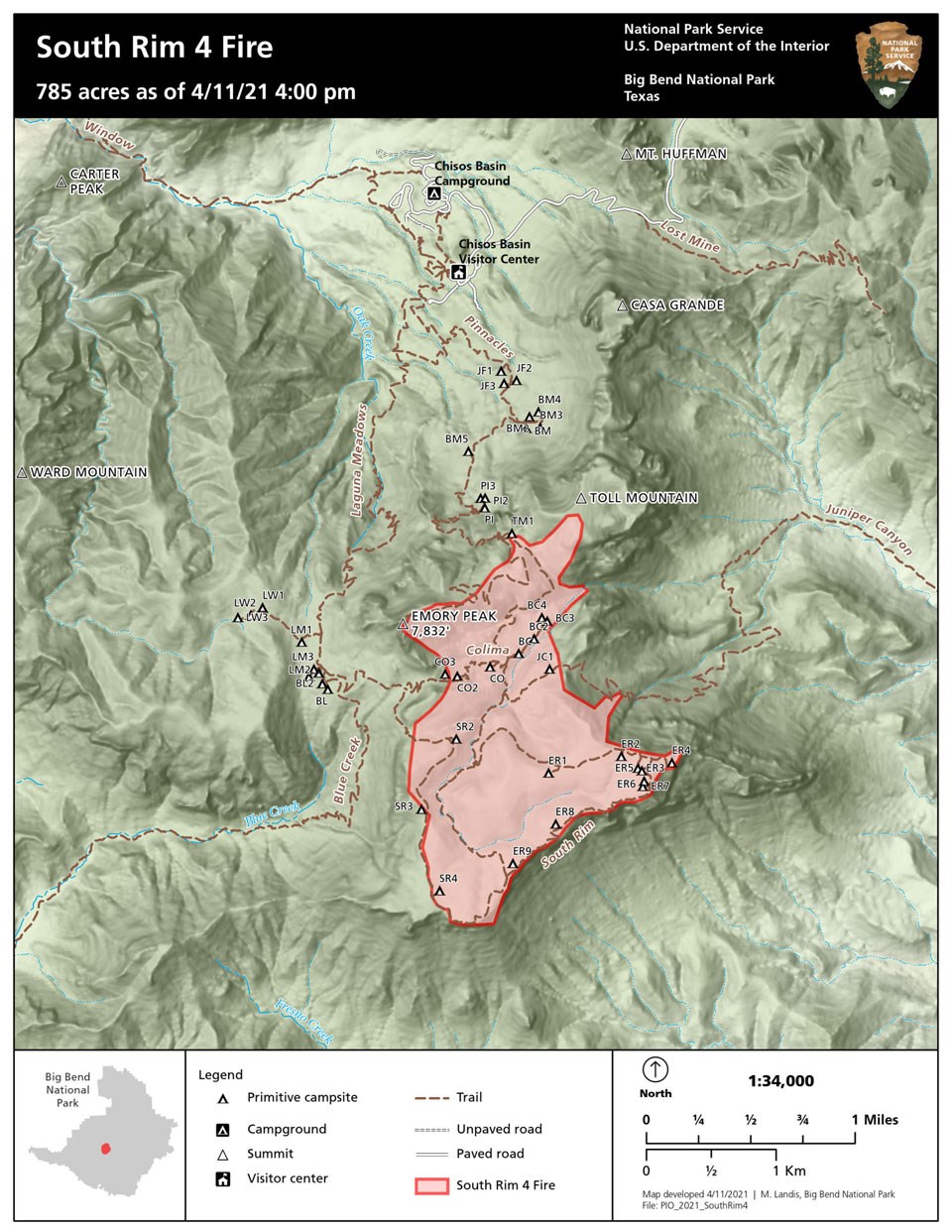 Last updated: April 12, 2021