News Release
Wildfire Along the South Rim Trail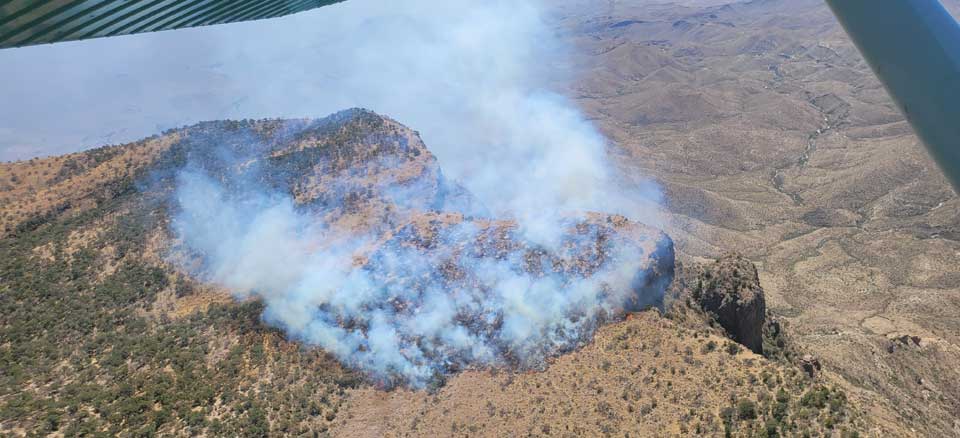 News Release Date:
April 21, 2022
Contact: Tom VandenBerg, 432-477-1107
Contact: Heather Rickleff, 317-508-2932
BIG BEND NATIONAL PARK, TX – At approximately 11:00 am on Wednesday April 20th, Big Bend National Park received reports of smoke near the southern edge of the Southwest Rim of the Chisos Mountains. A small crew of rangers quickly began to hike into the remote area, while the park pilot provided reconnaissance from above to scout the location and extent of the fire.

Initial reports indicated that the fire was ½ acre in size and backing to the southwest through sparse pinyon-juniper and grass. By late afternoon the fire was estimated at 1.5 acres in size. The fire location is west of the South Rim trail near South Rim 4 campsite that burned one year ago. The cause of the fire is unknown at this point.

The South Rim is a rugged and remote location, only accessible via a 3-4 hour hike up steep trails. Early Wednesday evening, a crew of firefighters, including ten Diablos from Boquillas, Mexico reached the fire area and began work to contain the fire overnight.

Fire activity calmed down Wednesday evening and winds are favorable today. Park managers are optimistic. With the geographic features of the cliffs to the west and south and the burned area last year, Fire Management Officer D.W. Ivans states, "this should isolate the burn to the west side of the trail to the rim." There is not a significant amount of heavy fuel in this area, because of last year's fire.

A type 6 engine from Big Thicket National Preserve will arrive today, and the park's mule team will also head into the Chisos Mountains, carrying heavy loads of much needed water and equipment for the hardworking firefighters. Backpacking campsites at SR2, 3, and 4 and the section of trail from Laguna Meadows to the South Rim will be closed today to allow park teams to focus on the wildfire.

The National Park Service will continue to post regular updates through Big Bend's social media channels. Fire updates can also be found on Inciweb.
Last updated: April 21, 2022