Hiking and Backpacking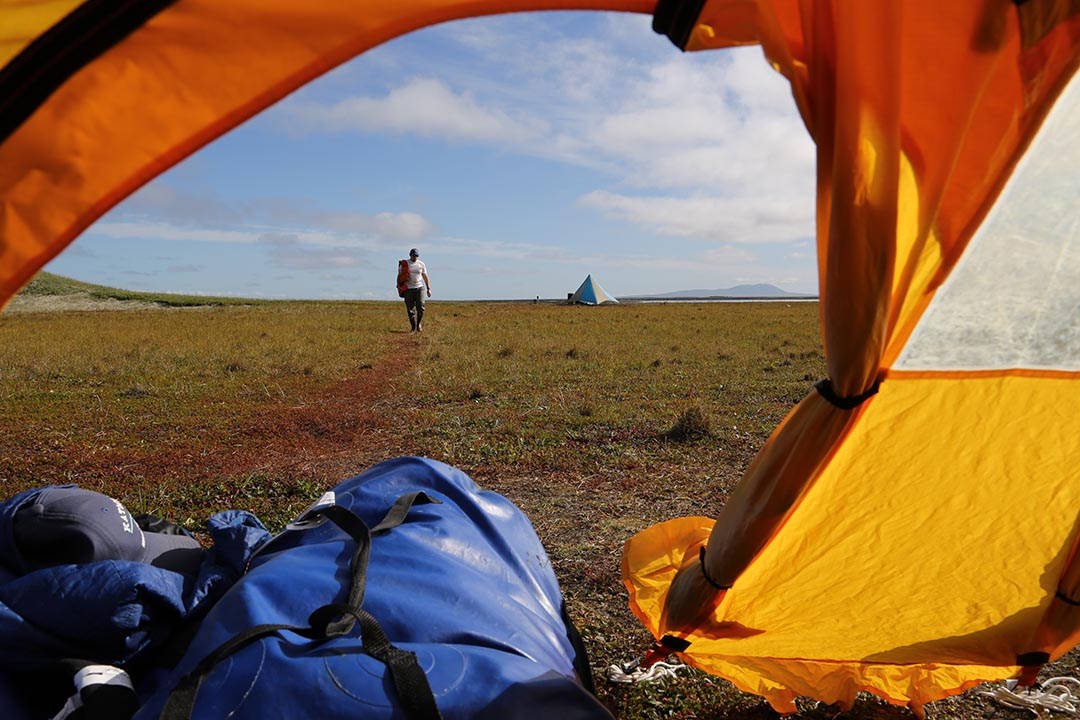 Hiking and backpacking in and around Bering Land Bridge National Preserve can be an adventurer's dream. Backpackers will find many opportunities to explore the vast expanse of tundra terrain and see the preserve's unique features. Backcountry permits are not issued; people are able to visit the preserve on their own accord.

NPS presence in the preserve is sporadic, as our headquarters and visitor center are located in Nome, AK, approximately 100 miles (160 km) from the preserve. The preserve's remote nature makes it difficult to get help. It can take several hours to reach medical facilities, at best.
Below are a few things you should consider when planning your backcountry trip.
There are no maintained trails leading into or within Bering Land Bridge National Preserve. Trip planning, navigation, and safety must be coordinated on your own.

Winter trail markers exist between the end of the Nome-Taylor Highway (Kougorak Road) and Serpentine Hot Springs. They are marginally maintained and unreliable. Winter trail markers should not be relied upon as your sole source of navigation. Please ensure you have the proper survival and navigation equipment to arrive safely to your destination.

Hiking on the tundra can be slow and difficult due to the spongy wet terrain.

Leave a copy of your backcountry plan with someone you trust in case of an emergency. Make sure to include a description of your tent, the number of people in your group, and the route you plan on taking.
The closest communities to the preserve are Nome, Shishmaref, and Deering. The closest major city is Anchorage.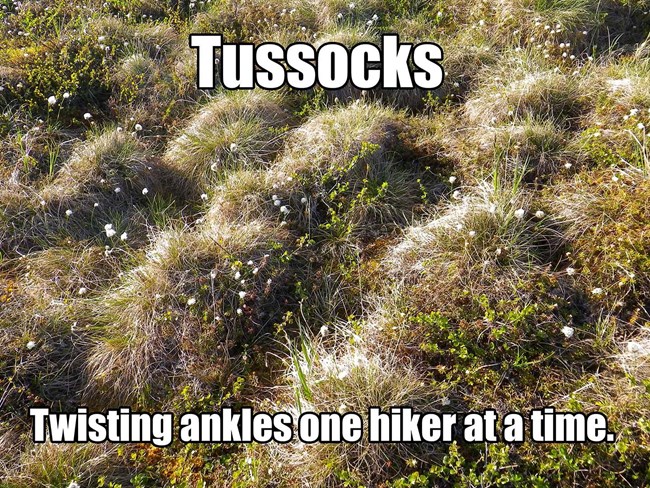 Terrain Challenges and Descriptions
Hiking and backpacking in the preserve can be difficult and can vary depending on where you are and the season you visit. Coastal terrain is windier which can act as a mosquito deterrent during the warmer months and typically has milder weather. The interior of the park may have a considerable amount of mosquitos and greater seasonal variation. The terrain may vary from large thickets of shrubs or wetlands.
Tundra
Low wetlands with a lot of tussock vegetation can be difficult to walk on. Imagine walking on top a field of soggy cabbages.
Thickets
Hiking in the backcountry may require bushwhacking through dense thickets. Willow and alder brush may exceed six feet (two meters) in height, and the thickness of brush often limits visibility requiring hikers to yell or talk loudly to reduce the chance of unwanted wildlife encounters. Areas of extensive bushwhacking makes for slow and often frustrating travel.
Ridgelines
Hiking along ridgelines in the preserve provides fast, comparatively easy travel. Brush is usually minimal and therefore visibility is often greater than in other terrain and the surface is more durable.
Lava Fields
Hiking on the lava field is feasible and is easier to walk on than tussocks; however, the jagged terrain still makes it "ankle-twisting ground." There are no active lava fields in the preserve.
River Crossings
There are no bridges across rivers in the backcountry. You must negotiate your own river crossings and pack gear accordingly to keep dry in the event of an accidental swim. Water temperature is approximately 36º F (2º C), and a cold immersion may result in high risk of hypothermia. Try to cross where the river is braided and dispersed, rather than concentrated into a single deep, narrow channel. River depths can also vary widely during a trip, depending on time of year, rainfall, and temperatures. After the breakup, usually in spring, river crossings can be more dangerous due to the increase of snow melt. Trekking poles or sticks can be useful in checking the river depth if the bottom is not visible. Keep hiking boots on while crossing rivers to provide maximum protection for your feet and to give you traction on river bottoms. Accept wet boots. If you choose, you can bring an extra pair of shoes, to switch into while at camp.
Topo Maps
Planning a backcountry trip into the preserve can be challenging. Study the terrain you are planning to hike. Topographical maps are available for download via the USGS website.

USGS Topo Maps
You Might Also Like
Camping

Setting up camp in Bering Land Bridge.

Bear Safety

All of Alaska is bear country. Respecting bears and learning proper behavior can help you avoid a human-bear conflict

Getting Here

Bering Land Bridge is disconnected from all road systems and far removed from major cities
Things to see and places to explore!