Directions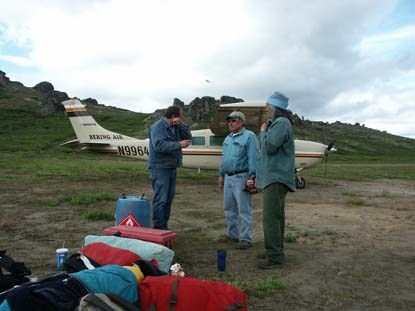 Getting There

The Preserve
The preserve is vast and access is limited;there are no roads that lead into it. While this makes visiting difficult, the remoteness helps to maintain the wilderness characteristics of the preserve.
During the summer months access to the preserve is by small airplane, boat, or foot. Planes can land on an unimproved dirt landing strip at Serpentine Hot Springs or on several beaches and lakes. A list of permitted chartered air taxis that can operate within Bering Land Bridge is available in pdf format by clicking on the following link: Commercial Use Operators. Private pilots may also land airplanes within the preserve. The use of helicopters, ATVs and other off-road vehicles is prohibited. The tires of these vehicles cause damage to the tundra that scars the landscape for generations. Winter access is primarily by bush planes on skis or dog sleds. Once there is adequate snow cover, access can also be made via snowmobile.


Nome Offices
The administrative office and visitor center for Bering Land Bridge National Preserve are located on the First Floor of the Sitnasuak Building at 214 Front Street in Nome, Alaska. Nome is not on the road system so access to the town is primarily through commercial airlines. The visitor center has exhibits about the preserve, films, and offers interpretive programs

Three roads extend to the area around Nome, and rental cars are available. The preserve is only accessible by the methods listed above. There is no road access to the preserve from Nome.


Last updated: May 8, 2017