Camping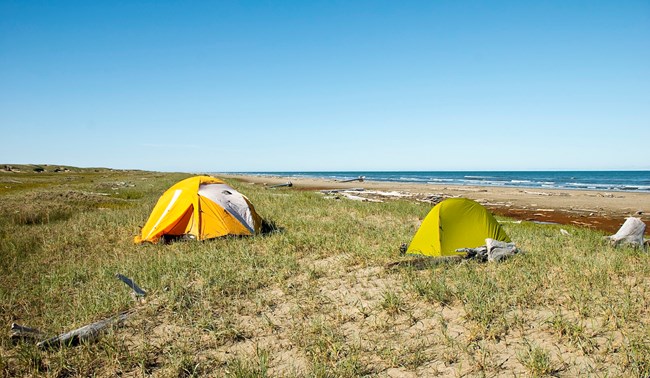 Bering Land Bridge National Preserve has no designated campgrounds or designated camping areas. Most camping is done in conjunction with other recreational activities. Camping in the arctic requires planning, preparation, and care in order to protect yourself and the fragile arctic ecosystem. Study the tips below and be sure to follow the seven principles of
Leave No Trace.
---
Site Selection
Arctic tundra is fragile and slow to recover. It is best to camp on durable surfaces.
The tundra is known for wide-braided streams. Water levels can rise at any time. Locate your camp well above current water levels. In vegetative areas, select a location with hardier vegetation such as grasses and sedges, rather than more fragile lichens and mosses, if it is reasonable to do so.
You can also help preserve the ecosystem by moving camp every 2-3 days or before signs of your presence becomes noticeable. Wearing soft-soled shoes around camp gives your feet and the vegetation a break.
Setting Up Camp
Select a durable surface for your campsite. When camping on the tundra, select a site that is not too dry and that will not be heavily impacted. When finished with a site, please return it to its natural state.
Cooking
Gas or propane stoves for cooking are strongly recommended. Fires are often impractical. Unless you are along the coast, wood is scarce or nonexistent. A gas or propane stove is also good for emergencies since it is easy to light.
Keep a clean camp. Avoid food spills and other animal attractants. Proper food storage is required in all Alaskan parks. Bears that become accustomed to human food and products present a hazard to people traveling in the backcountry. We can all do our part to protect the fragile ecosystem while enjoying this vast wilderness.
Winter Camping
Snowmobiles provide access to Bering Land Bridge in the winter when there is enough snow coverage and opportunities for winter camping. Be prepared for extreme winter conditions, such as cold winds and snowfall. Consider using high-quality gear, especially a good tent. Winter conditions may require you to cook inside your tent.
You might also like
How can you incorporate Leave No Trace into your trip to Bering Land Bridge?

All of Alaska is bear country. Respecting bears and learning proper behavior can help you avoid a human-bear conflict

Hiking and backpacking in Bering Land Bridge.
Last updated: October 19, 2023
Alaska Parks Are Different