Safety
Dial 9-1-1 in an Emergency
Cell phone service may be unavailable in parts of the park. Emergencies in those areas should be reported to rangers on patrol, lifeguards, campground hosts or to ranger station or visitor center staff. Visitor Centers have landlines available for emergency use during business hours. An emergency 9-1-1 Only phone is located on the east side of the Ranger Station adjacent to Bayberry Drive.
Your visit to Assateague will be more enjoyable if you are aware of and prepared to deal with exposure to insects, inclement weather, surf conditions and sun.
The National Park Service works to provide you with a safe and enjoyable experience. However, conditions at the beach and in the surf zone can change dramatically in very short periods of time. Understanding the dynamics of typical surf zone currents will help you avoid a potentially dangerous situation. For your best protection use the lifeguarded area, which is designated by "red over yellow flags". Ask any lifeguard or check the informational signs for posted warnings or closures. Learn More about Beach & Surf Safety.
Beat the Heat: Sun and Heat Exposure Prevention
While some exposure to sunlight can be enjoyable, too much can be dangerous. Overexposure to ultraviolet (UV) radiation in sunlight can result in a painful sunburn and can also lead to more serious health effects, including skin cancer, premature aging of the skin and other skin disorders, cataracts and other eye damage, and immune system suppression.
Limit Time in the Midday Sun - Avoid exposure to the sun between 10 am and 4 pm when the sun's rays are strongest. Remember the shadow rule: Watch Your Shadow. No Shadow, Seek Shade!
Always Use Sunscreen - Liberally apply a broad-spectrum sunscreen of a Sun Protection Factor (SPF) of at least 15 or higher on exposed skin. Reapply every 2 hours when working or playing outdoors. Even waterproof sunscreen can come off when you towel off, sweat or spend extended periods of time in water.
Cover Up - Wear tightly woven, loose-fitting and full-length clothing. A hat with a wide brim offers good sun protection to your eyes, ears, face and the back of your neck. Wearing sunglasses that block 99-100% of UV radiation will greatly reduce sun exposure that can lead to cataracts and other eye damage.
Beach Safety During Lightning Storms
Every year lightning strikes kill or injure beach-goers around the world. If thunder can be heard then lightning is present. These simple steps can help save your life:
Obey posted closures.
Retreat to your car or other shelter and wait out the storm.
Do not use the showers as you leave the beach during a storm.
If you are caught in an open area, crouch on the balls of your feet and lean forward with your hands on your knees. Do not lie down or put your hands on the ground.
Sound travels a million times slower than light. When you see a flash, time the seconds it takes to hear the thunder. A 5-second difference between the lightning flash and the thunder means the lightning struck 1 mile away. For each additional 5 seconds the strike is another mile away.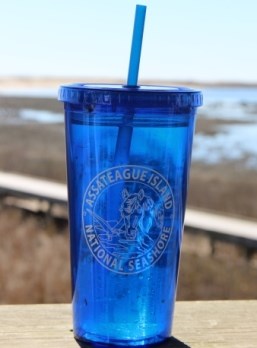 Stay Hydrated!
Maryland District
Visitors have several options to access drinking water in the National Seashore. Public water fountains are located at the Barrier Island Visitor Center and at the North Beach Pavilion. Bottled water is seasonally available at the Beach Hut at North Beach and at the Kayak rental on Bayside Drive.
Virginia District
Visitors have limited options to access drinking water in the Chincoteague National Wildlife Refuge. Plan ahead and bring your own bottles of water or containers to fill. A public water fountain is seasonally available at the Toms Cove Visitor Center, located a short distance from the ocean along Beach Road. Another public water fountain is available inside the Herbert H. Bateman Educational Center; bottled water may also be available at this location.
Safe Driving
Watch for Wildlife, Watch the Road: It is important to be aware that animals are around, even when you do not see them. Watch for animals on the road, especially in the morning and evening. Do not stop in the middle of the road to take pictures. Please use designated pull offs.
Click it or Ticket: Buckle up! It's the law in national parks! Not to mention that wearing a seat belt is the most effective way to prevent serious injury and death.
Take Your Time, Arrive Alive: Obey posted speed limits.
Look Twice, Share the Road: Always be aware of pedestrians, bicyclists, and motorcyclists.
Be Proactive in Parking Lots: Visitors and wildlife use the beach parking lots. They don't always look both ways before crossing. Reduce speed in parking lots to protect yourself, other visitors and wildlife.
Seeing Wildlife and Wild Horses
While it may seem like a national park is like a zoo or wildlife sanctuary, we're a whole different animal, and it's important to get smart if you want to go wild. Keep a long distance from wildlife to maintain the safety of you, your family, and the wildlife you have come to appreciate.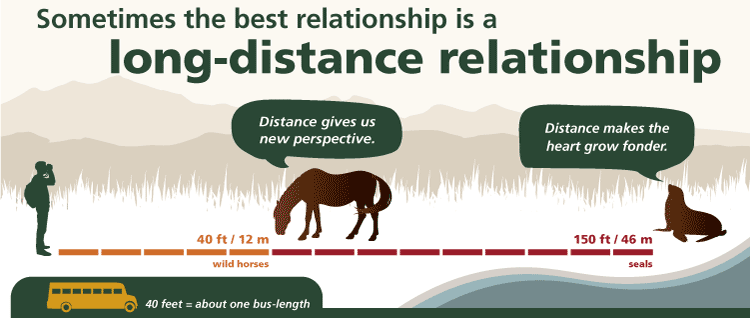 How close is too close?
Stay at least
40 feet (12 meters) or about one bus-length
away from wild horses, which are
all
the horses you'll encounter in our park. Keep at least
150 feet (46 meters) or about three bus-lengths
away from seals; they pass through our beach areas in winter months. Stay safe and
never assume you are the one that can get away with a close encounter
.
What if an animal approaches me?
Wildlife may not know better, but YOU do. Although it may feel flattering, if any kind of wildlife approaches you - even a horse -
back away and maintain that safe distance
. It's your responsibility and your safety. Help us keep wildlife wild.
Can I feed or give water to the animals or horses?
Feeding or giving water to the wildlife, including the horses, is prohibited. Even feeding horses grass from the park or other food you think might be harmless is not allowed. This is for their safety as well as yours.
You can feed horses at petting zoos, but this national park is a really special place where horses are wild.
Help us keep this place and these animals unique by never feeding them.
Wild horses and other wildlife will invade food left unattended.
Store food in your car or locked tight in a sealed container.
Use our wildlife-proof containers to dispose trash, and ensure you clean up all food particles.
Turning on water for horses is unnecessary and is one of the top ways visitors end up hurt since horses will start protecting the water source, chasing down or biting people who come near.
Learn More
Mosquitoes
Mosquitoes and other biting insects may be abundant on Assateague from May to November. They are most active at dawn and dusk. You can protect yourself from biting insects by wearing long-sleeved shirts and pants, and/or using insect repellents on your clothing and exposed skin. Repellents containing DEET (20% to 30%), Picardin or oil of lemon eucalyptus can be very effective. Carefully follow instructions on the container. The American Academy of Pediatrics recommends that a cautious approach be used when applying repellents with DEET on children (repellents with 10% or less on children aged 2 - 12 and never using repellents with DEET on infants). Oil of lemon eucalyptus should not be used on children under the age of three. Wash treated skin after returning indoors.
Ticks and Lyme Disease
Lyme Disease is an illness caused by bacteria transmitted to people through tick bites. In its early stages, Lyme Disease may cause circular rashes, flu-like symptoms, headaches, stiff neck and fevers. In its later stages, the disease may cause arthritis in large joints, meningitis, neurological and cardiac problems. The primary carrier, the black-legged tick (deer tick), is present on Assateague Island. While they can be found in any natural area on the island, special care should be taken in high shrub areas, woods and leaf litter. Wearing insect repellent and checking for ticks may prevent bites.
For more information visit:
CDC - Ticks and Lyme Disease
Maryland Department of Health - Tick-Borne Diseases
Virginia Department of Health - Tick-Borne Diseases

Rabies
Rabies is a preventable viral disease of mammals most often transmitted through the bite of a rabid animal. Rabies may affect the appearance and behavior of many creatures, particularly foxes and raccoons. Visitors should never approach animals with the intention of offering assistance. Untreated, rabies leads to death in humans. Please report any sightings of sick animals to the nearest park ranger or refuge staff.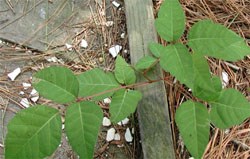 Poison Ivy
Found throughout the island, poison ivy, with its shiny leaves in clusters of three, can produce an itchy, red rash if you come in contact with the plant's oils. To lessen your chance of contact, stay on all trails and boardwalks. If you accidentally touch poison ivy, immediately wash the affected areas with soapy water to remove the oil. Remember: "Leaves of three - let them be!"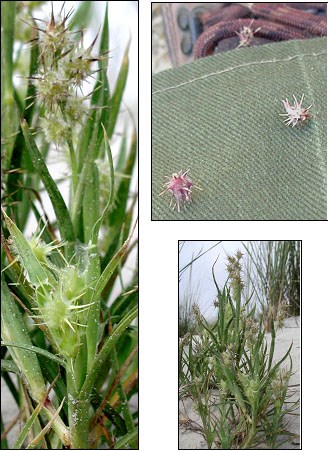 Sandburs
Sandburs are round grass seeds, with sharp spines. They can easily become attached to clothing, shoes and pets and can be very painful. They are commonly encountered in the late summer and fall.
Before you go on your trip, explore this website to learn about planning a fun and safe adventure in your National Parks! Find out how you can connect your health to the health of our natural world. Watch the Drawing Connections: Summer Safety in National Parks video for tips on keeping cool during your summer visit.

Remember, your parks depend on you to enjoy them responsibly. Your actions can have an impact on park resources and wildlife. Be prepared, understand your limits, and harness the power of your parks.
Last updated: August 21, 2023