Current Conditions
The health and safety of our visitors, employees, volunteers, and partners continues to be paramount. At Assateague Island National Seashore, our operational approach will be to examine each facility function and service provided to ensure those operations comply with current public health guidance and will be regularly monitored. We continue to work closely with the NPS Office of Public Health using CDC guidance to ensure public and workspaces are safe and clean for visitors, employees, partners, and volunteers.
While these areas are accessible for visitors to enjoy, a return to full operations will continue to be phased and services may be limited. When recreating, the public should follow local area health orders, maximize physical distance from each other, avoid crowding in all areas and practice
Leave No Trace
principles.
The
CDC has offered guidance
to help people recreating in parks and open spaces prevent the spread of infectious diseases. We will continue to monitor all park functions to ensure that visitors adhere to CDC guidance for mitigating risks associated with the transmission of COVID-19, and take any additional steps necessary to protect public health. Visit
NPS Recreate Responsibly
for tips to safely enjoy your visit to your national park.
Details and updates on park operations will continue to be posted on our
website
,
Facebook
,
Twitter
and
Instagram
. Updates about NPS operations will be posted on
www.nps.gov/coronavirus
.
Beaches
The beaches in both the Maryland and the Virginia Districts are open for normal recreation activities (swimming, walking, sitting on the beach, etc.) Please observe social distancing guidelines. Restrooms are open in Maryland and Virginia.
No Lifeguards on duty! Swim at your own risk. Strong currents may exist. We strongly recommend that visitors recreating in or near the water wear a U.S. Coast Guard approved life jacket.
Visit our
Beach and Surf Safety
page for more information.
Campgrounds
(MD District)
Oceanside and Bayside campgrounds are open. Visit our
camping page
for the latest updates on campgrounds.
Ranger Station/Campground Office
(MD District)
6633 Bayberry Drive, Berlin, MD 21811
410-641-3030 press #3
Outside walk-up window open daily from 9 am - 4:30 pm for OSV permit and pass sales.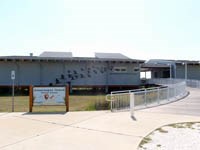 Visitor Centers
Assateague Island Visitor Center (MD District)
11800 Marsh View Lane, Berlin, Maryland 21811
Temporarily Closed to public entry effective Tuesday, March 17, in response to the coronavirus COVID-19 outbreak. As of August 15, 2020: America's National Park Store in the MD district (located in the visitor center) is open Thursday - Monday from 9 am - 4 pm. The store is closed Tuesday and Wednesday. The visitor center exhibits and information desk remain closed.


Toms Cove Visitor Center (VA District)
8586 Beach Road, Chincoteague, Virginia 23336
757-336-6577 press #2
Temporarily Closed to public entry effective Tuesday, March 17, in response to the coronavirus COVID-19 outbreak.
Beginning Thursday, October 15, 2020 the Toms Cove Visitor Center walk-up window will be closed until further notice due to ongoing construction. As a safety precaution, during this time there will be NO OSV permits, open-fire permits, overnight fishing passes issued.
OSV permits may be purchased in the Maryland district at the Ranger Station daily 9 am - 4:30 pm. VA ONLY permits are not available for purchase in the Maryland DIstrict. We apologize for any inconvenience.
The walk-up window will re-open when construction is fully complete and it is safe to do so. Completion time may be dependent on weather conditions.
Updates will be posted to our website and social media accounts.
Over Sand Vehicle (OSV) Zones
The Maryland (MD) District and VIrginia (VA) District OSV Zones are currently open. OSV permits may be purchased at the walk-up OSV sales windows at the Ranger Station (MD) and the Toms Cove Visitor Center (VA). See our OSV page for more information. We appreciate your patience during this time.

Maryland District
For the most current OSV closure updates, Facebook users can visit our "Assateague MD OSV Closures" public group at https://www.facebook.com/groups/1557666744530321/ OSV permits may be purchased daily from 9 am - 4:30 pm at the Ranger Station walk-up window.
Virginia District
For the most recent OSV closure updates, visit the "@ChincoteagueOSV" twitter page. For more info on the North OSV click here. Effective 11-13-19, OSV permits in the Virginia district will only be available for purchase at the Toms Cove Visitor Center. Please note that the Toms Cove Visitor Center is closed on Tuesdays, Wednesdays and Thursdays in December, January and February. OSV permits may be purchased daily from 10 am - 12 pm and 1 - 4 pm at the Toms Cove Visitor Center walk up window. We have been experiencing connectivity issues and may not be able to process Credit Cards. Please bring cash or check as a back up plan.
Roads and Parking Lots
Parking lots in both MD & VA Districts fill up quickly on summer weekends. Expect a wait if you are coming between the hours of 11 am - 2 pm.
Maryland District - Parking lots are open.
Virginia District - As of 9-25-20, most parking lots are open. Expect temporary closures of portions of parking lots throughout the fall, winter and spring due to overwash conditions.
Trails
MD District:
All trails are open. Visit our
Hiking
and
Biking
pages for more information on trails.
VA District:
Visit the
Chincoteague National Wildlife Refuge website
for updated information on trail status. The boardwalk connecting Toms Cove Visitor Center and lot # 2 is partially closed.
Last updated: October 15, 2020