Instead of revealing a singular "womanhood," women's history makes the diversity of the American experience more visible.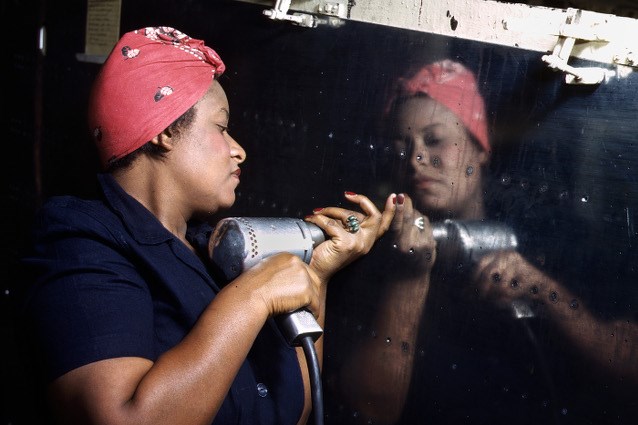 From the lives of young, immigrant women who worked the textile mills at Lowell National Historic Park to those of the female shipyard workers who were essential to the home front during World War II at Rosie the Riveter/World War II Home Front National Historic Park, women's history can be found at every park.
If you want to understand our nation's history, explore the remarkable legacies of American women.
Women's history is full of amazing stories of both ordinary and extraordinary people. Instead of revealing a singular "womanhood," women's history makes the diversity of the American experience more visible. While women often faced social constraints and could be restricted by conventional ideas about gender roles, the realities of women's lives have never been neatly confined to the "domestic" spaces of the home. They have been active participants in American society—as political activists, intellectuals, innovators, entrepreneurs, laborers, and educators.
Native women played important family, economic, and diplomatic roles in their communities. For example, matrilineal societies like the Ocmulgee Nation—or Creek—in modern-day Georgia frequently arranged marriages in order to form alliances and strengthen trading networks. As translators and intermediaries, they aided cooperation between diverse communities by negotiating trade and peace treaties. Native women also bridged immense cultural differences and intermarried with European settlers and traders. As healers and elders, they nurtured their communities and sustained their traditions and oral histories long after the American government expelled Native tribes from their ancestral lands.
Women were political actors long before white suffragists gained the vote in 1920. Abigail Adams (1744-1818) is perhaps the best-known of many women who shaped American politics. While Adams oversaw the running of her family home and the raising of her children—including future president John Quincy Adams—she also advised her husband John Adams during his long career as a diplomat, Vice President, and President. Even while prohibited from voting, holding office, and with limited access to formal education, women influenced American politics within the narrow parameters that were acceptable in the Early Republic—by conforming to the ideals of "Republican motherhood" and raising virtuous citizens.
Women of color faced even greater barriers. Effectively excluded from American civic life, women of color adopted alternative strategies to fight racial oppression. While many white women called for the abolition of slavery, Black women sacrificed life and limb to help enslaved people escape bondage. Harriet Tubman (1822-1913)—an escaped slave and conductor of the Underground Railroad—provided safe passage to freedom for nearly 70 enslaved people. After the Civil War, Tubman and other emancipated women became vocal advocates for women's suffrage and Black equality. Mary McLeod Bethune (1875-1955) strove to aid Black communities through education. She established schools and civic organizations for African-American students and became a member of President Franklin D. Roosevelt's "Black Cabinet," where she served as a voice for disenfranchised Black people throughout the South. Business entrepreneur Madam C.J. Walker (1867-1919) became the first self-made millionaire in America with her line of beauty and hair products. Walker believed she could help Black communities across the country by giving women a path to financial independence. Her training program provided working Black women important training and skills. During the twentieth century, feminist activists like the Combahee River Collective continued the conversations begun by these women—arguing that oppression based on race and gender could not be overcome separately.

Dolores Huerta (1930-) is a Latina civil rights and labor activist who, with Cesar Chavez, co-founded the United Farm Workers and changed the American labor landscape. Dr. Chien-Shiung Wu (1912-1997), a Chinese immigrant to the United States, conducted award-winning research in nuclear physics and worked for the Manhattan Project. Third-generation Japanese American Patsy Takemoto Mink (1927-2002) was the first woman of color to win a seat in the US Congress. She held her House seat, representing Hawai'i, for 12 years. Dr. Margaret Chung (1889-1959), the first American-born Chinese female physician in the US, was known as "Mom Chung" by the hundreds of Navy servicement that she "adopted," including Chester W. Nimitz and Ronald Reagan. Instrumental in founding the Women Accepted for Volunteer Emergency Service (the WAVES) during World War II, she was denied service in the organization because of her close, intimate relationships with other women. These relationships were considerd to be security risks at the time. These women's stories and contributions to American society are undertold, and often not told at all.
In the decades following the Revolution, America was flooded with people clamoring to define and shape the nation's political, social, and religious identity. The Shakers—or more properly known as the United Society of Believers—was one such group. Their charismatic leader, "Mother" Ann Lee (1736-1784), built a public ministry dedicated to the establishing "heaven on earth." In 19 communities spread from Maine to Kentucky—listed on the Shaker Historic Trail Travel Itinerary—the Shakers sparked a religious movement committed to communitarian principles, including celibacy, pacifism, and gender equality. The Shakers' alternative ideas about worship, marriage, and the family challenged mainstream culture and the very social order of a growing nation.
As artists, women were keen observers of daily life in America. Alice Austen (1866-1952) was one of America's earliest photographers. Her work captured daily life in American society while also testing Victorian values—female subjects appeared in men's clothing and even smoked in public. Austen also challenged Victorian social mores in her personal life. She never married and instead shared a home with her partner Gertrude Tate for nearly fifty years. Austen's entire body of work—nearly 8,000 photographs—was developed in the darkroom at her Staten Island home "Clear Comfort," now a National Historic Landmark.
As these stories show, women's experiences are deeply shaped by their race, sexuality, class, health, among other factors. Such experiences profoundly influenced their lives, their relationships to their communities and their country, and fashioned the strategies they adopted to access the rights and liberties promised to all Americans.
Visit the National Park Service Telling All Americans' Stories portal to learn more about American heritage themes and histories.