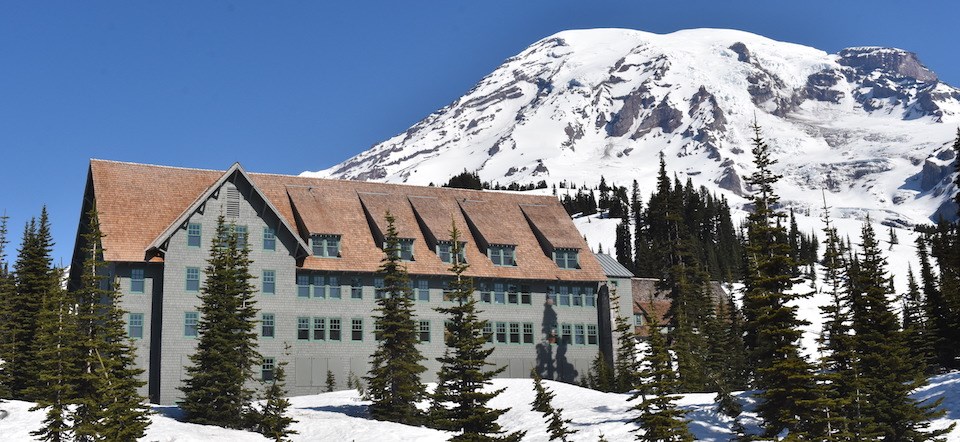 This media kit is designed to assist journalists with information and supporting materials on the rehabilitation of the Paradise Inn. We've done the research on the content and the images - so unless clearly indicated, all images are in the public domain (these are not copyrightable). We ask that you attribute the source of content or imagery identified as "NPS photo" as provided courtesy of - "National Park Service" or "Mount Rainier National Park". Photos taken by the contractor are labeled JOConner and should be credited as such.
Grand Reopening: On Friday, May 17, 2019, 11:00 am - 2:00 pm
The National Park Service is celebrating the grand reopening of the Paradise Inn, a National Historic Landmark located at Mount Rainier National Park. Events of the day include partner and NPS speakers, tours of the Paradise Inn and the newly renovated Annex, and interviews with key subject matter experts.
The Paradise Inn is a nationally significant cultural resource, and a contributing structure to the Mount Rainier National Historic Landmark District. The restoration of the Inn represents a $24.5 million investment to address Mount Rainier National Park's maintenance backlog while ensuring high quality visitor experiences for generations to come.
Contacts: Tracy Swartout, (360) 569-6502, Tracy_Swartout@nps.gov, Patti Wold, (360) 569-6563, Patti_Wold@nps.gov.
Visit our keyboard shortcuts docs for details
Duration:

8 minutes, 59 seconds
For over a century, the Paradise Inn and Annex has served as a home base for visitors exploring Mount Rainier. In partnership with Rainier Guest Services & Korsmo Construction, a major remodel of the Annex was completed in 2019 to preserve this historic structure. To celebrate the rehabilitation of the Annex, a grand reopening ceremony was held on May 17, 2019. This video includes short excerpts of the speeches from guest speakers and features a performance of the Nisqually Anthem Song by the Nisqually Indian Tribe Canoe Family.
Learn about the Project
Project Information
Deferred Maintenance in the park and agency
Further Information
History of Paradise
Find us @MountRainierNPS on Instagram, Facebook, Twitter, & Flickr