Article
NPS Geodiversity Atlas—Mount Rainier National Park, Washington
Geodiversity refers to the full variety of natural geologic (rocks, minerals, sediments, fossils, landforms, and physical processes) and soil resources and processes that occur in the park. A product of the Geologic Resources Inventory, the NPS Geodiversity Atlas delivers information in support of education, Geoconservation, and integrated management of living (biotic) and non-living (abiotic) components of the ecosystem.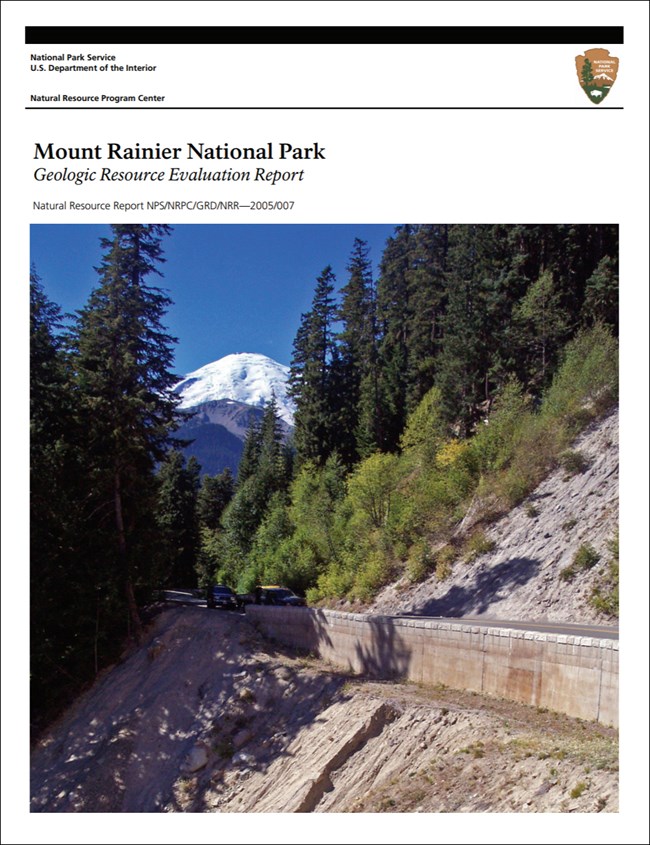 Introduction
Mount Rainier National Park is located on the western slope of the Cascade Range approximately 75 km (47 mi) southeast of Seattle in Pierce and Lewis Counties, west-central Washington. Established on March 2, 1899, MORA encompasses 92,462 hectares (228,480 acres) of rugged topography that consists mainly of peaks and valleys. The park was established to protect and preserve Mount Rainier, a glaciated volcano, along with its natural and cultural resources, values, and dynamic processes. The base of the volcano covers an area of more than 259 km2 (100 mi2 ) and the summit rises more than 2,745 m (9,000 ft) above the valley floor. Mount Rainier is a prominent landmark of the Pacific Northwest, containing more than 29 major glaciers constituting the greatest single-peak glacial system in the contiguous United States. Other significant park resources at Mount Rainier National Park include 470 mapped rivers and streams, 382 mapped lakes and ponds, sub-alpine meadows, dense forests, and more than 1,214 hectares (3,000 acres) of wetland, waterfalls, and mineral springs. The national park is also home to more than 1,200 plant species and approximately 300 species of native birds, mammals, reptiles, amphibians, and fish.
Geologic Setting
The geology of Mount Rainier National Park predominantly consists of rock that formed within the last 60 million years. As part of the Cascade Range, Mount Rainier is one of more than a dozen stratovolcanoes composed of successive eruptions of lava and pyroclastic flows. Mount Rainier is also the second most seismically active volcano in the Cascade Range and represents a regional hazard with a history of lava flows, lahars, mudflows, pyroclastic explosions, and ash falls mixed with glacial debris, glacial outwash floods, and rockfalls. The mountain first erupted during the Pleistocene (about 500,000 years ago) and has erupted as recently as 1894. The volcanic mountains of the Cascade Range began forming during the Eocene due to an oblique collision between the Juan de Fuca and North American tectonic plates. Mapped geologic units within the boundaries of the park include the Eocene Ohanapecosh Formation, basaltic andesite (prominent rock type of the Cascade volcanoes) and rhyolite; Oligocene–Miocene Stevens Ridge Formation and Fifes Peak Formation; Miocene–Pliocene intrusive rocks and welded tuff of the Palisades; and Pleistocene–Holocene volcanic rocks and andesite flows of Mount Rainier.
Glacial Resources
The glaciers of Mount Rainier form the largest glacier system in the conterminous United States and are an important source of streamflow for several rivers. Some of the glaciers originate from the summit of the volcano, while others extend down the mountain flanks from cirques located in a high- precipitation zone at middle elevations. Some features associated with the erosional process of glaciers include horns, cirques, glacial valleys (U-shaped valleys), moraines, and arêtes (rugged linear crests or ridges between two mountains, locally known as cleavers). The Willis Wall is the 3,600- foot- high (1,100 m) vertical headwall that marks the Carbon Glacier cirque.

The most "iconic" glaciers at Mount Rainier include the Emmons (largest glacier in the contiguous United States), Cowlitz-Ingraham, Paradise, Nisqually, Tahoma, Carbon, Kautz, and Winthrop.
Paleontological Resources
Documented fossils at Mount Rainier are from the following formations: Ohanapecosh Formation (late Eocene-Oligocene), Stevens Ridge Formation (Oligocene-Miocene), mass wasting deposits (Holocene), and modern pollen and lacustrine deposits (Holocene).

All NPS fossil resources are protected under the Paleontological Resources Preservation Act of 2009 (Public Law 111-11, Title VI, Subtitle D; 16 U.S.C. §§ 470aaa - 470aaa-11).
Cave and Karst
Mount Rainier contains large volcanic-ice caves. The ice caves, and fumaroles, near the summit of the volcano are formed as a result of hydrothermal reactions between groundwater and rising gas steam from the underlying magmatic system. Glacial meltwater, rather than hydrothermal processes, also form some of the caves at the park. There are at least five caves in the park, however, these caves are constantly changing, and may be unstable and hazardous. Volcanic gases enriched with carbon dioxide can pose a threat to explorers who enter the summit ice caves.

All NPS cave resources are protected under the the Federal Cave Resources Protection Act of 1988 (FCRPA)(16 U.S.C. § 4301 et seq.).
Soils
Cryptobiotic soil crusts are essential to the high-elevation ecosystems and assist in increasing soil stability by binding soil particles together. These soils increase infiltration and enhance nutrient and water availability to aide in the growth of vascular plants.

Solid rock and talus slopes with virtually no topsoil occupy the higher elevations of Mount Rainier, while lower elevations are composed of glacial till. Valley bottoms contain layers of mixed rocks and benches of silt deposited by streams and glaciers. Subalpine meadows have very shallow, loose, friable soils that are easily eroded by foot and horse traffic.
Geohazards
Active geologic processes continue to shape the park everyday. Volcanic and non-volcanic forces can threaten visitor safety and damage park infrastructure.
Seismic
Mount Rainier is considered to be one of the most seismically active volcanoes in the Cascade Range. In a given month, an average of 1- 2 high-frequency volcano-tectonic earthquakes occurs directly beneath the summit (Moran and Malone, 2000). A strong enough earthquake could trigger edifice collapse, avalanches, debris flow, and rockfalls.
Volcanic
Volcanic related geohazards include volcanic ash, volcanic projectiles, pyroclastic flows and surges, volcanic gases, lava flows, and lateral blasts. The generation of lahars, volcanic flows, and debris flows from an eruption could cause major destruction to the Seattle-Tacoma lowland drainages. The most destructive volcanic related hazard at Mount Rainier include: lahars, as their high speed and magnitude pose a threat to life and property.
Non-volcanic
During dormant periods unstable rock walls can become weakened resulting in snow and debris avalanches, rockfalls, and landslides. Seasonal and daily temperature changes cause freequent rockfall on the upper mountain and other steep slopes within the park.
Flooding
Flooding at Mount Rainier occurs year-round, but the potential for floods increases in the summer months when the snow and ice melts. Flooding can also be triggered by precipitation, volcanic activity, and glacial outbursts.
Abandoned Mineral Lands
Abandoned mine features in the park include adits, shafts, surface quarries, prospects, waste rock piles, related equipment, cabin and other building remains, and access roads.

NPS AML sites can be important cultural resources and habitat, but many pose risks to park visitors and wildlife, and degrade water quality, park landscapes, and physical and biological resources. Be safe near AML sites—Stay Out and Stay Alive!
Regional Geology
Mount Rainier is a part of the Cascade-Sierra Mountains Physiographic Province and shares its geologic history and some characteristic geologic formations with a region that extends well beyond park boundaries.
The
Geologic Resources Inventory
produces digital geologic maps and reports for more than 270
natural resource parks
. The products listed below are currently available for this park, check back often for updates as many maps, reports, and posters are still in progress.
Scoping summaries are records of scoping meetings where NPS staff and local geologists determined the park's geologic mapping plan and what content should be included in the report.
Digital geologic maps include files for viewing in GIS software, a guide to using the data, and a document with ancillary map information. Newer products also include data viewable in Google Earth and online map services.
Reports use the maps to discuss the park's setting and significance, notable geologic features and processes, geologic resource management issues, and geologic history.
Posters are a static view of the GIS data in PDF format. Newer posters include aerial imagery or shaded relief and other park information. They are also included with the reports.
Projects list basic information about the program and all products available for a park.
GRI Geology Image Gallery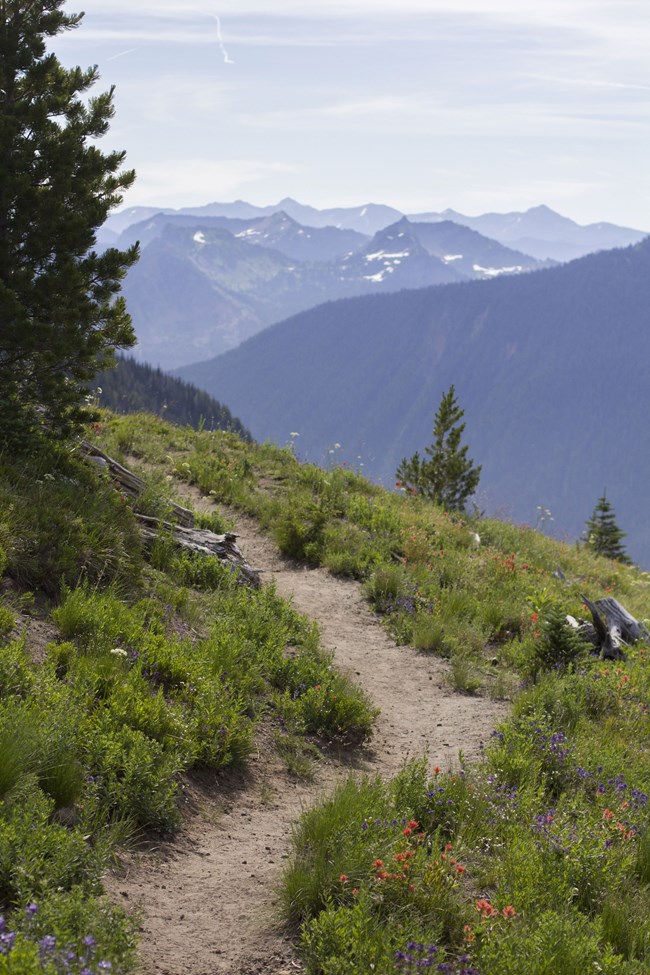 Related Links
Related Articles
Mount Rainier National Park
National Park Service Geodiversity Atlas
The servicewide Geodiversity Atlas provides information on geoheritage and geodiversity resources and values within the National Park System. This information supports science-based geoconservation and interpretation in the NPS, as well as STEM education in schools, museums, and field camps. The NPS Geologic Resources Division and many parks work with National and International geoconservation communities to ensure that NPS abiotic resources are managed using the highest standards and best practices available.

For more information on the NPS Geodiversity Atlas, contact us.
Last updated: December 1, 2023