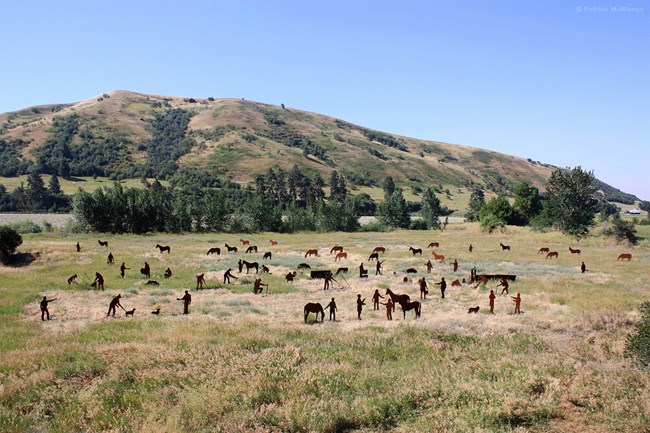 Lewiston, Idaho and Clarkston, Washington share the confluence of the Snake and Clearwater Rivers. You'll find many sites in the sister cities, including the Lewis and Clark Garden and Riverfront Timeline in Clarkston.
South of the Snake, along the part of the Expedition's return trip known as the "Forgotten Trail," you'll find the Patit Creek Campsite Sculptures, outside Dayton. As shown in today's photo, there are over 80 life-size steel sculptures erected in the valley representing the how the Corps encampment may have appeared in May 1806.
Outside Dayton is Lewis and Clark State Park, a rare old-growth forest setting along the Touchet River. Here is a mini rain forest climate, as well as the long-leaf Ponderosa Pine, and cottonwoods.
The Lewis and Clark National Historic Trail has identified nine High Potential Historic Sites in Washington, including the
Snake River Confluence
,
Celilo Falls Portage
,
Beacon Rock
,
Ridgefield National Wildlife Refuge
,
Dismal Nitch
,
Middle Village/Station Camp
, the
Walla Walla River Confluence
, and the
Lewis and Clark Travois Road
.
The Washington State Park website offers an excellent overview of many of the Lewis and Clark sites, with plenty of valuable and interesting information:
http://parks.state.wa.us/192/History-of-the-journey-through-Washington
.
Last updated: August 3, 2018