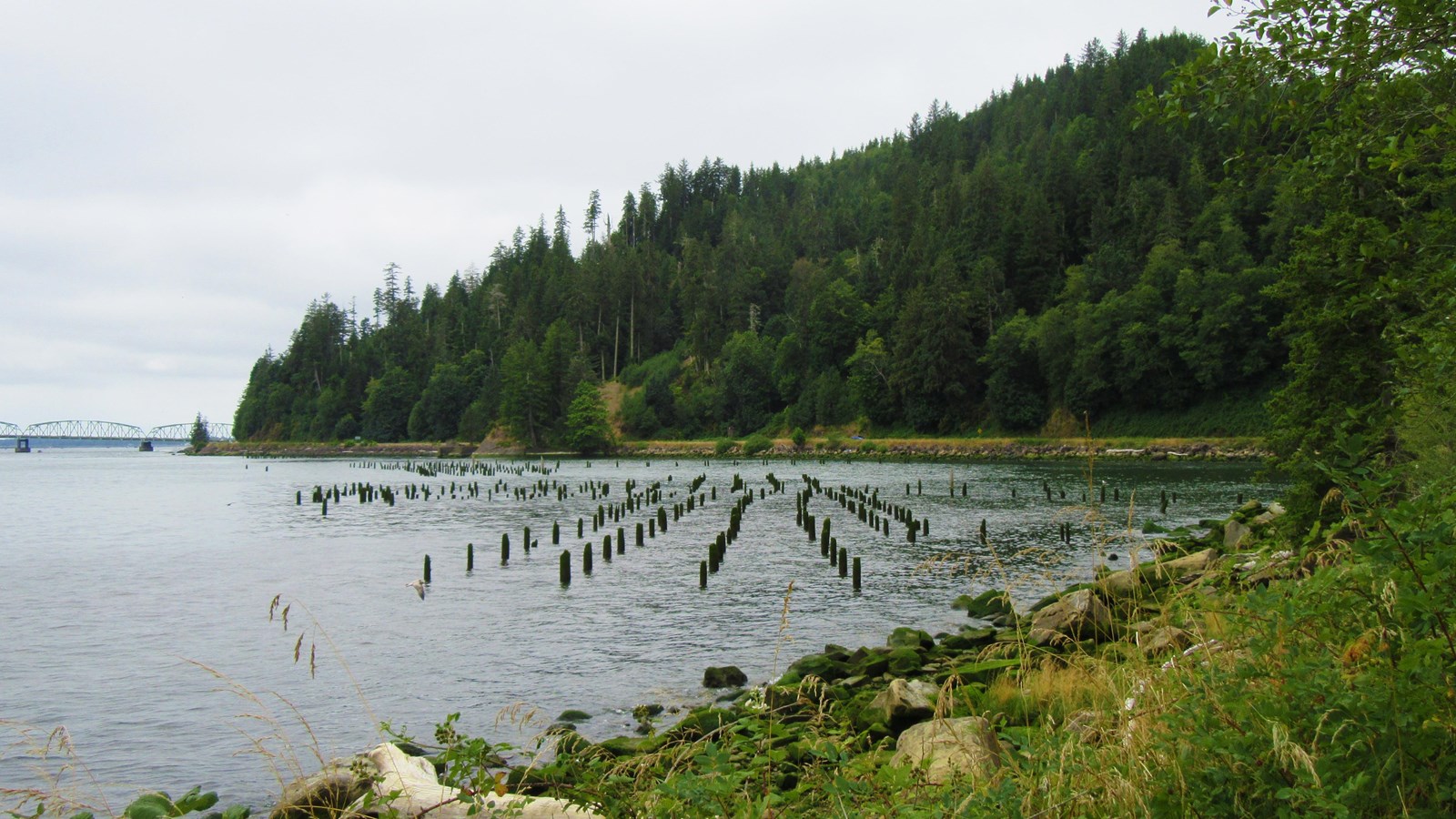 Location:
On SR 401, ten miles south of Naselle, Washington
Benches/Seating, Historical/Interpretive Information/Exhibits, Restroom, Scenic View/Photo Spot
Lewis and Clark NHT Visitor Centers and Museums
Visitor Centers and Museums along the Lewis and Clark National Historic Trail
History
Miserable and soaked to the skin, the Corps of Discovery had followed the shoreline of Grays Bay (Shallow Bay in the journals) for two days in an attempt to round modern day Point Ellice (Point Distress in the journals). At this point in their journey, they had run out of fresh food, and their clothes were quite literally rotting away. Getting around Point Ellice/Distress would have allowed them to meet up with one of the last trading ships of the season and refresh their supplies.
What the Corps didn't realize, however, was that it was about to run into some of the journey's most treacherous moments. A fierce winter storm forced the Corps off the river on November 10, and pinned the group to a north shore cove consisting of little more than jagged rocks and steep hillside. Captain William Clark named the dreary spot "that dismal little nitch." For six stormy days, the group was trapped by fierce wind and high waves at the rocky shoreline. For only the second time in the expedition, Clark said he was concerned for the safety of the Corps. 
It would be five days later, on November 15, that a break in the weather finally allowed the men to move forward. Once the wind and river calmed, Clark ordered the canoes loaded as quickly as possible and the Corps was able to make it around Point Ellice/Distress. They landed on a sandy beach where they established Station Camp. They missed the trading ship, but eventually achieved their exploration goals.
In the following years this site became a fish receiving station to support a cannery operation, and later a ferry landing and train station. Eventually in 1968 and 1969 the Washington Department of Highways demolished the ferry landing and constructed the Megler Rest Area in its place. The Megler Rest Area was renamed the Dismal Nitch Rest Area in 2005.
Today
Located on SR 401, ten miles south of Naselle, Washington, visitors will find interpretive wayside exhibits about the expedition, as well as a short trail that leads to the approximate location of Lewis and Clark's campsite. Great views of the Columbia River, birds, and the vibrant shipping lane are highlights of this site.
Dismal Nitch
is a
High Potential Historic Site
on the
Lewis and Clark National Historic Trail.
Last updated: January 6, 2022