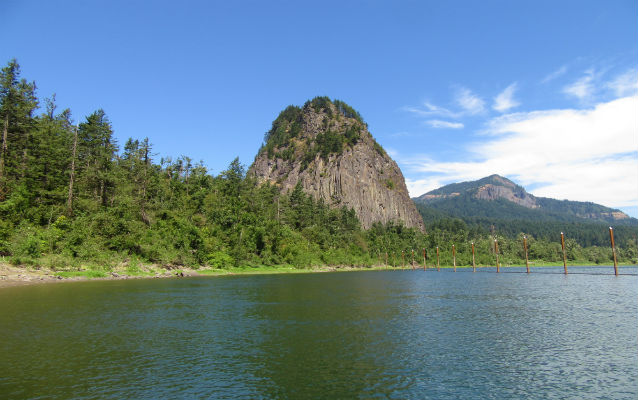 Quick Facts
OPEN TO PUBLIC:

Yes

MANAGED BY:
Beacon Rock is a
High Potential Historic Site
on the
Lewis and Clark National Historic Trail.
On October 31, 1805, Clark described, "a remarkable high detached rock Stands in a bottom on the Stard Side near the lower point of this Island on the Stard. Side about 800 feet high and 400 paces around, we call the Beaten rock." Significantly, Clark also noted the first evidence of tidewater: "I could not See any rapids below in the extent of my view which was for a long distance down the river, which from the last rapids widened and had everry appearance of being effected by the tide." The expedition revisited Beacon Rock returning upriver on April 6, 1806. Lewis wrote, "from the appearance of a rock […] I could judge bet­ter of the rise of the water than I could at any point below. I think the flood of this spring has been about 12 feet higher than it was [the previous fall]; the river is here about 1½ miles wide; it's general width from the beacon rock which may be esteemed the head of tide water, to the marshey islands is from one to 2 miles tho' in many places it is still wider. it is only in the fall of the year when the river is low that the tides are persceptable as high as the beacon rock. this remarkable rock which stands on the North shore of the river is unconnected with the hills and rises to the hight of seven hundred feet; […] it rises to a very sharp point and is visible for 20 miles below on the river."
Beacon Rock
is an eroded basalt volcanic plug that stands at approximately 848 feet. In the 1800s, it became known as Castle Rock. Purchased by Henry Biddle (a descendant of Nicholas Biddle) in 1915, he restored the Beacon Rock name, constructed a trail to the top, and donated it to the state of Washington. The landmark was designated a state park in 1935.
Lewis and Clark NHT Visitor Centers and Museums
Visitor Centers and Museums along the Lewis and Clark National Historic Trail