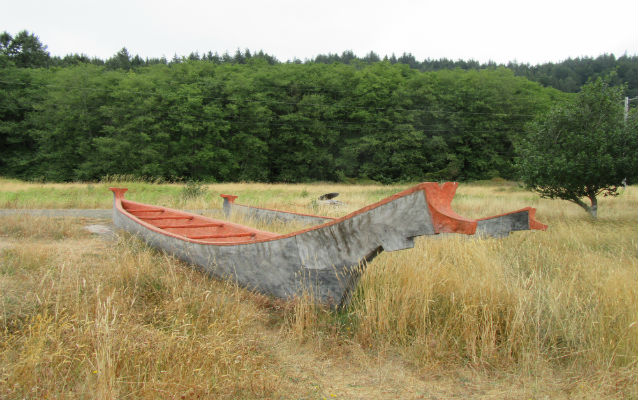 Quick Facts
Location:

92343 Fort Clatsop Road, Astoria, OR 97103

OPEN TO PUBLIC:

Yes
Middle Village - Station Camp
is a
High Potential Historic Site
on the
Lewis and Clark National Historic Trail.
After leaving Dismal Nitch on November 15, 1805, Clark "found a butifull Sand beech thro which runs a Small [stream] below the mouth of this Stream is a village of 36 houses uninhabited by anything except flees […] this I could plainly See would be the extent of our journey by water, as the waves were too high at any Stage for our Canoes to proceed any further down." The village described by Clark, while vacated for the season, was an important fishing and trade hub for the Chinook people, who had already occupied the area for thousands of years. The expedition encamped at this location for the next ten days. During that time they explored the north shore of the mouth of the Columbia by land. Clark surveyed the surrounding area, later producing a detailed map. On November 24, a vote was held to determine the location of their winter quarters. Opting to explore the coastal region south of the Columbia River, they departed the follow­ing day.
A Catholic Mission was briefly established at the site in 1848, then later a cannery and small settlement. St. Mary's Catholic Church was built in 1904, and has been preserved as the most prominent feature of the site. Following about ten years of planning and development, Middle Village – Station Camp was dedicated in 2012 as a 280-acre component of the
Lewis and Clark National and State Historical Parks.
Primarily dedicated to commemorating Chinookan history and culture, the park includes a system of footpaths with extensive interpretive features and expansive views of the Columbia River.
Lewis and Clark NHT Visitor Centers and Museums
Visitor Centers and Museums along the Lewis and Clark National Historic Trail