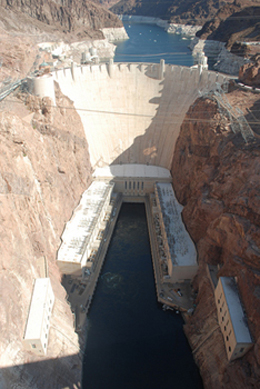 So big and strong, yet beautifully graceful is Hoover Dam that it stands as an American icon, a symbol of a nation's strength, ingenuity, and spirit of enterprise. But unlike many other of the nation's icons, be they Mount Rushmore or the Washington Monument, Hoover Dam was built, above all else, to be useful, to store water for irrigation, for municipal supplies, and to create hydroelectric power. That is what modern dams do in the American West. How they came to be built is the story of the Bureau of Reclamation, but the story of dams is as old as human civilization. The ancient Egyptians and Romans built dams, as did native people in the Americas. While the way dams are constructed has evolved with human knowledge and technology, basic traditions of design and function remain unchanged. 

In functional terms, as historian Donald C. Jackson writes, dams fall into two categories: diversion dams and storage dams. Diversion dams, as their name implies, divert water from a stream or river, through a canal or conduit to another place where it is needed. In Nevada, for instance, Derby Diversion Dam diverts water from the Truckee River through a canal to irrigate land farther south, in the Lahontan Valley. Storage dams retain water for long-term use in the reservoirs they create. Hoover Dam, for instance, is a storage dam; Lake Mead its reservoir. 

When it comes to design, two basic traditions reign: the massive tradition and the structural tradition. Dams in the massive tradition depend on their weight to hold back water, while dams in the structural tradition depend on their shape. Those depending on weight are known as gravity dams because their weight pulls down on the dam, offering resistance to the pressure exerted by the water stored behind them. Dams depending on their shape are either arch dams or buttress dams. Arch dams are built in narrow canyons with solid walls because the walls help carry the weight of the water, pushing back and squeezing the concrete in the arch, making the dam rigid. Buttress dams generally are built in wide valleys and depend on several buttresses for support. Arch dams, because they do not depend on sheer bulk, generally require less material to build, and thus are less expensive than gravity dams. 

In the United States, dam building received little attention until the Great Flood of 1889, which killed 2,209 people when the South Fork Dam collapsed, 14 miles upstream from Johnstown, Pennsylvania. The disaster, memorialized at the National Park Service's Johnston Flood National Memorial, occurred at a time when American cities were growing and the new electric light industry was taking root. North of New York City, engineers began building Croton Dam in 1892 to supply growing water needs. Unlike South Fork Dam, which was an earth embankment dam impounding a recreational lake, Croton Dam was a masonry gravity dam, which was standard for municipal storage dams at the time. (Masonry can mean brick, stone, or concrete, bound together by mortar.) When completed in 1906 at 297 feet high, Croton Dam was the tallest in the world. In the late 19th century, slender arch dams were so unusual that the 64-foot-high Bear Valley Dam, built in California in 1884, was considered a wonder--a wonder because it didn't crack in two. A gravity dam like Croton seemed so much safer.