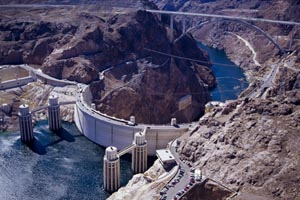 Physically, Hoover Dam is a massive, concrete arch-gravity dam, 660 feet thick at its base and wide enough at its crest that traffic on old U.S. 93 coursed right over its top. Some 726 feet in the canyon below, or the equivalent of a 60-story building, the Colorado River lies tamed behind this great concrete wedge, its base as wide as two football fields are long.

Hoover Dam stores water that irrigates 2 million acres, not only in the rich farm fields of Southern California's Imperial Valley, but across the state line in Arizona. Hoover Dam generates enough hydroelectric power to serve 1.3 million people each year, provides municipal water for urban centers including Los Angeles, Phoenix and Tucson, holds back flood waters, provides storage during drought and takes more than a little credit for the unabashed growth of the desert Southwest. For all that, Hoover Dam is much more; it is an American icon, a monument to the ingenuity of the nation's engineers and the power of its machines. Hoover Dam is the symbol of an era when an urban, industrial America reveled in harnessing its natural resources.

The story of Hoover Dam begins long before the first bucket of concrete was poured on June 6, 1933, and it continues today with the recently opened Hoover Dam Bypass Bridge, an engineering marvel in itself, towering 900 feet above the Colorado River's Black Canyon, just south of Hoover Dam. The new bridge diverts traffic from the top of the dam, lessening congestion and increasing security, while also offering unsurpassed views from its pedestrian walkway. Hoover Dam, spanning the Arizona-Nevada border about 30 miles southeast of Las Vegas, is the most-visited dam in the world, counting some 7 million tourists a year. With its 110-mile-long Lake Mead, Hoover Dam and its corresponding system of tunnels, outlet works, spillways, powerplant, and transmission lines has transformed this bone-dry slice of desert into a vacation paradise.