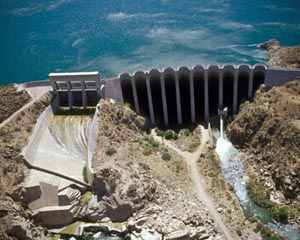 Bartlett Dam, on the Verde River northeast of Phoenix, was the first multiple arch dam built by the Bureau of Reclamation. The distinction stems from the timing of Bartlett's birth in the midst of the Great Depression. As bids were let in the fall of 1935, cost was a prime concern. Bartlett's buttresses were hollow and its arches thin, meaning less material was needed, saving on concrete and freighting costs. The sophisticated design also required more laborers to shape its nine buttresses, 10 arches, and a short gravity section at each end of the dam--a boon in years of high unemployment. When completed in May 1939, Bartlett Dam was 286.5 feet tall and 800 feet long, and the highest multiple arch dam in the world. 

Bartlett Dam, named for a government surveyor, is a relatively late component of the Bureau of Reclamation's complex Salt River Project, which led to the development of central Arizona and includes not only dams and reservoirs, but hundreds of miles of canals. Without the project, historian Robert Autobee writes, "Phoenix would still be the domain of the cactus and snake instead of the corona of the 'Valley of the Sun.'"

Bartlett Dam, the first on the Verde River, is one of six storage dams comprising the Salt River Project, which involves both the Salt and Verde rivers in central Arizona. Two of the dams were constructed by the Bureau of Reclamation (Bartlett and Theodore Roosevelt), three by the Salt River Valley Users Association (Horse Mesa, Mormon Flat, and Stewart Mountain), and one (Horseshoe) by the copper mining company Phelps-Dodge under a water exchange agreement with the Salt River Valley Users Association.

So extensive is the system of dams on the Salt River east of Phoenix that they form a chain of lakes 60 miles long. The largest lake--and once the largest manmade lake in the world--is Theodore Roosevelt Lake, which covers more than 17,000 acres when full. The reservoir stores water behind Theodore Roosevelt Dam, completed in 1911 as the Bureau of Reclamation's first multipurpose dam, providing not only irrigation and flood control, but hydroelectric power to Phoenix.